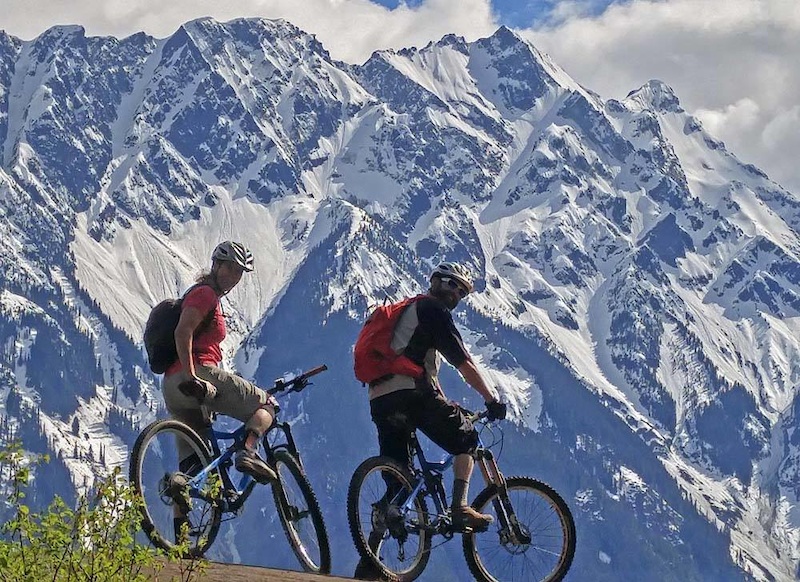 Pemberton is a 30 minute drive North of Whistler at an elevation of 210m. This makes it warmer and drier then Whistler resulting in a longer riding season. In fact the drier Pemberton conditions makes it the ideal shoulder season riding destination. If there is snow on the trails in Dec - Feb you might not be able to ride, and when the temperatures go above 30oC in July and August you might not want to ride. The ideal time to ride Pemberton is March - June and Sept - November when the dry dusty trails are prime.
The trails are maintained by
Pemberton Valley Trails Association
, a multi-user organization dedicated to maintaining the Pemberton trail network. If you ride these trail donate!
Another association -
Porca
- also involved which focuses on the Mountain Bike trails and events. Becoming a member of
Porca
is another way to support the Pemberton Trail network.
There are
four riding areas
-
Mackenzie
,
Mosquito Lake
,
One Mile
and
Fat Tug
The main areas are Mckenzie and Mosquito Lake which can be ridden together quite easily. Fat Tug and One Mile offer shorter rides for quick hits or can also be joined for a longer ride closer to town.
One Mile
Flowy -
Short Cross Country
- 7km, Two laps, 440m climbing, 1-2 hours (photos in ride log)
Tower of Power -
Short Technical Rock Slab
- 6km, 335m climbing, 1-2hours (photos in ride log)
Mackenzie and Mosquito Lake
Rudy's to Mckenzie Cruise -
Big Climb Steep Descent
- 23km, 3-5hours, 1500m climbing
Creampuff -
Rock Slabs
- 16km, 2-4hours, 900m climbing
Nimby 50
Classic Race course
- 35.5km, 2-6hours, 1700m climbing