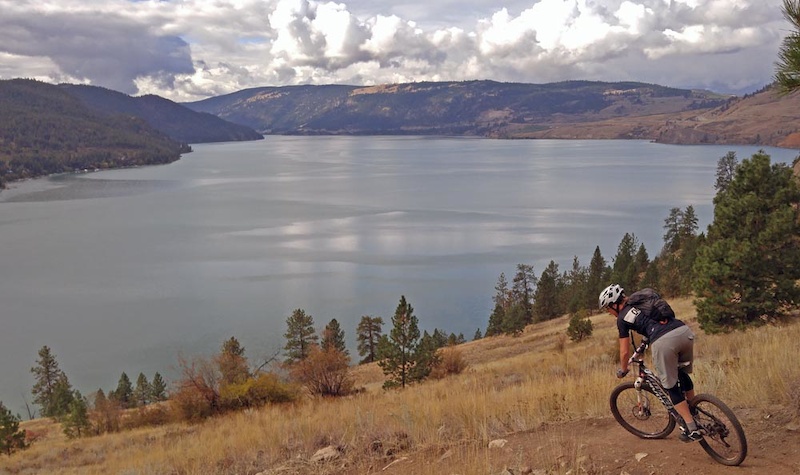 The Okanagan Valley in the Interior of BC is a great mountain biking destination during the shoulder seasons of the West Coast. The area is very hot in July and August thus making the trails hot and dusty at this time. But when the weather is more unsettled this is a great place to ride.
Surrounding Okanagan lake which is 100km long with Penticton at the South end, Kelowna in the central area and Vernon at the North end, the area offers diverse riding options.
Click
HERE
for area overview and driving distances, or
HERE
for Trailforks Road Trip Planner.
These trails are maintained by
MTBco
and
NOCS
. You can donate to these organizations to show your appreciation at Trailforks. Click
HERE
for MTBco and
HERE
for NOCS
This document offers an amalgamation of our ride reports and a list of the routes we've ridden in this area. Click on the links for more details.
Trip Reports with photo's, maps and other information
Vernon Area:
Two Locations. Easy cross country trails of Ellison Provincial Park easily accessed from Preditor Ridge Golf Course.
Kalamalka Park accessed from Cosens Bay.
Pink Bike Overview of a ride at
Kal Park the short loop, and riding at Soveriegn Lakes
.
Pink Bike Overview of
Silver Star Bike Park, the new XC trail Beowulf and the trails at Ellison Provincial Park
.
Sharon and Lee overview of
Kal Park Epic
with Pali Gap climb to the top!
Suggested Ride's showing just the Trailforks Ride Log
Kal Park Epic
- 33km, 4-6 hours, 1975m Climbing
Kal Park Short Loop
- 13km, 1-2 hours, 800m Climbing
Ellison Provincial Park
from Predator Ridge - 16km, 2-3 hours, 730m Climbing
Kelowna Area:
Two areas - West Kelowna where you can ride Smith Creek, Rose Valley Reservoir, Powers Creek. The other side of the Lake where Kelowna sprawls where you can find Crawford Trails, Knox hill and Gillard.
Sharon and Lee overview of
Knox Hill, Rose Valley and Freedom Cycles Thursday eve shop ride in Three Blind Mice
.
Sharon and Lee overview of
Rose Valley Reservoir
.
Pink Bike Overview of
Smith Creek and Crawford
in West Kelowna and Myra Canyon, Kelowna Respectively.
Suggested Rides based on Trailforks Ride Logs
Crawfords Trails - This is a good loop descending
Vapour
, or do this climb from this log and do the descent from this log on
Surf and Turf
.
16km, 2-4 hours, 750m climbing. Add a bit of time and distance for Surf and Turf since its a bit further.
Rose Valley Reservoir
- 19km, 3-4 hours, 1200m Climbing
Smith Creek
- 15km, 2-3 hours, 750m Climbing
Pentiction Area:
Where you can ride the convoluted Three Blind Mice, XC Campbell Mountain, the rocky epics of Rock Oven, Wiltse and Carmi.
Pink Bike Overview of
Campbell Mountain and Three Blind Mice
.
Sharon and Lee overview of
Rock Oven Shuttle
.
Rides showing just the Trailforks Ride Log
Wiltse
near Penticton - Great hour loop of rock faces and a nice climb! 7km, 1 hour, 450m Climb
Three Blind Mice Loop
- 15km, 3-4 hours, 650m Climbing or a
Shuttle
11km 1 hour, 900m Descent
Rock Oven Loop
- 15km, 2-3 hours, 650m Climbing