Quote of the Vlog:
Imagination will often carry us to worlds that never were. But without it we go nowhere.
-Carl Sagan
Mountain Biking isn't just a hobby or passion, it's even more than a lifestyle because riding my bike is the only thing I wake up for, eat for, breath for and work for. My name is Ben Glassen and I am the next Pro Freerider.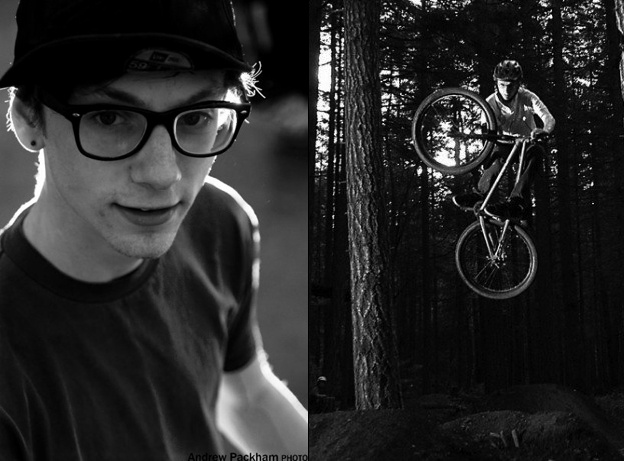 I live between Vancouver Island where I grew up and Kamloops where I came to train and mountain biking is my everything. I had my first bike helmet prenatal, this was the influence of my dad and his fellow cycling friends. Soon I had jumps for the training wheels and as soon as they were off it was hours trail riding behind dad. I did some BMX racing and then five years Observed Trials with the CPTA in Port Moody BC. Nearing the end of high school I started working at a shop, Oak Bay Bikes in Nanaimo. Soon my best friend and DH racer Matt Dawes was working there with me. We went dirt jumping for the first time in ages at I time when I was only focused on riding Trials. He said I was so natural on jumps that if I tried, maybe one day I could go Pro. Today I wake up, go for a run and then to the gym before eating a huge breakfast then off to Taboo Cycles for a day wrenching. As soon as work is over I meet up with whoever is at the Kamloops Bike Ranch for a shred where I mess around, but in the back of my head, every run is in preparation for that contest run or video segment.
When riding is done for the day, it's then home for food and bed. Every move or decision I have made in my life today and for the past five years is that so hopefully I can advance my cycling career. Contest season has started. The pressure is on with making finals, getting exposure, being invited to events and number one, not getting hurt. This year I have an arsenal of new tricks I have learned this past winter. I moved away from Kamloops, back to Vancouver Island to ride through the winter. I can't wait for the next contest; they are always fun no matter how they turn out. I will be riding the Jordie Lunn Open, Claymore Challenge, Crankworx Colorado and Goat Style. My main goal this year would be the honor of initiations to my two home events Jump ship in Victoria and Berreclothe's Invitational also on Vancouver Island. Getting to ride Crankworx Whistler has been my goal from the start in this business. The only thing I can tell the younger riders is that dedication, practice and perseverance is all it takes. I go out every day working towards my riding goals, even the days I don't get on the bike. When I do get on the bike, I always hike up faster to get those few extra runs in. Even when times are tough and everything is looking down, so long as I push through and keep at it, one day things will pay off. This year I have more support than ever from my sponsors who appreciate my life riding Mountain Bikes.
Words of:
Ben Glassen - 250 819 2735 - just_ride101@hotmail.com
Transition - Deity - Taboo Cycles - Demon - VP - Fuel SVN
Mountain biking and filmmaking have brought us into a whole new world a creativity; and Pinkbike has become and outlet to showcase it.
http://www.facebook.com/pages/Shelby-Smith-Video/212246715462056?sk=wall