Siddas
Member since Feb 6, 2020

Male / 18
Macclesfield , United Kingdom
Block user
Recent

Jul 30, 2021 at 13:15
15 hours

Selling
Jul 30, 2021 at 13:14
15 hours
$325 GBP
The previous owner put these on my current bike and ive loved they so far. These are my 2nd pair i've had on my bikes and truthfully i'm just looking at trying something different. Some of the most powerful brakes on the market, with great modulation. I've had nothing but positive experiences with them. They dont overheat and stay consistent throughout a long ride. There is a small scratch on the right hand lever but other then that there isnt a mark. pics to prove. Tonnes of life left on the pads aswell. I'm after a set of Magura Mt7's if someone wants to trade. I'll throw in the rotors aswell for £350. I'd prefer collection sk11 8jl, but will post at buyers expense. Sam

Jun 23, 2021 at 8:45
Jun 23, 2021

Selling
Jun 23, 2021 at 8:44
Jun 23, 2021

Mar 12, 2021 at 11:55
Mar 12, 2021

Selling
Mar 12, 2021 at 11:39
Mar 12, 2021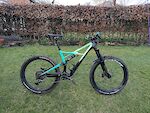 $2499 GBP
Hi Here for sale is my 2018 Specialized Enduro Pro 27.5 size large. I recently bought this bike as something I can ride while I look for a specific bike I've wanted. During this time its been a superb bike to own, perfect for everything you can throw at it. This is my 2nd enduro ive owned and Ive been nothing but impressed with them both, its a very easy bike to get used to. If i had enough money to keep it, I would, but unfortunatly it has to go to make room for the new one. Hahaha Last week I spent £130 for all new frame bearings and BB to make sure there was nothing the bike needed before I sold it - I want the person who buys this to get it in fully perfect condition. Less then a month ago, it had the suspension serviced. So the bike is running absolutely perfectly now :-) Spec; Fork - Ohlins RXF36 - upgraded airspring Brakes - Sram Code R - small wear on the lever blades - 200mm 180mm rotors Rear shock - Ohlins TTX22 - cane creek coil, im not sure if its a 2019 or 2020. has all the adjustments u can need (£650) Drivetrain - Sram XO1 with carbon cranks with a brand new GX shifter + chain guide Wheels - Roval Carbon Wheel - new rear rim due to pulling a spoke through the last one when truing it Dropper - Specialized command post wu and specialized saddle Bars + stem - specialized 45mm and 800mm Grips - DMR Deathgrip Tyres - Michelin wild enduro 2.6 When I bought the bike it came with a Spare rear shock - Ohlins STX22 (£350 ish) and also a few spare tyres which will be thrown in as well if you meet my asking price. It also has the S.W.A.T multitool in the headset and the frame bags with co2, tube, plugs and levers. There is absolutely no damage to the stantions of the fork or shock, the wheels are in good condition as well. the rest of the components being in very good condition. the downside to the bike is the scuffs to the rear triangle on the driveside and the small nick in the paint on the top tube. None of them are deep gouges, the worst of it just being the top layers of paint getting scrapped off, so just cosmetic. I must add there are no cracks anywhere, and the scuffs are just purely cosmetic. I was told that a carbon specailist can repare them for around £100 quid, if you feel inclined to go down that route. The cranks do also have some scraches from pedal strikes as well. Nothing major. I have tried to make sure that i capture the damage in as much detail, but if you require anymore photos please do not hesitate to contact me. I ll consider a trade, something like 140mm - 160mm travel, like cube stereo or trek remedy. Sam

Dec 8, 2020 at 13:18
Dec 8, 2020

Selling
Dec 8, 2020 at 13:15
Dec 8, 2020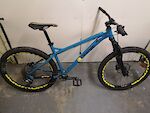 $1299 GBP
Hi, here for sale is my Orange Clockwork Evo 137 in size large. I purchased this bike back during the summer as a back up for when I was having my enduro repaired. As it is I only actually took this out about five times for light trail rides and it hasn't seen any heavy use from me. I've decided that it needs to go to a home where someone will get some good use out of it hence the sale as it is too good a bike to just be sat in my garage. It was fantastic for the riding I was doing on it at the time. I'm unsure quite how to catagorise this bike as it seems to be more suited to a touring/bikepacking stytle, so would suit long distance in the saddle but it is more than capable of handling single track/trails. The bike has a few minor scratches that were on it when I bought it and can be seen in the attached pictures. These are minor scrathches and there is nothing in the way of dents or gouges. They are minor and haven't been an issue for me but if they would bother you then but Orange do sell touch up pots or you can send them the frame and they will respray it - but this would be a bit extreme as they are only small marks. This comes with Rockshox Revelation 130mm Debon air - absolutely no damage on the stantions and they work superbly as they should. I have some spare wheels for the bike as I have never found the kore hubs to be my liking. They just need a good clean, but the wtb wheels will come with the bike. The bike has a SRAM level coupled with a Shimano Deore, this is only beacuse the SLX shifter is one of the matchmaker ones and is an integrated part of the brake lever. I have supplied the other SRAM Level and the other shimano brake. To complete it all it will need is the adapter for the bar clamp - these are easily available and will cost about £15. Other then that it would require a new pair of grips as well. It has had new SRAM rotors on it and I will aslo include the original Shimano ones as well if you would prefer to put these on instead. It does come with the original Kore dropper post, cable inner,outer and the lever as well. There is nothing wrong with this - I took it off because i just didnt need it on there. Parts alone run in the range of £300 If you meet my asking price all the spares will be included in the sale.

Dec 8, 2020 at 11:50
Dec 8, 2020

Selling
Dec 8, 2020 at 11:41
Dec 8, 2020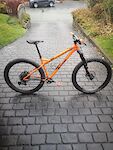 $2199 GBP
Hi, Here i have for sale is my 2018 Orange P7 in a rather vibrant orange colour. This bike has been mine for just under two months, and in that time, its had a very easy life of the odd bridle way and occational street ride. nothing more the 35km in a day. It has been my pre-winter training bike as such. In this time i have really enjoyed having it in my arsenal. Being my 3rd orange of this year I've been nothing but impressed with the way it handles, loving every second on the bike. Im a big lad and my riding style just more suits a full suspension. I must add that this isnt any fault of the bike at all. Its one of the best hardtails money can buy. The weight is so reasonable for what can be constidered a steel bike and its so smooth on chatter as it has a good amount of compliance. As to the bike itself, its in absolutely fantasic condition, i cant even see a scrach! This is better price and spec wise then the 2020 models just released. Fork : Rockshox Yari - recently serviced Wheels : Hope fortus 35 pro4 front and rear - 4 months old Tyres : 2.8 Magic Mary and 2.8 Nobby Nick - tubesless - 4 months old Drivetrain : The new style GX Eagle derailleur, NX cassette, NX cranks Brakes : Magura mt5 trail - rear brake hose is extra long because i wanted to learn barspins but just never found the time Dropper : Rockshox Stealth 150mm Seat : STG bell air 3 Handlebars : Renthal Fatbars Carbon - i think they're about 770 Stem : Renthal Apex 50mm - with a cane creek top cap Theres a Hope headset and Hope seat clamp. Grips : Deity Bottle cage : Prism - carbon fiber It has been a great bike to run around town and the occational longer ride, I just feel its a waste that i am not using it for its full potential. It can handle most everything you can throw at it. Im open to trades, either large or meduim depending on the brand. enduro or trail, something around this price mark. Drop us a reasonable offer. I don't much enjoy posting bikes but if you can sort a box, packing and courier, I'd pack it and post it, but I'd much rather collection. Thank you for looking, Sam
Load more...