Spencermtnbike
Member since Jan 9, 2018

Male / 21
Bellevue , Washington
Block user
Recent

Jan 13, 2021 at 18:09
Jan 13, 2021

Selling
Jan 13, 2021 at 18:01
Jan 13, 2021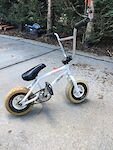 $150 USD
3rd generation rocker with better tires for less rolling resistance and higher tire pressures (makes a big difference). I had the first rocker and I upgraded for the new tires. This bike is a lot of fun.

Jan 17, 2020 at 0:19
Jan 17, 2020

Selling
Jan 17, 2020 at 0:18
Jan 17, 2020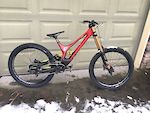 $2250 USD
Bike was regularly serviced and kept in very good condition. Almost all bearings in the frame have been replaced at least once. Wheels are true with no dents. Scratches and scrapes on the frame and fork. The bike was bought at the very end of 2017 so it was only ridden for 2018 and 2019. Components - 2019 Factory Fox 40 fork - Roval wheels and specialized tires - Specialized cockpit w/ carbon bars - XO1 DH dérailleur and shifter - GX cassette - Guide RS levers with Code calipers - Specialized seat with thompson seatpost - Ohlins shock - SRAM descendant cranks

Nov 10, 2019 at 11:15
Nov 10, 2019

Selling
Nov 10, 2019 at 11:03
Nov 10, 2019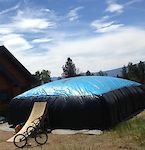 $5000 USD
014 Airbag that is over 8ft tall when inflated with dimensions, 45 feet by 30 feet. The airbag utilizes a dual chamber system to prevent hitting the ground. The top chamber deflates through adjustable release holes while the bottom chamber is constantly inflated and has no release holes so that it will stay firm enough to prevent you from hitting the ground. The bag uses two blowers to inflate the top after each jump and keep the bottom inflated, they will inflate the entire airbag in under 30 minutes. The airbag has an extremely durable top built specifically for bikes so it will not tear with the abuse from pedals and handle bars. The air bag is also suitable for skiing and free fall. Included - Airbag - 2 Blowers - Rubber Carrying Sack - Dolly (for transportation) - 6ft tall kicker painted brown - 60' x 60' Tarp

Feb 12, 2019 at 10:17
Feb 12, 2019

Selling
Feb 12, 2019 at 10:13
Feb 12, 2019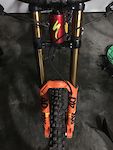 $800 USD
Fox Factory 40 with the Kashima coat. This fork has had regular service all season and is in good condition. No issues and performs perfectly. It was brand new in 2018 so only has 1 season of riding on it. Plus the orange looks awesome.

Selling
Apr 7, 2018 at 23:18
Apr 7, 2018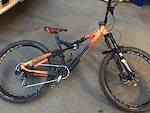 $2000 USD
This bike is in great condition with new wider profile ethirteen rims and serviced suspension. Everything works well and this bike rides great. Specs Ethirteen TRS+ rims Ride alpha hubs One up components chain guide Rockshox 160 Pike rct3 Rockshox monarch plus rc3 (150mm rear travel) SRAM guide rs brakes XO1 derailleur Gx shifter and 11 sod cassette Ride alpha bars Ride alpha stem Ride alpha seat Rockshox reverb seatpost Ethirteen TRS + cranks

Selling
Apr 7, 2018 at 22:34
Apr 7, 2018
Load more...