With over 40 combined years of experience, fixing the mistakes other manufacturers have made in suspension products, we at
TF Tuned
have recently invested considerable effort in developing the perfect suspension platform ourselves. Using DAC (Dual Air Can) technology to overcome the common problem of vortex anti spring windup and our patented TST (Tri Spring Technology), it's no longer necessary to have to choose between the different benefits of a Coil vs. Air. You can now get the benefits of both options in one radical new solution.
Taking the idea of a single shock for all applications one stage further, Paul, from our development lab, has spent many hours working with LCT (Lateral Compliance Technology) and DMI (Dual Material Integration) to come up with a solution that means it's possible to have just one shock for all applications whether it's DH, Enduro, XC or showing off in the car park. The 'one shock fits all' philosophy is embedded in the QBT (Quad Barrel Tech), which allows for the usual high and low speed rebound and compression adjustments and then adds a 26"/650b/29"/Fat bike adjuster.
The end result of all this work is a shock that not only performs magnificently and is multi adjustable, but also looks fabulous. When we move into production from the prototype pictured below we will be changing the spring colour to fluorescent yellow so that other riders will know that money is no object when purchasing the best in shock springs on the market.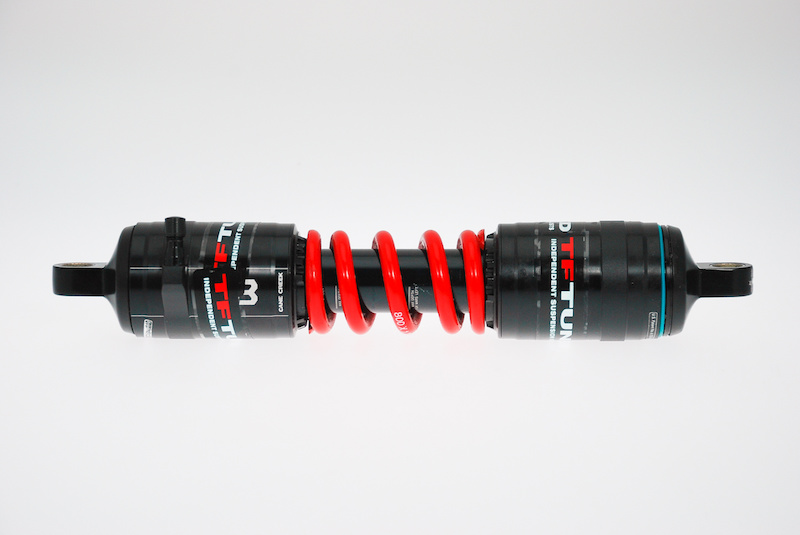 ---
MENTIONS:
@TFTunedShox
---