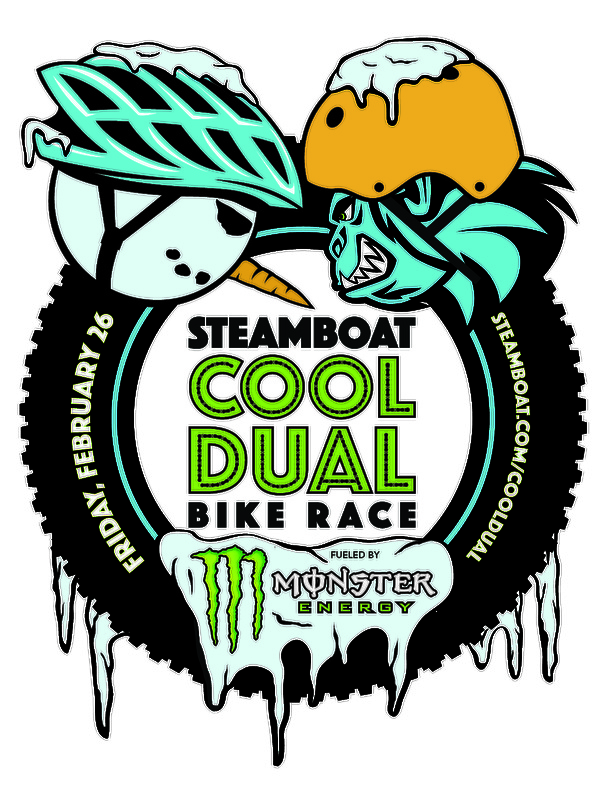 A one of a kind bike race under the lights and down the slippery slopes of Mt. Werner. Riders will brave the cold and frozen snow in head to head, battles. Carving their way around gates and over obstacles toward the finish line where the Cool dual victors will be crowned. In addition to bragging rights, participants will win awesome prizes from Monster Energy, GoPro, and Bud Light.
www.steamboat.com/cooldual
Registration:
$20(cash or check only)
Includes
: Number Plate, Burger, Beer, and SWAG
Classes
: Yet-he's / Yet-She's (No studded tires)
Studded Open
(1/4" stud length Max, flat tips, points ground flat)
Ages:
Open to public, ages 10+
Venue
: Lower Stampede, Magic Carpets will be used for uplift. Dual GS style course, head to head racing under the lights at the base area. Please respect our uphill access policy. Bikes and participants are to remain within race arena at all times. No riding on open public ski terrain.
Schedule
:
3-6 Registration and Racer Checkin at the Competition Services Office (advanced registration available 2/25/16, 12-3
3-6:15 Bike Stud Inspection at Racer Checkin
5:30-6:30 Practice
6:30 Qualifying (Dual course, combined time)
7 Racing (No timing, photo finish, top qualifier has lane choice)
8:30 Awards at Stage
Equipment Requirements
:
No ski attachments
No headphones/music that may impair your ability to hear course marshals
Front and rear brake required
Properly fitted, latched and functioning helmet required
Yet-he's & Yet-she's Classes - Rubber tires only
Studded Open Class - Maximum stud length of ¼", flat tips, points must be ground down