Tdmjk
Member since Jan 19, 2013

Male
South Yorkshire , United Kingdom
Block user
Recent

Selling
Apr 18, 2014 at 15:41
Apr 18, 2014

Apr 11, 2014 at 1:59
Apr 11, 2014

Selling
Apr 11, 2014 at 1:58
Apr 11, 2014

Oct 1, 2013 at 4:54
Oct 1, 2013

Selling
Oct 1, 2013 at 4:53
Oct 1, 2013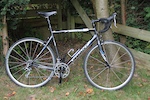 $300 GBP
Following the purchase of a new road bike I've decided to sell my Giant SCR2.0. It's in good working condition and is a very versatile bike. With wide clearances for mudguards and rack eyelets you could set it up as a commuter or tourer. I've been using it for general road riding and it's fast, light and comfortable. It's got an aluminium frame and carbon forks (frame size - Large, I'm 6' and it's perfect for me with room for adjustment either side of that). The drivetrain is Shimano Tiagra. I upgraded the wheels to Shimano WH-R550s and the crankset to a SRAM Apex double with a GXP external bearing bottom bracket. It's a lot lighter and stiffer than the stock setup. If the Brooks saddle isn't your thing for a £30 discount I'm happy to sell the bike without a saddle. I'll fit the bike with either flat pedals or a pair of SPD-compatible pedals depending on what you prefer. Please don't hesitate to contact me if you have any questions!

Sep 29, 2013 at 9:34
Sep 29, 2013

Selling
Sep 29, 2013 at 9:33
Sep 29, 2013

Sep 4, 2013 at 12:28
Sep 4, 2013

Selling
Sep 4, 2013 at 12:27
Sep 4, 2013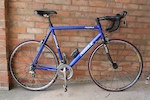 $500 GBP
I'm selling my Ribble winter trainer. It's in good working condition although there are some paint chips on the frame, some heel rub on the cranks and some cable rub on the headtube. Ideal for a winter bike as it will take full mudguards, as a general training bike or just as a good first bike. It's running 2x10 speed Shimano 105 with a compact crankset, Mavic Aksium wheels (Schwalbe lugano tyres), Deda handlebars and stem, carbon fibre seatpost. I believe it's a 58cm frame (centre of cranks to top of seat tube), with a 56.3cm top tube. It is perfect for me at 6' tall, though it should be suitable for someone a couple of inches either side of that height. Reason for sale is that a nice carbon bike has come up for sale near me at a great price and I need some money to put towards it. I had a quick look on the Ribble site and to get a bike with comparable specs it would cost over £800, so grab yourself a bargain!

Selling
Jun 13, 2013 at 15:00
Jun 13, 2013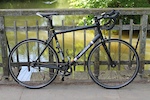 $320 GBP
I'm selling my Specialized Langster, 58cm aluminium frame with carbon forks. I originally bought this as a bike for uni but it's a bit too nice for that and I'm commuting on a cheaper bike now. Rear hub is currently running fixed but can be flipped over to run on a freehub. The bike is a 2011 model and is in excellent working condition apart from some minor cosmetic scratches as you'd expect from use. The bottle cages and computer will be included but I will fit a pair of normal flat plastic pedals and remove that pump mounting bracket on the seat tube. Looking for £350 collected from Oxford
Load more...