As the UK race season draws to a close the final round of the Caersws Cup was held in mid Wales. With views that came straight from the Alps, to start the day the low clouds finally cleared to give way to crisp sunny conditions for an afternoon of downhill racing.
Pictures and video inside
,For the first four rounds of this year, Caersws had been blessed with dry and sunny conditions making for dusty and fast racing action. At the start of the day from the campsite it looked like this would not be the case as thick, damp fog covered as far as the eye could see and that was not far. It was not until you got over half way up the track that you broke into the cloudless blue skies and alpine views.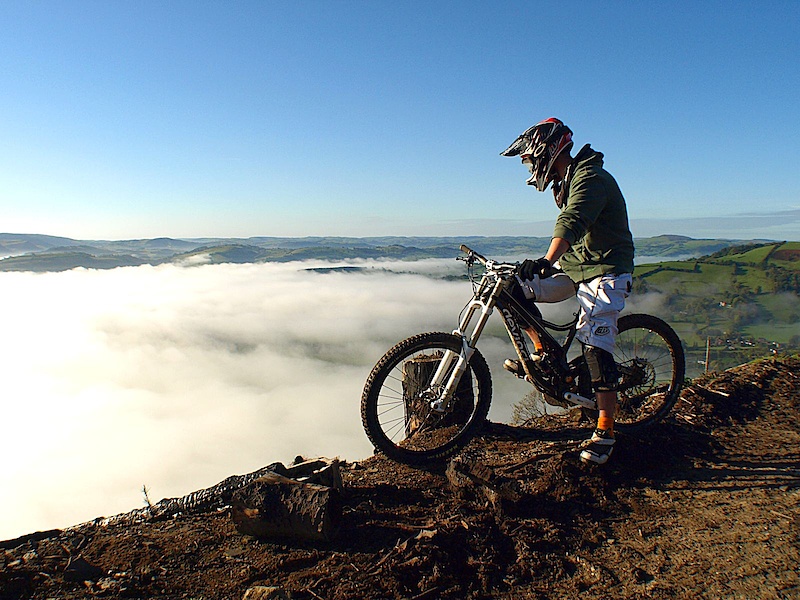 Soaking in the view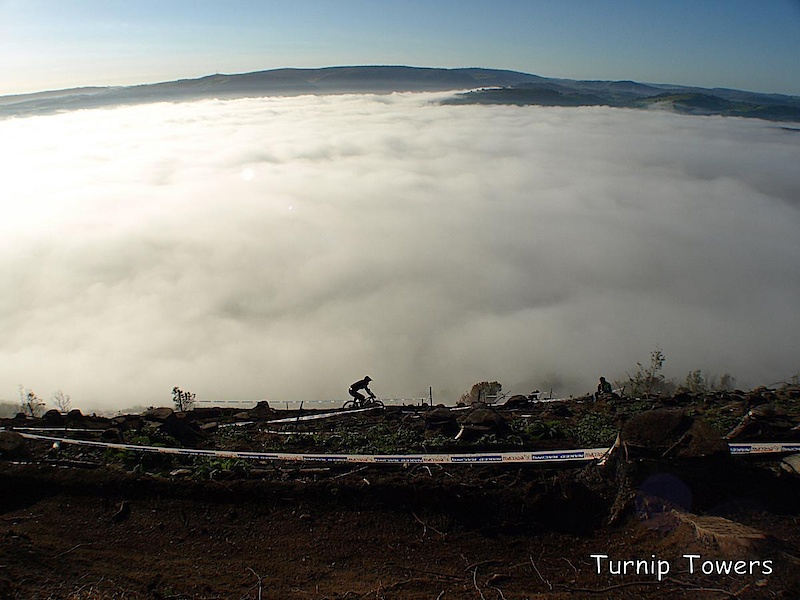 This is Wales in October!
The track started with a quick sprint off the start ramp, through a berm to be faced with a gap jump across a fire road. This went into a 90 degree berm making this one of the most spectacular parts of the track with the backdrop of the low cloud making it all the more amazing.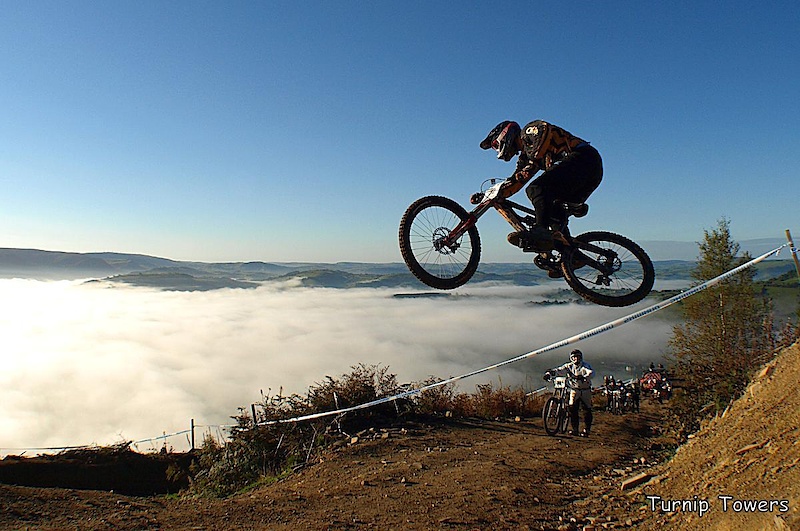 Eyes fixed on the berm landing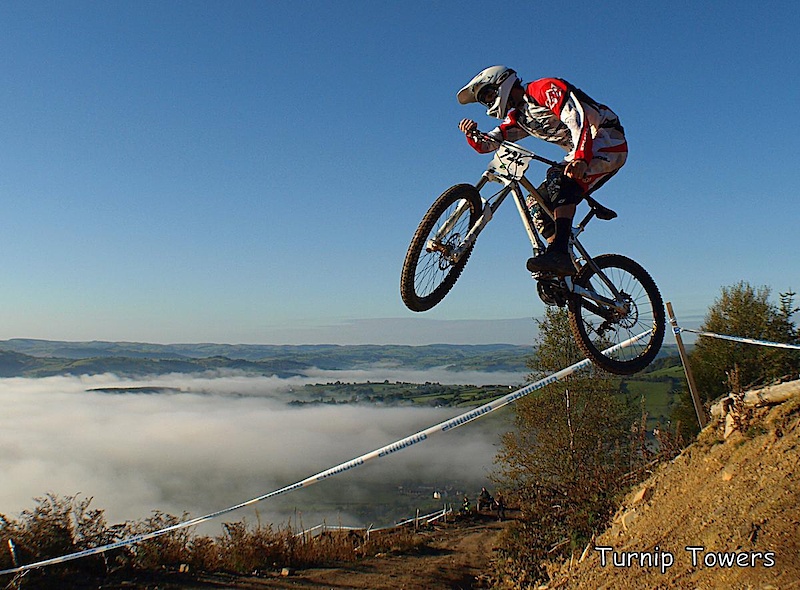 Styling it up for the camera
Shooting through the berm
The track then opens up into a series of steep straights connected with switch back corners down to the next fire road. These sections were made all the more difficult due to all the stumps from the many cut down trees littering the way.
The next fire road has no jump across it, but a tunnel cut under it where riders plunge into the dark for a couple of seconds and appear out the other side back onto a rooty and stump littered track.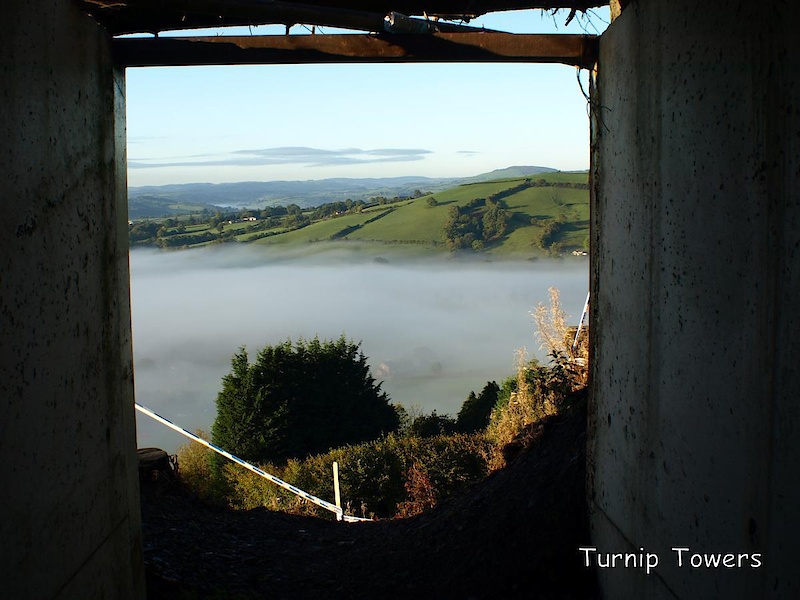 Tunnel vision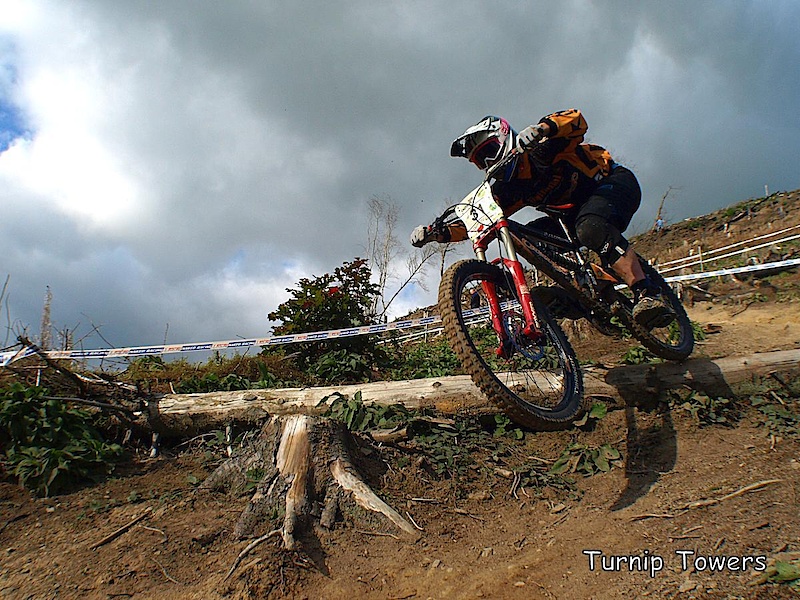 Keeping it low and pinned
The second half of the track is smoother, but still tricky. After coming off the dusty, loose top section the riders swoop through a fast berm to a high table top which could be hit full on, or as many riders did, cut at the side allowing you to keep your speed for a level sprint section before the next off camber descent towards the finishing field.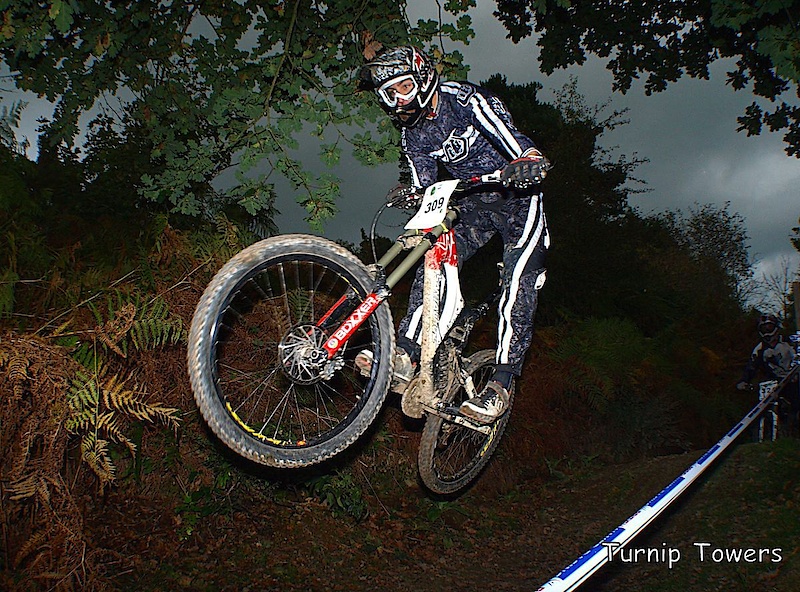 Styling the jump just before the last section
Once down the descent it was a quick sprint over the fire road and into the finishing field and a flat out dash to the finish line.
Results:
Expert - Leon Rosser
Hardtail - Richard Acott
Juvenile - Callum Havard
Youth - Philip Atwell
Junior - Callum Dew
Senior Men - Simon Stuttard
Master Men - Dave List
Veteran Men - Darren Howarth
Youth Women - Charlote Hughes
Senior Women - Lianne Bartleman
Fastest Time
- Simon Stuttard - 1min 55.13s
Video Action
Another Caersws Cup series draws to an end with five action packed dry and sunny races and we can only hope 2011 will be as kind.
Pictures By
:
turniptowers.pinkbike.com
john-brignal.pinkbike.com
Videos By
:
teamboon.pinkbike.com
kikmtb.pinkbike.com
Event Organizers
:
nakedracing.com