At 30 years old, I joined my first DH race.
Here's what I learned. And why I wish I tried this earlier.
From nerves to confidence
For years, I had knowingly avoided any form of competitive riding.
Part of me enjoyed the freedom of doing what felt best, whenever I wanted. Keeping low on a jump to save time? Feeling the clock ticking at every tight corner? Not my idea of fun!
Plus, what would be the point in racing, knowing I would likely never win?
Then of course, there was the real reason.
I felt about competitions the way one would fear a surprise visit to their long-distance relationship: a good, harmless idea, in theory, but what if you find out something you really don't want to?
In my case, I had serious concerns that joining a race could show what a "below average rider" I was, and leave me heart-broken.
So, after many late nights of pondering, I told myself that I was making it too big of a deal, and decided to make the first step.
I signed up to a local race. The Mash-up race at Aston Hill was a combination of two trails that I know fairly well. Call it the "home ground factor", but it definitely helped at the moment of booking the entry.
I kept it all secret. Not a word to friends and family. This way, had I come last, been laughed at or confirmed to be a total loser in any way, I would just had kept it silent and taken my shame to the tomb. I told my girlfriend I'd be camping near the trails to make the most of the weekend but did not mention the race. Which looking back, was only half a lie.
I decided to set a clear goal for my first race.
On a wet course, my goal would be to finish without crashes and rank better than the last 10 positions. If it was going to be dry, I'd try to rank better than the last 20. Including DNSs and DNFs, on a list of 200 riders, it seemed like an easy trophy to bring home.
Needless to say, it was all in my head and I am glad I took the chance to prove myself wrong.
The atmosphere at grassroot races is very relaxed. Most people ride with friends, some even race with little more than the two mandatory practice runs. One guy raced in suit, tie and full face helmet, for a laugh. Some take part to race at their best, some will just be spending another day on wheels. No one is there to win a world cup and there's a lot of chatting and joking throughout the day.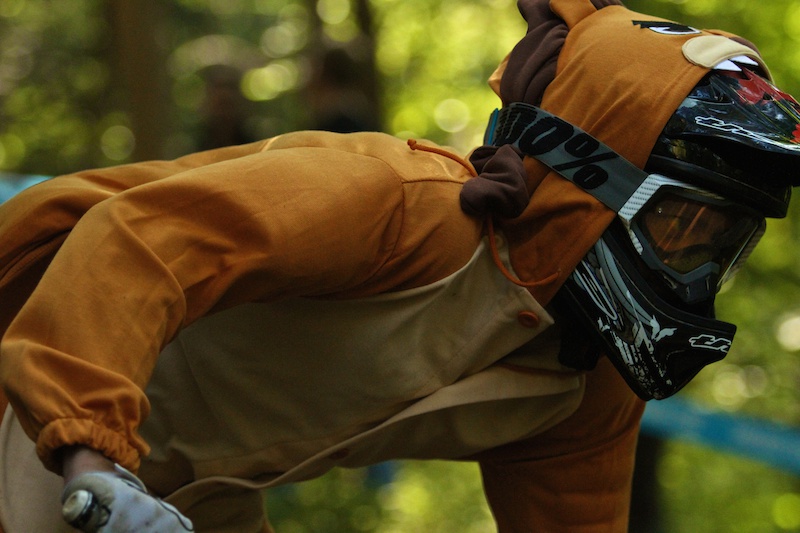 But still, the mental process I prepared myself with in the run up to the event really helped my confidence.
I was so empty minded at the start gate that I didn't notice the beeps. I said "sorry" to the Marshall and went with the next.
I did well. No crashes, felt fast, achieved my purposely low, self-set goal. Most importantly, I went home grinning, feeling that I had overcome my riding shyness. I washed my kit and booked the entry for the very next race I could find.
I still set goals to every race (half of the overall rank is the highest I've set and achieved so far) but I am a lot more relaxed about not achieving them. I use them to keep me focused, on race day as well as during every other day on the bike.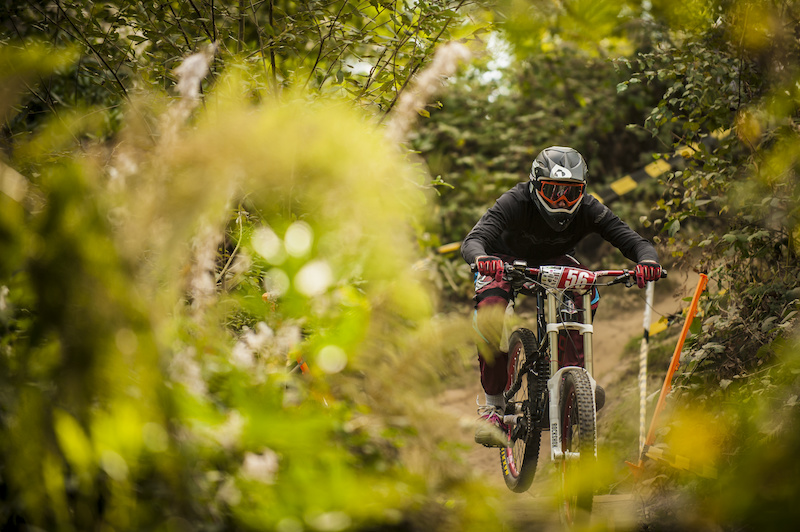 Fitness
To be very honest, no particular fitness is required to enter an amateur race. At most, we are talking about 2 minutes runs.
Last race I took part in, some guy saw me stretching and joked that he would only reach his ankles if he tried while sitting.
But I wanted to take the opportunity and make training a habit. My opinion is that, since you are going to measure your riding, you don't want to spoil your results with something you could easily fix.
After all, no rider would compete with an old tyre and a broken pedal, so why would you do so with short breath and weak legs? Fitness is basically taking as much care about the brain and muscles that will move the bike.
I trained all year with the Insanity workout. It has nothing to do with cycling but gives good results on cardio, balance and strength. It's a sweat, believe me, but it made me feel like a real athlete.
The girlfriend did not complain about the partial come-back of a six pack either.
I want to say this again because it's important: amateur racing does not "require" regular training. Obviously it helps, but in my opinion it has more to do with the commitment to taking your bike time more seriously.
National championship races may be a very different thing, especially if trying to rank in the top half. But again, I have friends that are satisfied with taking part and can still manage a 5min descent without any great training, other than a weekly ride.
In grassroots competitions, training may be not required but will, no doubt, help with results. I noticed, for example, that I could get nine/ten practice runs in a day as well as three/four the morning before the start. Some of the guys in my category only get five or six runs within the two days. That's a big difference!
Experimenting
Racing will force you out of your comfort zone, in every sense.
There is no space for "I know I can do that jump but I'm still getting the shakes so, ehm, maybe next run…". If you are serious about it, you'll send it.
There is no "I should really put some pedal strokes here, but my legs are burning so I'll just sit and coast...". If you are serious about it, you'll pedal. And if it burns, you'll make a mental note to train your legs better.
You will take trips to new trails and feel the power of a beautiful view right from your "bed".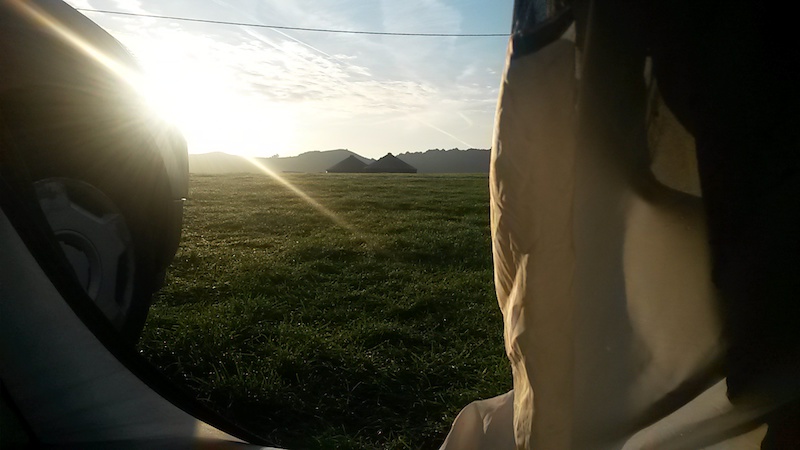 If you are all for jumps and drops, racing will have you ride the roots and rocks too, and vice-versa.
I started experimenting with my kit too. I knew how shock and fork work, but I started changing the settings depending on the trail I was on. And, at the cost of causing a riot in the comment section, I tried SPDs, something I had always looked down at.
What I think of clipping in is not important here. What's important is that breaking my routine undoubtedly made me a better rider.
Vow renewal
Like most love affairs, it may come a time where the routine sets in and passion fades away. This is exactly where I was with my riding.
Same drive, same trail, same bike; week after week. You ride and think about having to clean the flat, or having to finish that thing at work by Tuesday.
If something on the trails scares you, you may go around it. If get hungry, you may call it a day and go home early.
I needed something to renew my passion for the sport. And racing did just that.
Once a month I make space for an entire weekend of riding. Literally: 48 hours where nothing else matters but the bike, the trail, the weather, me. The here and now.
Call it "riding mindfulness", if you want.
Starting to race, even just amateur races, made a world of difference to the way I ride. I am a faster, more confident rider than I have ever been. It's given me the chance to get serious about fitness and renewed my commitment to the sport I have loved for so many years.
Let me be very honest: I don't even think of the podium. I know I will probably never set foot on one. I feel a winner everyday that I renew the struggle, the effort and the optimism necessary to do well.
Give it a try. You may find something you didn't know your riding needed.