TheCoolKids611
Member since Jul 5, 2012

Male / 24
Sunshine Coast , British Columbia
Block user
Recent

Jun 18, 2020 at 13:54
Jun 18, 2020

Selling
Jun 18, 2020 at 13:53
Jun 18, 2020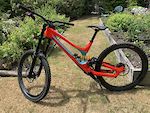 $4500 CAD
This Demo8 is in perfect condition. I bought the bike new last year and only rode it 3 times (never crashed). I'm selling because university is expensive and my savings took a recent hit with the pandemic. My loss will be your gain. Visit this link for the bike description from Specialized themselves: https://www.specialized.com/ca/en/demo-8-i-carbon/p/129006 The only things I've added to the bike are : -Shimano zee dérailleur running single speed (I still have the stock derailleur, cable housing, and shifter. All you need to switch the drivetrain back to stock setup is a cable). -Air spring -ODI fork bumpers Contact me if you're interested. Text works best.

Selling
Jul 26, 2018 at 17:02
Jul 26, 2018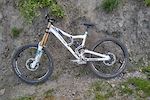 $1300 CAD
Selling my 2013 Rickey Mountain Flatline World Cup. This bike is beautifully maintained and ready to ride. It has top of the line specs with a full Shimano Saint drive train and Fox Suspension. This beast is perfect for someone who loves corners and riding fast. Every thing is in mint condition except for your normal shuttle wear and small Kashima blemish on left stantion which I show in the pictures (it does not effect performance or feel). The only reasons I'm selling is because I'm moving more into Enduro riding and could use the money for school. I'm excited to pass on this downhill machine to its next loving owner. If you're interested, please text me for the quickest response. Thank you.

Selling
Jul 25, 2018 at 16:45
Jul 25, 2018

Selling
Aug 19, 2017 at 20:54
Aug 19, 2017

Selling
Aug 18, 2017 at 16:46
Aug 18, 2017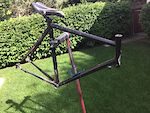 $300 CAD
Selling my 59cm Guru New Steel Frame. Was going to run a track wheel set on it, but the vertical drops were a hassle so I am selling along with some quality parts. You get a carbon fork, handle bars, stem, and a wheel set (front wheel is perfect, the rear hub doesn't have bearings or axle). The frame is in perfect condition, with some spray paint over top of the raw finish. Spray paint is thin, so could easily be wet sanded back to its raw status with a carbon rear triangle. Please send me a message if you're interested. Thank you.

Selling
Aug 18, 2017 at 16:34
Aug 18, 2017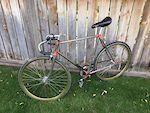 $450 CAD
Selling my Bianchi Pista fixie/track bike. The frame is raw, with red accents, in mint condition. Has an 83mm external BB running FSA SLK Light carbon cranks. I have had one crash on these cranks a year ago, but no cracks and they have held up well. I am including the old cranks at no extra charge in case you have something against carbon. Plus, with the external 83mm BB, you can install many modern cranks. Running a Surly wheel set, with fully sealed bearings that I serviced at the beginning of 2017. I put a front brake on for the sale, but it is very easy to take off if you want to run brakeless. Send me a message if you're interested. Thank you.

Selling
Aug 18, 2017 at 16:23
Aug 18, 2017

Selling
Aug 27, 2016 at 19:36
Aug 27, 2016
$3600 CAD
Selling my 2015 Morewood Makulu custom build. This bike is built from the frame up with only the finest parts available. I had the frame powder coated professionally and all bearings are ceramic. Rode it one season, built it fresh in march and have kept it well maintained since. Take a look at the link to find more specific geometry specs and what sort of terrain the bike excels in: http://www.morewoodbikes.com/bikes/makulu-26#section-gallery Brief Spec List: -2015 Morewood Makulu frame powder coated black, cane creek double barrel with titanium spring -2016 Boxxer World Cup Black -2016 BZA 35mm stem -2016Cane Creek Headset with ceramic bearings -2015Easton Havoc 800mm bars -2016Aaron Gwin ODI Grips black -2016 Carbon fiber spacers -2015 Full saint brakes front and rear with icetech 203mm rotors (Fresh bleed) -2016 83mm saint bb with ceramic bearings -2016 Saint cranks, 165mm -2015 Raceface atlas pedals -2016 Raceface seat post -2015 Chromag, Brandon Semenuk Saddle -2015 Saint hubs -2016 Easton EX729 Rear Wheel with titanium spoke nipples -2014 Easton EX829 Front Wheel -2016 Shwalbe Magic Marry Tacky Compound -Single Speed Drivetrain with 2016 saint derailleur Please text or email if interested or have any questions. Will only consider reasonable offers. **Will consider trade for slopestyle or freeride bike. Interested in the P-Slope, or any freeride bike nicely built**

Selling
Jul 23, 2016 at 11:17
Jul 23, 2016
Load more...