Thevintagebike
Member since Jul 20, 2016

Calgary , Alberta
Block user
Recent
May 15, 2020 at 18:43
May 15, 2020
Selling
May 15, 2020 at 18:40
May 15, 2020
$2800 CAD
Up for sale is my 2017 Trek Emonda SL built with Dura Ace 9050 (Di2) Grouppo. I purchased the bike last summer from the original owner who only put 100k on the bike, as a result I've got around 2500k on the bike since. The build is as follows: - Frameset: Trek SL - Shifters: Dura-Ace 9050 - Bars: Zipp Sl-70 (40cm) - Stem: Zipp Service Course (120mm) - Bar Tape: Lizard Skins - Wheels: Bontrager Race w/ Bontrager R2 25c tires - Crank: Dura-Ace 9000 w/ Absolute Black chain rings (52/36) - Front Derailleur: Dura-Ace 9050 - Rear Derailleur: Dura-Ace 9050 - Brake Calipers: Ultegra 6800 - Saddle: Bontrager Montrose For the asking price I'll include a 4iiii powermeter, service at The Bike Shop as well as a fresh chain. Specialized Power saddle and pedals not included. $2500 without 4iiii powermeter
Mar 15, 2020 at 9:31
Mar 15, 2020
Selling
Mar 15, 2020 at 9:29
Mar 15, 2020
Dec 28, 2019 at 15:51
Dec 28, 2019
Selling
Dec 28, 2019 at 15:44
Dec 28, 2019
Selling
Jul 9, 2019 at 19:53
Jul 9, 2019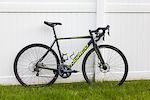 $950 CAD
So here I was, having to commute downtown for work. Who likes paying for bus passes and parking? So I got a cross bike to commute with, and so far its the best commuter I've had. However, its a little big for me and I am unable to find my fit on this bike, as I usually ride a 53/54cm. Ive had knee issues when I've ridden a bike that's a little too big, so unfortunately I have to get rid of this bike. The bike has been upgraded with Ultegra shifters and an Ultegra crank, the rest of the kit is 105. It is a great reliable bike for someone who's looking to get into commuting or cyclocross, I mean cross is coming!!! Would ideally be suitable for someone that is around 6 feet tall. Selling for $950 but I am open to offers as I am in need of a smaller bike. With that being said, it will be ridden every day till it is sold. If you have any questions, please feel free to ask. Low ballers will be ignored. Pedals and bottles cages will not be included.
Jun 8, 2019 at 11:23
Jun 8, 2019
Selling
Jun 8, 2019 at 11:21
Jun 8, 2019
$340 CAD
Got a new road bike so I haven't ridden this much. The eclipse rides beautifully and as a result I really contemplated building up a modern steel bike. The bike was built with a combo of Campy Record and Chorus with a Daytona rear derailleur. This bike would be perfect for someone looking to get into road biking or someone who is looking for a commuter. New GP4000 S tires have been put on along with 3T Ergonova bars and an Athena Power Torque Crankset. I am asking 400 OBO and am open to offers.
May 1, 2019 at 13:58
May 1, 2019
Load more...