Toxicevo
Member since Aug 17, 2019

Male / 27
Adrian , Michigan
simple, i love to get out there and shred with the bros, and enjoy the experience mountain biking brings for years to come.
Block user
Recent

Nov 30, 2020 at 13:29
Nov 30, 2020

Jun 21, 2020 at 10:29
Jun 21, 2020

May 31, 2020 at 18:45
May 31, 2020

Selling
May 31, 2020 at 18:36
May 31, 2020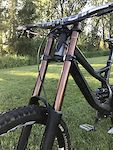 $1350 USD
Here is a medium Specialized Demo 8. Rides like a dream. nothing compares to this plush ride. I recently had new Spank race 33 bearclaw rims swapped and a brake bleed serviced. Only reason to sell is it was really a Impulse buy and I need the cash. Open to offers. Not shipping now. Need to pass it on who will give it a nice home. 2014 Demo 8 Custom Build Bars: Deity platinum 825mm long 35mm Stem: Deity platinum 35mm direct mount Grips: Renthal Pedals: Deity platinum masher pedals (yes a bike that actually comes with pedals) Rear Derailleur: ZEE Tires: Front & Rear: schwalbe magic mary 26 x 2.5 both tubeless. Rotors: Shimano rotors 200mm front, 180mm rear SRAM PF30. Newer: Marzocchi fork after purchased by Fox. Can be set up 26" or 27.5" This was one of the first designs when Fox took it over. Clean, smooth, no scratches etc. Brakes: Newer Zee. New pads. Shifter: ZEE 10 speed Shock: Fox Van RC W/ 400X3.25 spring Seat post: Deity Saddle: Specialized Guard/Guide: Gravity Light Cranks: Truvatived 36T ring. With shoe rub. Cassette: Shimano 11/26 Chain: SRAM PC 1031 with link As you can see from the picture there is wear on the frame from normal use, but the frame is mostly covered with 3M protective tape from the previous owner. It does however have a small indent in the left rear suspension bar and it absolutely does not hinder the bikes performance whatsoever. As for strength and durability no way in the world can someone break it or make it worse even if you were 400lbs riding Red Bull Rampage. Has a larger scratch right behind seat post. It's about the size of a quarter.

May 31, 2020 at 9:10
May 31, 2020

May 31, 2020 at 3:42
May 31, 2020

Selling
May 31, 2020 at 3:41
May 31, 2020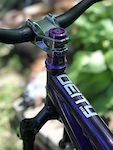 $600 USD
Here's your chance to own a classic steel dirt jump/street frame in a custom ultra violet color! This amazing ride hasn't seen use for a handful of years and it's time to hand it over to another rider for some fun. The frame includes a bottom bracket, black bb spacers, gold 25-tooth Profile chainring, and gold half-link chain, black nukeproof riser bars, with silver nukeproof 35mm stem, Black nukeproof flat plastic pedals, unknown brand of chrome crank arms. Purple Deity stem cap. Manitou circus expert forks, the forks are brand new and have never been used! Will update photos with parts listed. Hand-welded by Christopher "Doc" Boudreaux Tubing: True Temper Supertherm 4130 front, True Temper Platinum 4130 rear Headset: 1.125 Campagnolo Type Integrated (BMX standard 45/45 angular contact) Bottom Bracket: Mid Sized Brakes: Disc only, Small Rotor International Standard Mount Fork: Intended for 18.5 inch axle to crown length Seat post: 29.8 mm Seat clamp: Welded on binder bolt Hub spacing/Axle: 135mm spacing with 10mm axle Maximum tire size: 2.5 inch Derailleur/ISCG mount: None Geometry (with 18.5" fork) Size: Regular Head Angle: 70° Seat Angle: 71° effective at 16 inch BB center to seat rails (68 actual) TT length: 22.125 inch (actual), 22.75 inch (effective) BB height: 12.125 inch Min CS length: 15 inch Min wheel base: 39.6 inch (with 1.75 inch fork offset) Head tube length: 4.5 inch Seat tube length: 9.75 inch (BB center to TT center) Frame weight: 5.1 lbs More info: http://www.ridesuperco.com/bikes.php User reviews: https://www.vitalmtb.com/product/guide/Frames,7/Superco/Charger,135 This frame has been well cared for and is ready to rally. It's a very fun, poppy ride with the forgiving feel of steel tubing. Payment by Paypal goods and services only.

Apr 25, 2020 at 4:48
Apr 25, 2020

Selling
Apr 25, 2020 at 4:47
Apr 25, 2020

Aug 21, 2019 at 4:28
Aug 21, 2019
Load more...