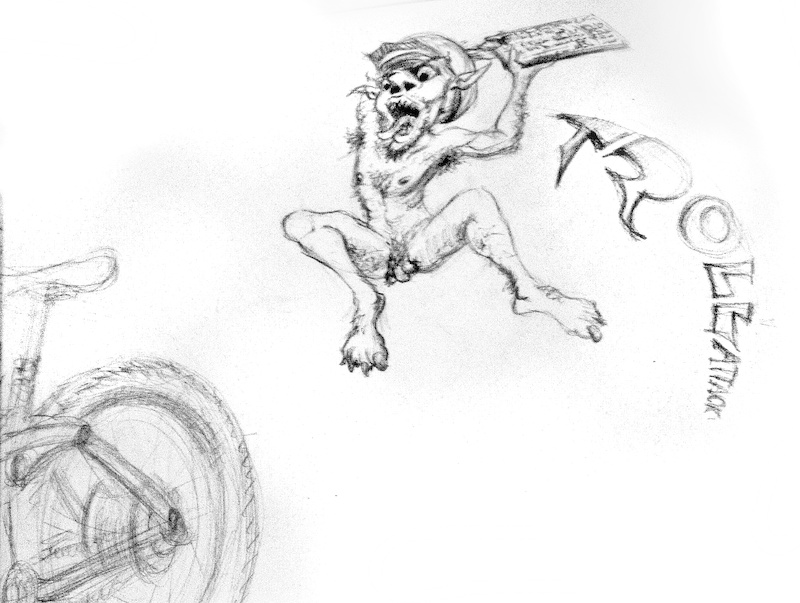 Sometimes you bite more than you can chew, and if you're stupid you just try to swallow it anyways... this is how my life feels to me lately. And in many ways the bike is to blame. My toddlers grew a bit bigger and I got more time for riding. Weather played out fantastically this year, it's been plenty of sunny days and if it's raining it's warm so there's no problem to be riding while being totally soaked. I don't remember having so many riding days. Then I got a tiny crush on Strava, chasing seconds to see how i stuck up against the local field and the issue is that when you get into top 10s when trying, and top 20s when riding like I'm not giving much shit, things get unnecessarily serious. At least considering what's at stake and that's pretty much: no-f*cking-thing.
But then there's the issue of my online activity and it grew exponentially. I always had it in the back of my head that it would be cool if someone gave me something since I am a visible commenter on Pinkbike (even though I never did that for that reason, I do it because I like joking with people, I find it entertaining). It finally happened, Antidote bikes gave me a fat discount on their frame, few small makers wanted to give me their tiny products. And as I predicted it has put a pressure on me to perform "online" which distorted things a lot. I hoped to stay balanced but the inner Troll beast must feed so it finds ways to get a voice. So yes I started to be a dick on a few occasions and talked confidently of sht I have no clue about. To my defense I can say that I always tried to be true and present myself for who I am. I hate how anonymous internet is, I have nothing to hide, why the hell should I present only good sides of me? The truth is every human being has some sht in the closet, I'm just the village idiot who thought that showing it in a civilized manner may be a good idea.
There are a couple of people who feel the need to spread hate on 29ers, Gee Atherton, word Enduro, expensive carbon bikes or plus tyres or (my Gawd!) E-bikes. Now... I feel the need to let those f*ckrs have it... I indulge meta-trolling, I troll on people who are trolling because they hate wrong things... So I feel like I became the regular case of Nietzsche's "monster fighting paradox": if you gaze long enough into the darkness, the darkness gazes into you. When you fight monsters you become a monster yourself. It feels this way for me and that's not a nice feeling... I just finished watching Breaking Bad and through the whole painful process of binge watching all 5 series I saw too many parallels to my own situation, including my family hating me.
So the conclusion is rather simple, I have two choices: I have consumed so much troll food and burned out so much of my initial fuel, that my mass and spin is reaching some quantum/shmantum threshold. I can either become a supermassive ass-hole or my core can collapse under the weight of my own bullcrap and I can go supernova, for a reset... I'll try to focus on bringing content requiring some other work than just typing...
As usual... I have no f*cking clue why I wrote it...