Birthdays are like opinions, egos, and the other things, everyone has one and some are bigger than others. This week Canada celebrates its 150th year as a Nation which is nifty, especially because we have trees that are older than that. I love Canada, especially the mountains, rivers and wildlife we sometimes take for granted. There were many people here 151 years ago and those long before who also deserve to be celebrated. I tip my hat in respect for being allowed to share their ancestral lands. "Kukwstumckalap!"
Another birthday of note this week is the ubiquitous iPhone, which turns ten. I was an early adopter and have the same chemical dependency on the device as most of the modern world. There is something about having phone, camera, photo albums, video camera, movies, television, GPS, gaming console, dictionary, world encyclopedia, calculator, music library, maps of the entire planet, and mailbox in the palm of your hand that is remarkable since none of those things existed 150 years ago and would have required a truck to carry around (with a very long extension cord) a scant 25 years ago.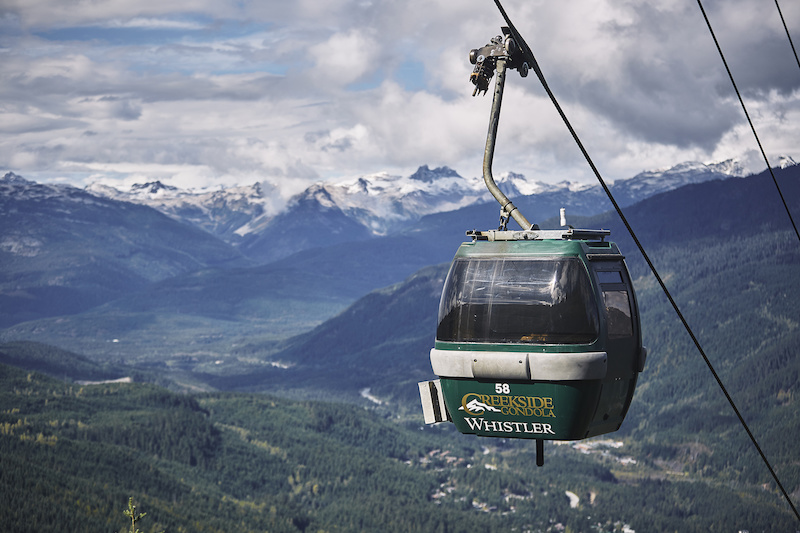 The better commute to the Park.
While milestone birthdays are exciting to celebrate there is perhaps nothing more exciting than celebrating a new birth. A birth-day is the celebration of potential, the smell of something new and the excitement of sharing your world with something for the first time. This weekend we are celebrating the birth of a new trail in the Whistler Mountain Bike Park. We are proud to announce the birth of a bouncing baby blue trail whom we have bestowed the name "Blueberry Bathtub". Blueberry is a 2km, berm-fest jaunt, through the forest off of Expressway (just below the merge from Little Alder) in the Garbo Zone linking riders with the top of Fitz Zone. This fresh trail is the perfect way to commute to the classic zones of the Park after taking the Creekside Gondola up from the last bastion of free parking in town.
For anyone who missed that plug, pay-parking in all village day lots kicks in after 150 years of free-ness so make the wise choice and park south of town.
The Garbanzo Zone is now 95% open with the odd section of trail closed for repairs. The Trail Crew are now heavy into the rebuild of D1 which can be previewed by riding Too Tight and pulling off the trail to sneak a peek at the new 12 hit Proline upgrade of this trail. When we blow out the candles on the rebirth of this bad boy it will be to the tune of some rowdy AC/DC because this thing will be legit.
Oh, and the new Family Cross, through the Joyride course is also opening today. Do we call it a birthday? You decide.
Happy Birthdays, see you in the Park.
Brian Finestone – Bike Park Manager