Williams92
Member since Mar 13, 2016

Male / 28
Lake District , United Kingdom
New to the site
Block user
Recent

May 30, 2020 at 9:24
May 30, 2020

Selling
May 30, 2020 at 9:24
May 30, 2020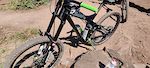 $1500 GBP
Zerode G1 Downhill Mountain Bike, large frame. Recently built using new and used parts, used parts include; hope pro 2 hubs in team green laced to Mavic rims they have a few dings and could do with truing but nothing noticeable when riding, marzocchi 380 Cr forks, fox dhx 5.0 rear shock both were serviced last month and have one ride on since, hope mono x2 race calipers with mono levers, race Face atlas limited edition monster green cranks. New parts include;Chris king headset, green spank direct mount stem, charge spoon saddle limited edition green, race Face grips, 203mm floating rotors. I will be buying new pedals for the sale and also new handle bars and seat post as the current ones on the bike are unbranded and were only fitted for a test ride. The bike has an 8 speed gearbox in the form of a Shimano alfine hub and I urge you to do your research on the zerode brand and specifically this bike.

Dec 22, 2018 at 0:02
Dec 22, 2018

Dec 17, 2018 at 23:53
Dec 17, 2018

Dec 17, 2018 at 23:39
Dec 17, 2018

Selling
Dec 17, 2018 at 23:38
Dec 17, 2018

Oct 9, 2018 at 8:55
Oct 9, 2018

Mar 7, 2018 at 9:19
Mar 7, 2018
Canyon Goes Electric with the Spectral:ON - First Ride
They're starting to look more and more like motorcycles and now being spec'd with 29 up front ands 27.5 on the rear that's motorcycle territory I don't know of any motorcycles with the same sized wheels front and rear, I've got nothing against e bikes they have been around for years it's just know different brands are trying different things it's just evolution although I do think they should only be aloud on e bike specific trails and I think the trails could be built to push the e bike to the absolute limit

Jan 29, 2018 at 15:56
Jan 29, 2018
Robot Bike Co. Announces R130 29er
I can't believe people are moaning about the price, I'm considered to be quite a tight fisted person for those that don't know, it means I don't like spending too much money ???? but this bike I would buy without a second thought it's a great looking bike and great spec for the price and as stated a few times in the comments there are cheaper builds to be had, I'd rather spend £5800 on this than something that has been mass produced which you are given a lifetime warranty for because it's probably going to go wrong at some point ???????? so I'll bring this to an end in saying this is a reasonably priced bike for what it is and if my funds allowed I'd buy one in an instant. Good luck on future sales and projects @RobotBikeCo.

Jan 29, 2018 at 5:08
Jan 29, 2018
Load more...