Wolf32
Member since Aug 5, 2016

Male
Charlotte , North Carolina
Block user
Recent

Jun 30, 2018 at 4:23
Jun 30, 2018

Selling
Jun 30, 2018 at 4:20
Jun 30, 2018

Jun 30, 2018 at 4:10
Jun 30, 2018

Selling
Jun 30, 2018 at 4:09
Jun 30, 2018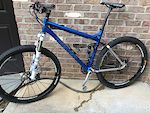 $1000 USD
Very clean. Single owner and have several bikes.. Love Turner products and went with XXL Sultan years ago. Just never decided to sell this. Crossmax wheel set, XT drivetrain and Juicy brakes, Fox shocks and fork, Thompson set back seat post and Thompson stem can send close-ups. Let me know. Shipping: Your choice. You can arrange via BikeFlights or similar. Or, I can drop off at local shop of your choice for them to box/ship and bill you directly.

May 17, 2017 at 17:40
May 17, 2017

Selling
May 17, 2017 at 17:39
May 17, 2017
$900 USD
Fun Single Speed by awesome company. Will include the original rigid front fork as well. Really hate to part but have three bikes and need to make some room in garage. Happy to send more pix Will include Crank Bros pedals if wanted.

Selling
May 17, 2017 at 17:31
May 17, 2017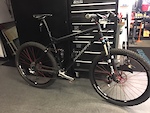 $1500 USD
Turner makes incredible bikes and the Sultan has been their flagship for many years. If you are 6'3+, treat yourself to a bike that really fits. This bike new was over $6k and i have made many upgrades. Just did full tune up and new chain, brake pads and more. Have $500 in recent servicing in last 6-12 mos. It ready to roll Matte Black Frame Red Industry Nine wheelset - Enduro Hub with Stans Flow rims Fork: Fox, Recently Serviced by Fox Rear shock -Fox RP23 -just fully serviced and upgraded Push body 1x10 XT Drive Train with Shimano clutch derailleur Thompson layback seat post Chris King Head Set-red Schwalbe Nobby Nic and Hans Dampf Tires, Tubeless XT Brakes and new Shimano Ice rotors and pads This bike has been awesome and I would keep but just went to carbon and need to make room. I can send more pix. I will pay to have disassembled and professionally boxed.
Load more...