adamr1
Member since May 9, 2013

Male / 36
Kelowna , British Columbia
Block user
Recent

Oct 25, 2019 at 7:21
Oct 25, 2019

Selling
Oct 4, 2018 at 18:23
Oct 4, 2018
$30 CAD
Bought one package of these pads and sold my bike this past August so don't need them anymore. Paid $55 for them, selling for $30, pickup near Capri Center

Selling
Oct 4, 2018 at 18:21
Oct 4, 2018
$20 CAD
Bought one package of these pads sold my bike this past August so don't need them anymore. Paid $30 plus tax for them, selling for $20, pickup near Capri Center

Selling
Sep 30, 2018 at 14:03
Sep 30, 2018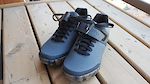 $100 CAD
New condition, worn once for a half day. Too small for my feet, regular price $180 plus tax, selling for $100.

Selling
Aug 31, 2018 at 15:46
Aug 31, 2018

Aug 24, 2018 at 18:22
Aug 24, 2018

Selling
Aug 24, 2018 at 18:18
Aug 24, 2018

Selling
Aug 10, 2018 at 8:33
Aug 10, 2018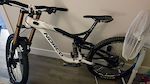 $2150 CAD
Very clean 2014 Aurum LE with new parts and service recently added to the bike (about $700 worth of parts and labor put in this season to make it more of a beast). Bike is ready to ride and needs no work or money thrown at it. Frame has 40 days use, was new at start of 2017 season. 3M taped prior to riding. Comes with 450 spring for the Cane Creek. Selling due to upgrading trail bike and focusing on that instead of DH. 2013 Fox 40, newly serviced in mid July by Vorsprung, only ridden once since then (receipt available for proof). Fork feels like a tank and is firm, takes any tech you throw at it but still plush to hit the jumps easily. Chris King Hubs on Stans Flow EX rims. Brand new rear rim, nipples and spokes with 1 day of ridding on them. Front replaced mid 2017. 2013 Saint drive train. mint condition chain (15 days). In excellent condition. Cable and housing are recent. Brakes are 2017 Zee. Front rotor new at start of season. New rear pads installed with 1 day of ridding on them. DHF DH 2.5 front and rear. Both with good thread. (Front=70%, rear=70%) Tubeless setup already with new rim tape. Truvative stem and Boo Bar with 15 days on them. Main pivot point bearings replaced 2 rides ago to brand new ones. Bike is constantly maintained.........ready to hit anything you throw at it. Pedal not included

Selling
May 19, 2018 at 9:43
May 19, 2018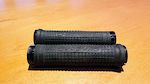 $15 CAD
Lightly used Chromag grips XL size, new is usually $40 after tax

Selling
May 6, 2018 at 12:14
May 6, 2018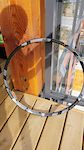 $60 CAD
Brand New E Thirteen TRSR alum rim 32 holes Retail for $130 plus tax normally.
Load more...