agraber
Member since Aug 21, 2012

Male / 28
Wooster , Ohio
I love wheels.
Block user
Recent

Aug 14, 2019 at 10:10
Aug 14, 2019
Fox Announces New FIT4 Fork Damper & Roller Bearing Kit for Shocks
To elaborate on my previous reply and address the direct quote of "it pushes less oil through the base valve, allowing for less damping" .... What they're probably TRYING to say here is - a smaller diameter shaft forces less accessory oil around in the system. Since that volume drops, damping used to control those volume spikes isn't needed to be as aggressive. Think of a tiny little man jumping into a bath tub vs a big fat man. Except the bath tub is sealed with a flexible cover. That cover has to do a whole lot more work to keep the water contained when the fat man jumps in. (yes - I realize my analogy is impossible if the cover is truly sealing. So instead, the tiny man and fat man must now slide in through a tube of which they are the perfect diameter to seal themselves off as they pass through) lol this just got weird....

Mar 4, 2013 at 9:50
Mar 4, 2013

Selling
Mar 4, 2013 at 9:47
Mar 4, 2013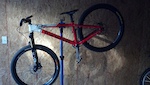 $1350 USD
2011 Transition Bank Fox 831 Shimano SLX brakes, crankset, pedals Single speed Thompson seatpost WTB front hub, Sun Ringle rear Good shape overall....a couple minor cosmetic blemishes on the paint of the frame and the chords of the rear tire are a little warped so the tire has a weird variation to it.....(wheel seems true but tire wobbles a bit) I can text better pics of anything on the bike if you're interested. Located in Greenville, SC.
Load more...