I bought the bike in July '06 and have been ripping on it since. There has been few upgrades to it,
but it's mainly the same setup, than year ago...
The Story:
Unsecure image, only https images allowed: http://www.ridingjkl.com/ridingjkl_kuvat/air/pbblog/06BigHitII_Blk_l.jpg
Last summer I bought complete '06 Big Hit 2. Firstly I dumped the Drop Off Triple and installed Boxxer Team on. Then I sold complete's Demo handlebar, X.7 trigger and X.9 short cage derailleur. I replaced them with my older Husselfelt handlebar and full X.9 set. Also Specialized's flats had to go, I put my DMR V8's on with some new spikes. This was pretty much
the setup
I had last summer.
Last winter
my Vanilla R lost it's magic gas in freezing temperatures, so I got it fixed and custom shimmed. After a while I also changed seals for Boxxer, which had started to leak. (These cold winters are tough stuff for bikes...)
When spring arrived my Single Track rear rim was done and I had to replace it. I thought Mavic's EX729 would do the trick and had it laced to old hub. OEM Specialized's saddle started to look like it was falling apart, I replaced it with more racier DMR Jump Seat mkI. Next I came to conclusion that I needed wider flats for more grip, so I bought last pair of Xpedo's magnesium flats from CRC.
In July '07 long lasted Specialized's Chunder tyres had lost most of their knobs, I swapped 2.3" Maxxis Swampthings in hope of rain. I pretty fastly noticed, they were too narrow for my liking and bought
Scott's Chargers
with dual compound (42a on center and 40a on side knobs). With those I have been shredding till today. Currently I'm waiting for snow and frost to come, so I can put my homemade studded Continental Vertical's on.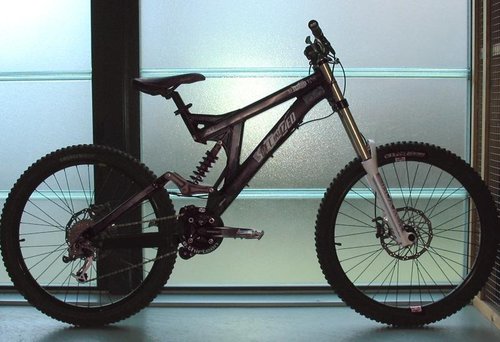 1639209
My latest upgrade was to replace Truvativ Box Guide 2 with E.13 SRS and put smaller 34t chainring instead of old 38t.
---
Specification:
Frame: Specialized Big Hit 2 '06 - Size M - 190mm travel.
Shock: Vanilla R (8.75x2.5"), with custom shimstack and 450lbs spring.
Fork: Rockshox Boxxer Team (203mm travel) '06 with 5w oils and medium spring.
Wheels:
Hubs: Specialized Stout 36h
Rear rim: Mavic EX729 '07
Front rim: Sun Ringlé Single Track '06
Spokes: 2mm
Nipples: Brass
Tyres: Scott Charger (2,7" front, 2,5" back)
Tubes: Specialized OEM (not a single puncture in 1,5 years)
Controls:
Brakes: Avid Juicy 5 with 8" rotor
Headset: Cane Creeks OEM
Handlebar: Truvativ Husselfelt '06
Stem: Truvativ Husselfelt (5° x 40mm) '06
Spacers: 2x 10mm carbon under stem
Grips: Odi Ruffian Lock-on
Bar End Plugs: Odi Lock-on End Caps
Saddle: DMR Jump Seat mkI
Seatpost: Specialized OEM
Seatclamp: Specialized OEM
Pedals: Xpedo MX3 - Magnesium
DriveTrain:
Rear Derailleur: Sram X.9 '05 with Long cage.
Rear Trigger: Sram X.9 '05
Chain: SRAM PC-971
Cassette: Shimano HG50, 9-speed, 11-34t
Cranks: Truvativ Husselfelt 175mm
Chainring: Blackspire 34t
Chain Guide: E.13 SRS mounted under BB
Bottombracket: Truvativ Howitzer Team
---
I really like this frame. With Boxxers the head angle is slacker than frame specs shows.
It's low enough on bb height and standover. Chainstay is long enough for my needs.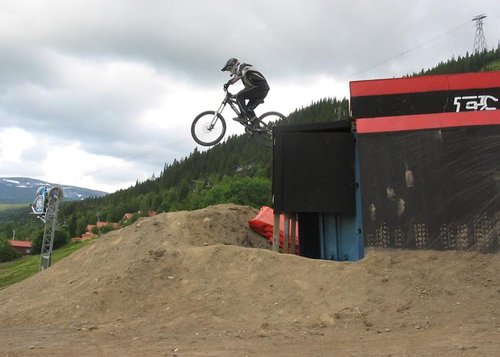 1552875
Frame is very good value for hard earned money. There is not much brake jack or pedal kick from suspension and lastly it's very robust, so I don't have to be affraid of breaking it.
Frame geometry (in slack setup):
Top Tube Length (Horizontal): 585mm
Chainstay Length: 428mm
Bottom Bracket Height: 362mm
Seat Tube Angle: 61°
Head Tube Angle: 66°
Standover Height: 777mm
Next upgrades:
1. I think I'm gonna put soft spring to my Boxxer instead of stock medium. Rear of the bike has allways been softer than front. I believe this brings the bike to more balance.
2. My rear rim and hub needs to be replaced. Rim is full of dents and hub is making weird noises.
3. New Ruffians grips. I can see plastic frame on my current Ruffians, but they feel so good my hand.

How would I upgrade my bike if I had free parts:
1. Integrated E.Thirteen Ali Stem and some light and low bars
2. Middleburn RS7 ISIS 165mm crankset with SKF BB
3. Rockshox Vivid rear shock, custom shimmed
4. Chris King rear hub
-AiR2k
(December 10, 2007)