alecilstrupmedia
Member since Jun 20, 2014

Male / 23
Redmond , Washington
Filmmaker/Photographer

Outdoor Research | SPY Optics | Incase

Contact me:
alec@alecilstrupmedia.com
Block user
Recent

Jan 7, 2018 at 22:21
Jan 7, 2018

May 20, 2016 at 11:05
May 20, 2016

Feb 15, 2016 at 13:38
Feb 15, 2016

Feb 3, 2016 at 22:11
Feb 3, 2016

Selling
Feb 3, 2016 at 22:05
Feb 3, 2016
$220 USD
I have a like new F-Stop gear Satori EXP backpack. I've only used it once or twice. Love the bag, just decided to go for something a little smaller. DOES NOT COME WITH INTERNAL CAMERA UNIT. Here are all the specs: https://shop.fstopgear.com/us/product/mountain/backpacks/satori-exp.html Buyer Pays shipping.

Feb 1, 2016 at 9:22
Feb 1, 2016

Jan 15, 2016 at 21:41
Jan 15, 2016

Selling
Jan 14, 2016 at 15:22
Jan 14, 2016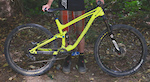 $3200 USD
2015 Transition Scout large yellow frame complete build. I built this bike up for the 2015 season and rode it mostly while teaching kids camps and in a couple races. It has normal wear and a bit of rubbing near the rear dropout where the axle came loose and was rubbing. There's a bit of damage on the rear wheel but it was there when I got the set and hasn't given me any trouble. Super fun bike that I'm sad to get rid of but I'm leaving in June and it will just be sitting in the garage. YOUR CHOICE OF PEDALS: black Deity Skyscrapers, blue Straitline AMPs, or Crank Bros Mallet 3s (red). 2016 Rockshox Pike RCT3 27.5" 140mm SRAM X1 11 speed drivetrain (derailleur, cassette, crankset, shifters) Stan's ZTR flow EX 27.5" wheel set KS Lev seatpost 31.6 150mm Maxis High Roller 2's Deity CZ38 Special bars Deity Enoki grips Straitline Pinch stem (blue) Shimano XTR M987 Carbon Race Brakes

Jan 10, 2016 at 12:19
Jan 10, 2016

Selling
Jan 10, 2016 at 12:16
Jan 10, 2016
Load more...