PRESS RELEASE: University of Sheffield
Sports clubs and societies play a huge part in your University life, it's here where you meet like-minded people, who love to ride as much as you. Over the past couple of years the University of Sheffield Cycling Club has gone from strength to strength, both in racing and within the University. Read on for a few reasons why, if you ride bikes and want to go to Uni, Sheffield is the place to be.
5 years ago, Dave Camus wrote the original "Come to Sheffield" article which helped us all make the best decision of our lives. I reckon it was time for a bit of an update.
---
1. Local Scene
Sheffield has probably the strongest riding scene in the UK, due to the diversity of riding, and people who really care about the sport, riding in Sheffield is getting bigger and bigger. With the long list of places to ride, and new trails always in the pipeline, there's always something to be stoked on and the future is very much bright in Sheff.
With the help of clubs and businesses nearby, there's heaps of events all year round including the Howard Street Dual and Peaty's Steel City race, an amazing event, hosted by the big man himself.
2. Varsity/BUCS Success
As a student you're jammed right in the centre of so many amazing riding spots, offering an unrivalled training ground to hone in your riding skills and fitness. If seeing Steve Peat's meteoric rise as a world class rider and athlete wasn't enough to convince you, our Varsity and BUCS results might just do the job. Taking the number one team spot at BUCS downhill this year against all the other UK universities, we showed our prowess as the best riding university with class and more importantly style!
Us lot at Uni of know how to rock it on the local trails as well, having challenged Hallam university at Cross-Country, Downhill and BMX racing we walked away with the win every time, ultimately contributing to the bigger picture as The University of Sheffield won varsity for the 5th consecutive time.
3. It's actually a very good Uni too
If you think Sheffield is just a place to ride bikes, make lifelong friends and have the best years of your life then you are mistaken! Sheffield is also part of the Red Brick Russell Group of Universities, meaning not only will you be riding every day, you will also be getting a highly sought after and incredibly employable degree.
Within the club there is a vast majority of Engineers, it's pretty clear that mountain biking attracts them. The University of Sheffield has recently built a brand new, state of the art £81 million engineering block making it hard to choose anywhere else.
4. Progression
It's awesome to see how much people progress from just a couple of months spent in Sheff. With the huge range of riding types, XC bandits ditch the SPDs for flats and parents are sending old 26 inch parts for the new jump bike build.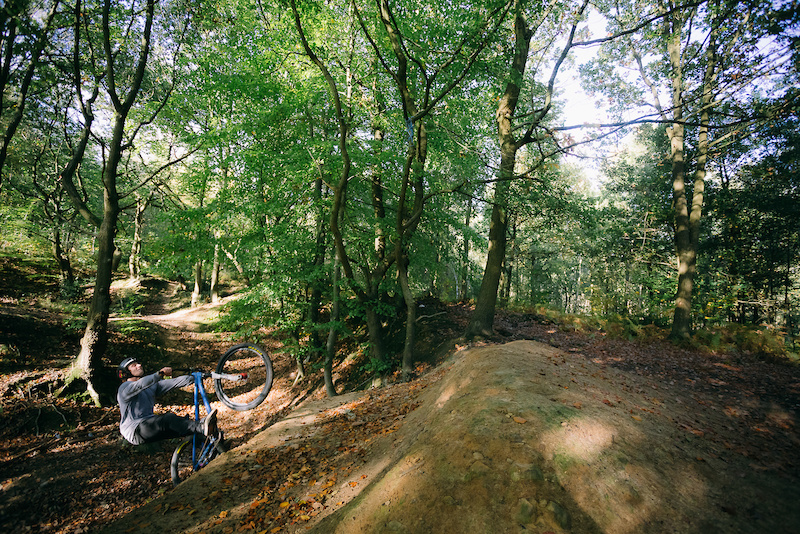 5. Bolehills BMX Track
Being located right next to the main student housing area, Bolehills is so accessible and oh so good. Most summer evenings that aren't spent on sunset peaks epics are spent at Bolehills, cruising the white waves. Picture a Velosolutions pump track, a BMX race track, and a set of well-groomed smooth dirt jump trails, mash them all up and you've got Bolehills. The sessions go on till its too dark to ride and everyone leaves with a smile on their face.
6. Trips
Within the Cycling Club we have several trips, the first of which is the classic Wales Trip. A 2 day trip to North Wales in November, on the first day we climb up and ride down Snowdon – the highest peak in England and Wales, on the second day we uplift at Antur Stiniog. Its an incredible trip that pushes your riding to the limit, and in classic Wales style, sunshine and temperatures in the mid 20's are guaranteed!
Next up we have a post January exams trip to Revolution Bike Park, a great chance to get rid of the exam stress on some of the UK's best downhill tracks.
Finally, in Summer we have the annual UK universities trip organised by B3 Sessions. This is the best week of the year! Riding your bike with your mates in Europe's premier downhill destination. With events like the unofficial long jump world champs, Whip off and of course, the hotly contested Caramel Flan time trial, it's not a week to miss!
7. Socials and events
We have regular socials which like the riding, help eradicate any Uni stress. Recently we held a club film night, giving members the chance to get together and work on making their own shredits. Filming equipment like that used in these films can be loaned from the Uni, just like a book from a library. Check out some of our work below which was all shot in Sheffield and the Peak District.
You can keep up to date with all our antics on social media by following us on
Instagram
and
Facebook
. Choosing where you go to university is a big decision, so make sure you make the right one, Sheffield really is a hub for getting outdoors on two wheels so why study anywhere else? See you in September.