alxxx
Member since Jun 15, 2008

Male / 30
Shawinigan , Quebec
Live to ride
Block user
Recent

Feb 10, 2022 at 19:27
Feb 10, 2022

Selling
May 25, 2015 at 11:39
May 25, 2015

Selling
May 25, 2015 at 11:26
May 25, 2015

Selling
May 25, 2015 at 11:24
May 25, 2015

May 25, 2015 at 11:20
May 25, 2015

Selling
May 25, 2015 at 11:19
May 25, 2015

Selling
May 25, 2015 at 10:56
May 25, 2015

May 25, 2015 at 10:48
May 25, 2015

Selling
May 25, 2015 at 10:42
May 25, 2015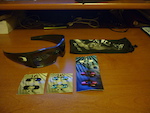 $90 CAD
Oakley batwolf polarized sunglasses-Granite frame with black iridium lense. used,a bit scratchy,will ship globally C.O.D. or paypal. **description from website** The icons are interchangeable.They stay secure with hidden latches until you're ready to swap them out with a new color.It's fast and easy,and it lets you change your look in seconds. We also designed Batwolf with dual cam hinges that blend smoothly into the sculpture.This unique sunglass has a three-point fit that keeps the optics in precise alignment,and we designed the frame to fit comfortably on medium to large faces. Price don't includes shipping,thanks for looking.

Selling
May 25, 2015 at 10:21
May 25, 2015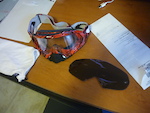 $35 CAD
I have a pair of Oakley mayhem mx goggles for sale 35$.Model is:red tribal with a clear and an anti-for lenses and a pack of lamined tear-offs.Lens has no scratches.Includes goggle bag.Price don't includes shipping.Contact me with questions.
Load more...