Chilling with Bourdo
As I was sitting in the 90 degree Utah desert earlier this spring watching Robbie Bourdon pour Redbull over the lip of a 35ft hip that he intends to 270, my mind wanders back to the huge flatspin he pulled off in the last installment of New World Disorder. What would posses someone to try that? Why would he go back after it has beaten him so many times. What else does he have up his sleeve?"
That will get 'er hard!
" Shouts Bourdo in the background.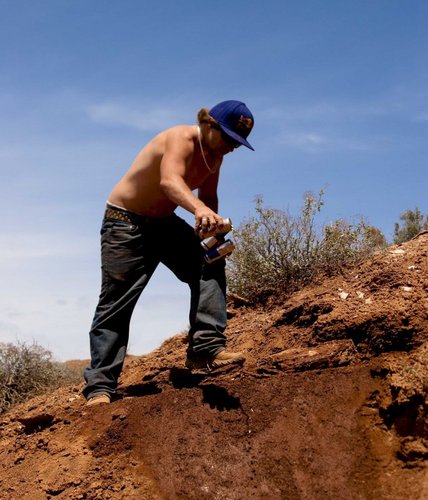 Quickly it brings my mind back to the task at hand. I am tagging along on an early film trip for NWD 10, getting behind the scenes footage for a bunch of Oakley vignettes that will be coming out the next few months. My focus on this trip is Bourdo. Robbie has been wandering the desert around Virgin, UT for almost a week looking for his next big thing. He is not quite sure what it is but he'll know it when he finds it.
"I haven't even ridden my bike yet this year. There has been too much snow at home plus my hand has been hurt and it's hard to hold on to the bars. This is my first real ride of the year."
First real ride of the year, 270 a 35ft hip? Most would be content with a shuttle and some beers. In fact I offer to drop him at the top of Flying Monkey.
"Naw, don't think my hand would hold up to that, I'll just giver a go."
This is the mind set of a rider who has been pushing himself and the sport for over ten years. Bourdo is known for manning up and going big. Not every time things go well. What separates him from the rest is that he picks himself up, dusts himself off and does it again, and again, and again, until things do go well. He is famous around the Freeride office for going back and completing stunts he tried the year before only to come up short. If you watch most of his segments there is usually one thing that gets the better of him every year, and then when the next year's segment rolls out he goes back and stomps it. With that determination it's no wonder he is the only rider to have been in all 10 NWD, has became a part of the Oakley family, and earned a spot as a Redbull athlete. Over those years he has traveled the world and has ridden his bike on more continents than most people have visited.
Drawing on that knowledge and experiences is what can allow him to get away without riding his bike for 6 months and then go on a film trip and throw down for the camera. When I hear "DROPPING IN" I am not the least bit concerned for his safety. With Axel and Brad manning Freeride's new cable cam, and me pushing the Red Camera on a dolly, Bourdo goes for it, spins huge, and eats it. On this day the jump gets the better of him. His hand is giving him trouble. He is having a hard time holding onto the bars and after a few close attempts he calls it a day. Sitting in the truck drinking a beer he doesn't seem the least bit bothered by the day's events. He has been in this position many times before and knows that if it doesn't go well today it will work out the next time. In my experience that is what separates the men from the boys, knowing when to say when, and from what I have learned about Robbie I know he will be back to have the last laugh.
Robbie Bourdon over the years

:


If you liked the music, check out Character Traits, and Acres Of Lions.

Bourdo Action Footage Supplied by the good people at Freeride Entertainment.

And to check out my site vist me at www.ambroseweingart.com.

Also look for more clips and check out the happenings over at Oakley.