andrewgiesbrecht
Member since Dec 21, 2013

Male / 23
Victoria , British Columbia
Freeride will never die

www.instagram.com/andrew.giesbrecht
Block user
Recent

Sep 7, 2023 at 7:19
Sep 7, 2023

Aug 29, 2023 at 20:19
Aug 29, 2023

Selling
Aug 16, 2023 at 11:05
Aug 16, 2023

Aug 13, 2023 at 21:02
Aug 13, 2023

Selling
Aug 13, 2023 at 21:01
Aug 13, 2023

Jul 30, 2023 at 15:18
Jul 30, 2023

Selling
Jul 30, 2023 at 15:18
Jul 30, 2023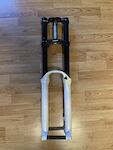 $350 CAD
BoXXer World Cup (fork only, will update with fork only photos this weekend). Was given a new fork and don't have the space to hold onto this one. 200mm travel, 27.5". 20x110 front axle. Coil spring comes with firm, and extra firm (installed). New lowers and full service this March. White is steeze. Change my mind Fork does have some stanchion wear from previous owner neglecting maintenance, professionally inspected and does not effect performance. Stanchions have no scratches. Open to offers. Will entertain partial trades for old school TLD pants/shorts/jerseys.

Jul 27, 2023 at 19:20
Jul 27, 2023

Apr 11, 2023 at 20:28
Apr 11, 2023

Selling
Apr 11, 2023 at 20:27
Apr 11, 2023
$3200 CAD
Selling my sentinel. I originally got one when it was first released, and a few years later got another because it's too good. Due to my landlords being pissed and me not getting out as much as I used to I have to downsize. Transition Sentinel V1 "LG" 2021 Rockshox Lyrik Select+ Stans rims, RaceFace Vault rear hub GX AXS 10-52T OneUp 180mm dropper Chromag bar/stem/seat SRAM Code RSC w/ 200mm rotors Continental Kryptotal tires Frame bearings done in last 6 months in great shape. Brakes just bled, and fork has 5 rides since last service. Can take anything from shuttle laps to all day pedals. I'd love to keep it but gravitate towards my downhill bike when I get a chance to get out. Open to reasonable offers in person. No trades. Located in Langford. Will update with more photos at the end of the week.
Load more...