The wait is over – DVD copies of Follow Me will be available this week and pre-orders are being shipped.
Get all the details inside.
Coinciding with an international film tour already underway, Anthill Films' new mountain bike film
Follow Me
is will be available this week on DVD. While audiences are being blown away along the film tour, pre-orders are being sent out and if you don't have copy yet, you can purchase
Follow Me
on DVD direct from
anthillfilms.com
right now. Follow Me is also available for purchase at select bike shops and on
iTunes
. As well, Anthill has just announced that the film will be available on BluRay in June 2010.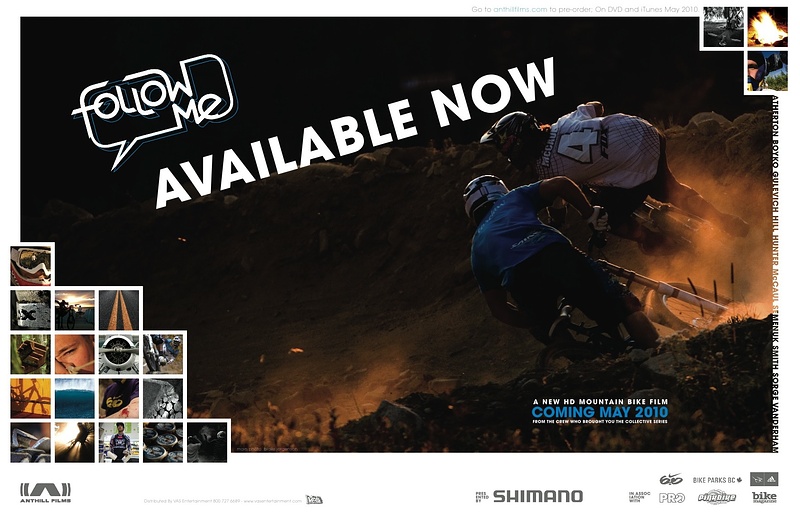 DVD and BluRay copies of
Follow Me
come with some cool extra features, including a behind the scenes look at making the movie and slideshows from the film by photographers Sterling Lorence, Harookz and Caleb Smith.
If you haven't seen the film yet a behind-the-scenes/sneak-peak is now available to give you a small taste of
Follow Me
. The video covers one of the highlights from the film – a beachside step-down that Cam McCaul did in Mexico while filming the Punta San Carlos segment with Matt Hunter and Geoff Gulevich.
Go to
anthillfilms.com
to order now and find out more about the film.
Follow Me
is the first feature film for Anthill Films, a new film production company formed by the crew who helped create the award-winning films The Collective, Roam and Seasons.
Follow Me
is presented by Shimano in association with Adidas Eyewear, Bike Parks of BC, PRO Components, PinkBike.com, Bike Magazine and Nike 6.0. Follow Me is distributed globally by VAS Entertainment.