Injuries tend to cut riding season short. Finnish 21-year-old MTB rider Antti Rissanen has experienced this several times. This is the starting point for his Epictv's series PROJECT SISU. Sisu is Finnish word and means perseverance, commitment and resilience.
First in 2012 when he tore his ACL right before filming his video: Antti Rissanen - Work in progress. After one week of filming he went to see a doctor and was diagnosed a torn ACL and Meniscus. Surgery was done few weeks later which started his off-season already in the end of June. It meant 6 months of rehab giving time for the knee to heal and become strong again for riding. Finally in January doctors said it's okay to start riding again and Antti started to prepare for upcoming contest season 2013.
Downtime had its benefits too. During that time Antti had time to think what he could do differently and what were his weaknesses he should be working on when getting back on the saddle. Beginning of the season 2013 was very promising when it seemed that hard work had paid off and results of the practicing was showing on his confidence of riding.
In Red Bull Phenom contest however Antti went down hard when coming short from the boner log after it had been changed a bit for the contest. He was sent over the bars, landing on his shoulder at the bottom of the landing. Back in Finland MRI showed that his rotator cuff was torn and surgery was needed once again. Anyway time needed for rehab before being allowed to ride again was estimated to be only something from three to five months. After three months Antti started already to ride at skateparks and all was looking good. His body felt strong enough for basic riding with some tricks involved. After a while Antti was gaining confidence for bigger tricks again and it started to feel like it would safe again to throw some bangers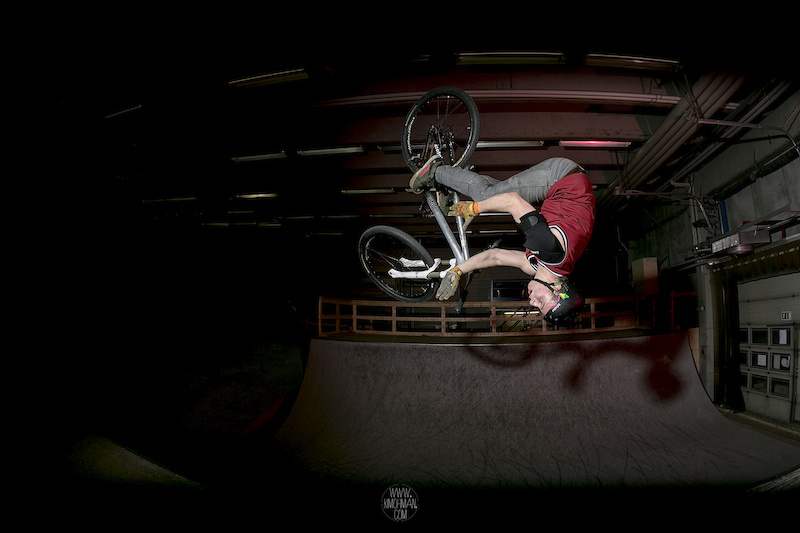 This time being apart from his bike had taught him one very important lesson. Stressing about future and taking everything too seriously had been killing the joy from riding. Antti was so determined to take back what he lost when healing from ACL injury that he forgot to enjoy from the most important thing - the riding itself! After his shoulder injury he found joy from riding he hadn't experienced in many years. Being able to do what he loved to do the most was itself enough to satisfy him and that was the key for the vast progression he had before his ACL injury. You can believe it was great moment for him giving him tons of extra motivation to keep on pushing his limits!
Winter came to Finland before Antti could ride dirt jumps. Anyway his good friends from KARU MTB crew were planning to make roadtrip to Sweden to ride there some good looking indoor training facilities. So in the beginning of January those guys headed to Stockholm and from there they drove to their first destination - Camp Active in Lidköping. Camp Active has good set of ramps, resibox and foampit for safe training of new tricks and trampolines for just messing around when too tired for riding. Guys were hanging there around for four days, riding and having fun day and night, and even managed to film some footage for the second episode of PROJECT SISU.
From Lidköping Finns were next heading to Hofors to ride at local indoor skatepark. Whole crew had already been stunned about how good skatepark had been in Camp Active, but Hofors was even better. More variety on ramps gave more lines and possibility to be more creative on bike. After one day of riding and filming in Hofors Antti however started to have pain on his lower back and left leg. It felt pretty similar to his injury back in 2009 when he had slipped disk. When during their last day before leaving back to Finland everybody went to ride in Falun indoor dirt jump and pump track Antti had to take it easy because he hadn't yet seen doctor to be sure whether it would be safe to ride or not.
When they got back to Finland Antti went to see doctor who confirmed that it was again slipped disk, though not as bad as it was in 2009. Physiotherapy should take care of it and in time it should be okay to ride again but for that time being he should take it easy.
Timing for slipped disk was the worst possible. Antti had been planning and preparing trip to Ylläs ski center few weeks after they were coming back from Sweden. They were supposed to go there to film winter episode. Riding on snow would something be a bit more extreme and thus cool addition to the series. Anyhow things weren't looking too good at the time when doctor tried to tell Antti that it would be probably good idea to postpone the session in Lapland for few weeks or even months. It was discussed that though back might be good for riding at that point it was more likely to not to be 100% healed yet. Week before leaving to Lapland Antti had anyway healed pretty much 100% from his recent injury and was able to ride again, which amazed his doctor too. He worked hard that week at the newly built foampit in Helsinki to get tricks dialed for Ylläs.
In Ylläs they had one week time to shoot everything they wanted before tourists would invade the slopes and they would have to go back home. Ylläs sport ski resort crew had built everything almost ready for Antti when they arrived there. Antti had planned to build massive quarter pipe out of snow and straight jump and guys in Ylläs had built the stuff based on the sketches Antti had sent them. Because of recent injury anyhow the straight jump had to be kept relatively small sized not to risk it too much.
First day was spent wholly on shaping the stuff up and doing some test runs. After that the session was on and for two days guys were shooting only quarterpipe. Snowy quarterpipes are not that commonly seen anywhere in snowy bike courses. After a while it became quite clear why. Though snow was well frozen and hard packed it starts to crumble a bit when it's ridden repeatedly. Camera captured quite massive bails when Antti was hitting the quarter full speed and suddenly his tires just went through the surface of the snow a bit at the edge of the takeoff changing his trajectory and motion significantly. This problem was later overcome by putting pieces of plywood under the rubber mat they used at the surface of the takeoffs.
Big tricks were going down and Antti even tried to nail some new flair combos, like flair tailwhip. Anyhow after few tries they had to move on to the next trick due to shortage of time and thus that trick among few others weren't landed there for the film. After shooting quarter guys had still one day to fix and shoot the straight jump. As already said it couldn't nr made as big as everybody had dreamed. It wasn't too bad neither though as it seemed to be perfect jump for all kinds of flip combos which Antti was throwing down with ease for one day. Big dream for Antti was to do doubleflip as last banger for the video. Last time he had done that to dirt was in 2012 for Work in progress. Takeoff was bit too mellow for that trick and after few pull-hard-and-bail-after-one-flip tries Antti took shovel and reshaped the takeoff to be a bit steeper. It have him extra airtime which allowed him to get both rotations around. Anyhow Antti didn't quite land that try perfect but ended up slamming down to his saddle cracking it into two pieces. Next try was super close too. Apparently he landed on small bump on snow or something because he fell on his side and hit his head quite hard to the snow. He was sliding down the landing unconscious and woke up from the bottom of the landing asking what happened. Then it was clear to everybody that it should be called a day and they would walk out of there without that trick landed on film. Being otherwise 100% ok Antti was still happy for the results they had had there when thinking about how close it was that they would have cancelled the whole trip there.
Now summer has already arrived to Finland and Antti is preparing for upcoming contests.