aosiadacz
Member since Nov 28, 2014

Male
Santa Barbara , California
Block user
Recent

Selling
Sep 21, 2020 at 12:42
Sep 21, 2020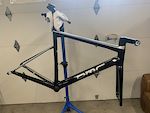 $2000 USD
BMC Teammachine SLR01 Disc Module with ICS 100mm stem and seatpost Shimano Dura Ace bottom bracket included. Less than 50mi on frame. Would love to keep, but I do not have resources to build at this time. Small chip on rear dropout from shipping (see picture). Ideal condition otherwise. $4500 originally.

Apr 19, 2018 at 15:20
Apr 19, 2018

Selling
Apr 19, 2018 at 15:16
Apr 19, 2018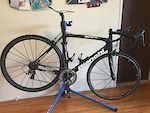 $1100 USD
Bianchi Sempre Pro 57cm (L) Frame Size Very Good condition. Never crashed or put down. Drivetrain: Shimano Ultegra 6800 11spd Crankset: FSA K-Force Carbon 172.5mm 53-39t Cassette: Shimano Ultegra 11-28t Wheelset: Fulcrum Racing Zero's **UPGRADE** Brakes: FSA Reparto Corse Cockpit: FSA Reparto Corse - 110mm Stem, 42cm bars Saddle: Specialized Toupe 142mm

Selling
Dec 17, 2017 at 14:27
Dec 17, 2017
$1500 USD
Santa Cruz 5010 Aluminum - Large Frame FORK - BOS Deville 140 SHOCK - Rockshox Monarch RCT3 w/ DebonAir Can BRAKES - SRAM Guide R 180mm/160mm DRIVETRAIN - Shimano XT 8000 1x11 11-42T CRANKS - XO Carbon 175mm SEATPOST - Rockshox Reverb 125mm (w/ Connectamajig) COCKPIT - Raceface Atlas 770mm w/ Easton Haven 50mm Stem (on a CK headset) FRONT WHEEL - SunRingle Inferno w/ Hans Dampf Performance 2.4 REAR WHEEL - Spank Oozy 295 w/ DT 240 w/ Conti Mountain King 2.2 This is my moderately ridden franken-bike. First full suspension bike for a shop working roadie. A few scratches on front triangle. Fork, rear shock, and seat post stanchions are super clean. Wheels have been tensioned and trued. Brakes freshly bled. Seatpost will require service. Will ship via BikeFlights anywhere in N.America for $100.

Selling
Mar 25, 2017 at 14:01
Mar 25, 2017

Selling
Jun 10, 2015 at 8:57
Jun 10, 2015
$120 USD
This BRAND NEW shock was pulled straight off a new Santa Cruz 5010 to be swapped for Monarch. This shock has never been used. 22x8mm eyelet hardware included. Id ask for an extra $20 to asking price to cover for any shipping charges and PayPal fees (Canada would be $40 USD). Message for any questions.

May 20, 2015 at 12:26
May 20, 2015

Selling
Apr 30, 2015 at 21:51
Apr 30, 2015
$550 USD
Up for sale is this alloy SC 5010 XL SHOCKLESS frame in satin black/white. This trail bike is the easily the funnest bike I have yet to buy: it climbs well and descends and corners very playfully. The frame has about 300 miles on it. The XL frame is a tad to big for me, even with a slammed stem (I am about 6'0.5").Cane creek headset and SC seat collar are included. FORK, COCKPIT,SEATPOST, DRIVETRAIN, BOTTOM BRACKET, WHEELS, CASSETTE are NOT included. All scratches are cataloged in the below pictures (the profound one being on the shock link). Link to the bike specs and geometry: http://www.santacruzbicycles.com/en/us/5010 Feel free to contact using PB message. Willing to ship from CA, but will ask for help to offset freight costs. PayPal or cash money is good money. I can sell a next to new Rock Shox RT3 Monarch + DB Air rear shock for an additional $250 with all of the necessary hardware included.

Selling
Apr 30, 2015 at 12:53
Apr 30, 2015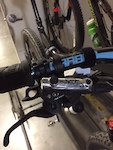 $100 USD
Shimano XT front and rear brakes coming off a 2015 Santa Cruz 5010. No haggling as this is a great deal and you know it. Rear line has been trimmed, so it is kind of a squeeze to fit on a frame XL or larger. They have been cleaned since pictures were taken. Nothing wrong with the brakes at all, this guy just wants to try some Guides. Fairly fresh 203 and 180mm rotors can be included for $45 extra. Text or PB message with interest.

Mar 23, 2015 at 23:02
Mar 23, 2015
Load more...