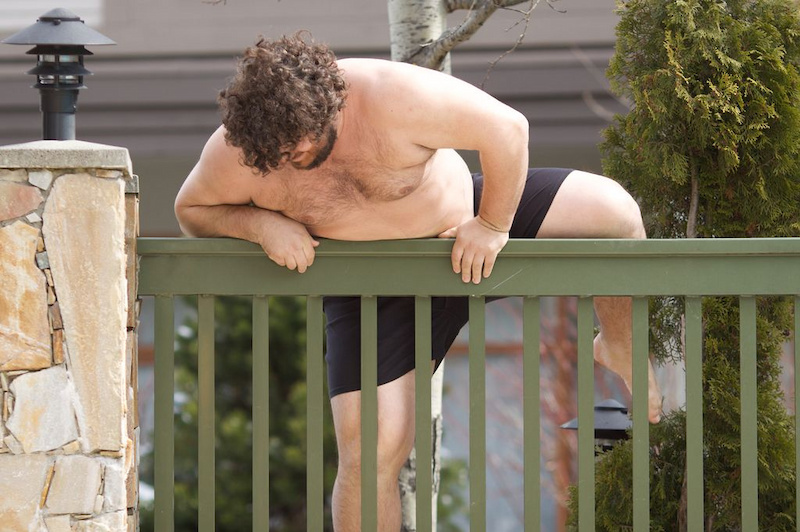 Every year in the middle of spring the town of Whistler is debauched with a week long party call the Telus World Ski & Snowboard Festival. A week filled with snowboard & ski contests, live concerts, industry parties and art events. The most popular of events is the 72 Hour Filmmaker Showdown. Heading into it's 10th year, over 40 crews prepare for a weekend of no sleep, tears and overal movie antics. This may not be directly related to mountain biking but there's a bunch of people involved with deep roots into these projects. This year we have Kevin Landry (You Like This), Ross McMaster (Drop In/You Like This) and Chris Rasman (Quiksilver Pro Snowboarder) in front of the lens. Behind the lens were Patrick Henry(Artbarnfilm/Drop In/Alterna Films), Taylor Loughran (You Like This), Justin Hannewyk (You Like This/Artbarnfilm/Alterna) Jordie Lepage (3Ride BMX/Artbarnfilm) and an onslaught of film production wizards from Vancouver.

Fortunatly this is not our first experience with this contest...we won Best In Show with The Staff: A Ski Bum Musical in 2009, People's Choice with The War of 1910 and/or 1924 in 2010


The plan for this year was to do a BBC: Planet Earth approaching on one of Whistler's favorite past times...hot tub poaching. For you who have no idea what we're talking about, it's the act of sneaking into resort/hotel hot tubs after a long day on the hill or after a long night in the bar.


We started shooting in a hot tub location on Day 1 and made it through most of the day flawlessly until we found out we were not actually allowed to be shooting at this tub... Fortunately we had got most of the shots and moved onto another scene in the woods. After further review of the footage that night we had to come back to the same hot tub two more days. Usually when you are "poaching" a location you would bring in a small camera with a person or two. Instead we had a full RED One Camera system, a big jib arm, 2 additional Canon 7D's with a big crew and cast.


As the hours passed, the team grew more and more tired. As a filmmaker in these situations you go through so many emotional roller coasters...questioning everything from what am I doing with my life, why did I sign up for this crap blah blah. When your movie makes the finals and is screened infront over a 2000 person audience and people enjoy your film, it's worth it...oh and a big plastic cheque for $10,000 helps ease the pain.


Big thanks to everyone in the cast and crew for putting up with another one of our ridiculous ideas for a movie and hope you all enjoy the flick!
Must Read This Week