Enve Composites, from Ogden, Utah, have completely reworked their entire mountain bike line, the M-Series, for 2018 and onwards. Widespread changes in a rapidly evolving industry mean that requests for different wheel diameters, rim widths, and riding styles are more varied than ever – aggressive cross country, 29" downhill, plus sized and eMTB are all categories that have appeared in less than half a decade.
Enve are now attempting to offer choice to riders of all of the above and introduce their new rim strip technology that has been in development for over two years. The nomenclature has changed from the previous M-Series wheels – M5 is for XC use, M6 for the trail category, M7 and M9 are the heavy hitters for enduro, freeride and downhill, and feature Enve's new Protective Rim Strip. All the rims are still made in the USA, and this is reflected in the price with Chris King based wheelsets starting at $2,980 USD / £3,100 – ouch.
Enve M-Series Details
• Carbon MTB rims
• M5, M6, M7, and M9 series for varying disciplines
• Protective Rim Strip on M7 and M9 series
• Available October 20th, 2017
• Made in the USA
• Five-year guarantee that covers all impact damage
• USA pricing: M5 & M6: $2,800 (DT 240 hubs), $2,980 (King hubs)
M7 & M9: $2,900 (DT 240 hubs), $3,080 (King hubs)
• UK pricing: M5 & M6: £3,100 (King hubs)
M7 & M9: £3,200 (King hubs)
• EU pricing: TBC
•
www.enve.com
Options
Enve have tried to meet all the needs of their athletes and consumers, and give them more independent options between weight, width, and protection. As World Cup XC racing gets more aggressive, riders asked for wider rims and Enve replied with a 25mm internal width M525 rim that can build a sub-1,350g wheelset. Moving into the trail sector, the M6 series is available in three rim widths, named the M630, M635, and M640 accordingly.
Harder hitting enduro riders should be looking towards the M7 series, which has two options of M730 and M735, Enve will also offer an E735 E-Spec wheelset for eMTB; the rims are the same but the wheels are built with heavier straight gauge spokes and a steel freehub body to deal with the added wattage from the pedal assist. The M7 series sees the introduction of the Protective Rim Strip along with the M930 downhill rim. All of the above are available in 27.5" or 29" diameter.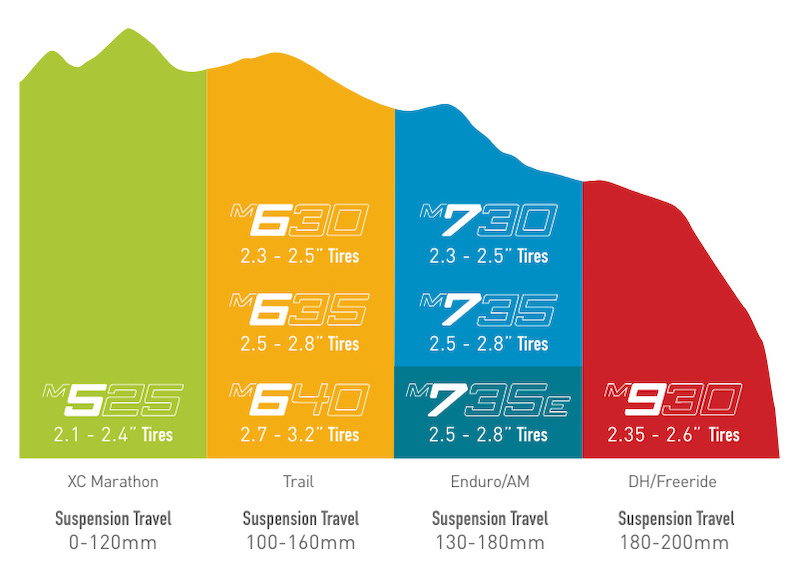 What is the Rim Strip?

The rim strip is Enve's answer to pinch flat inserts and is integrated into the M7 and M9 series rims. We first spotted these two years ago at the Lourdes World Cup on Greg Minnaar's Santa Cruz V10 and it's basically a 'ghetto-tubeless' system on steroids. Since then, there have been a number of aftermarket products and inserts come to market that attempt to prevent pinch flats, rim damage, and tire loss, but Enve says they are not convinced by any of the systems available, suggesting that they don't solve the variety of problems and can be heavy and difficult to install and remove. Enve's rim strip is the first of its kind to be integrated and designed in conjunction with the rim itself; these rims cannot be used without the strip, and the strips cannot be fitted to other brands rims.
So what does it do? The polymer rim strip aims to seal against the tire independently of the rim, so in case of rim damage, air should not be lost. It also increases the width of the rim bead to 5mm giving a blunt object to strike against rocks, rather than a narrow rim wall that is more likely to pinch or cut tires when connecting with sharp edges.

The rim strip will also protect the rim to a degree, the plastic absorbing some force before the carbon rim hits terra-firma. Compared to previous wheels, in-house testing is said to have shown increased impact toughness of 10% on the M7 and 20% on the M9 rims, and over 100% improvement in pinch flat resistance – breaking rims before they could pinch a tire.

Good bye rim tape! The rim strip can be removed and reinstalled almost indefinitely, so anytime you need to change a spoke or true the wheel, there is no need to remove and replace sticky rim tape. There is a spare strip included with wheelsets just in case of damage.


Sealing the tire against the rim strip will help to prevent burping and losing air pressure; there is a step similar to UST rims to retain the tire bead and provide a tight tubeless fit
Construction
Enve rims are made 100% in-house, including the new rim strip. One of the main things that Enve suggested that puts them ahead of the pack in terms of construction are the internal nipples. The spoke holes and concave recesses are molded into the rim instead of being drilled after curing. The wall thickness here can be made thinner to save weight rather than having to bulk up in this area in order to retain ample strength after fibers have been cut by spoke-hole drilling.
The internal bladders are also removed completely from the rim where some carbon wheels leave some or all of the bladder inside which can cause tension issues if the spoke nipples rest on top of the plastic bag. Enve removes the bladder from a large opening opposite the valve, which is then filled with a lump of carbon, enough to counter-balance the weight of the valve opposite.
Enve wheels have always been renowned to have an extra stiff ride quality, but the brand has invested lots of time into making their wheels more compliant through different resins and layups. Enve have tagged this process 'crafted carbon.' Every single wheel in the new M-Series has different ingredients including spoke counts dependant upon the type of use, diameter, and width to try and give the best ride quality for the rider, not just copying, stretching and pasting the layups across the range. Jake Pantone, director of marketing at Enve, says he can give anybody the ingredients to make the rims, but just like baking bread, it's the masters that produce the goods.
For example, the new M525 compared to the previous M50 had feedback from their XC racers that the wheels were too stiff vertically, and especially uncomfortable on carbon race hardtails, the new M525 is 40% stronger against impacts, but 50% more flat resistant thanks to the wide rim bead, but is still more compliant than the previous M50.
Riding the M730
We were invited to the superb Bike Park Wales in Merthyr Tydfil and had the chance to shred the trails using an M730 wheelset with the Protective Rim Strip. My first real experience on Enve wheels, apart from one run I did a few years ago, which resulted in a cracked rim and a long walk home – exactly the problem the rim strip has been developed to avoid.
A number of heavy rock strikes still supplied us with the queasy sound of pricey carbon connecting with rock, but despite our best efforts, there was zero visible damage – not even a scratch. Thanks to hundreds of well-shaped berms in the park, we caused plenty of tire rolls and couldn't burp any pressure from the tires either. That was two thumbs up from me.
The M730's do feel very stiff compared to other wheels I have used, but riding a new bike/new wheelset/new trails makes it hard to draw a real comparison. The wheel did track superbly on smooth ground and seem to accelerate sharply and railing freshly shaped hard packed berms felt superb, but hitting angled roots and rocks did seem to throw me offline more than I am used to. A wheelset is on our way to us for further testing back to back against some much cheaper alternatives on our home trails.
---
---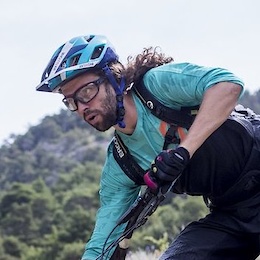 About the Reviewer
Stats:
Age: 31 • Height: 6'1" • Ape Index: +4" • Weight: 75kg • Industry affiliations / sponsors: None • Instagram:
astonator
Paul Aston is a racer and dirt-jumper at heart. Previously adding to the list of non-qualifiers at World Cup DH events, he attacked enduro before it was fashionable, then realized he was old and achy. From the UK, but often found residing in mainland Europe.