avfc66
Member since Jul 23, 2013

Male / 37
Sidmouth , United Kingdom
Block user
Recent

Apr 6, 2018 at 14:47
Apr 6, 2018

Selling
Apr 6, 2018 at 14:39
Apr 6, 2018
$200 GBP
2015 Cane Creek Double Barrel Air with climb switch and Extra Volume can. 215x63 / 8.5x2.5 Had the full upgrade from TF Tuned with the black stanchion, better seals etc in October 2017. It currently has one large volume spacer in it. I have a second large spacer and some of the smaller ones which will come with the shock. Shock is mechanically in as good as condition as it could be. Has a couple of scratches on the air can but stanchion is completely unmarked. Has just had a full service from TF Tuned this week and will not be ridden again before sale. EDIT - this service was at the beginning of April. Shock has not been ridden since. I am selling because I want to run a coil. EDIT: now have a coil, so no swaps Cheers

Selling
Sep 13, 2016 at 0:35
Sep 13, 2016

Selling
Mar 19, 2016 at 13:15
Mar 19, 2016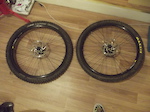 $175 GBP
For sale are my set of Mavic EN321 rims with Hope Pro 2 Evo hubs. The bearings are fine, there are a few minor scratches on the rims but nothing too bad - what you would expect from some used rims! I am selling them with the tyres pictured - the rear tyre is a Maxxis Minion and is pretty worn out, the front is a Schwalbe Magic Mary with loads of life left. The cassette and the discs are not included. The front hub is 20mm and the rear is 142/12mm but obviously these can be changed easily with adapters from Hope. I did have some 15mm adapters for the front which I will throw in if I can find them. I would rather collection but will post at buyer's expense if required. Regarding trades - I am looking for a set of 650b wheels, must be 15mm and 142/12mm or at least convertable for me to consider. I would be happy to throw some money into the deal for the right wheelset. Thanks for looking, any questions please ask

Selling
Mar 19, 2016 at 12:01
Mar 19, 2016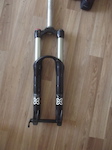 $135 GBP
For sale are my X-Fusion Vengeance air forks. They have 160mm travel and a 20mm axle. The crown has some cable rub as pictured and there are various scratches and scuffs on the lowers too but the stanchions are unmarked. The forks work as they should and had a full service and rebuild by the X-Fusion distributors last summer (July I think, but can confirm if I can find the invoice). The steerer is about 210mm and is 1 1/8th straight I'm selling as I'm upgrading to 650b - so I would be interested in a p/x with some 650b Pikes - obviously with money your way. Any questions please ask.

Mar 15, 2016 at 11:27
Mar 15, 2016

Nov 4, 2015 at 1:08
Nov 4, 2015

Selling
Oct 21, 2015 at 15:07
Oct 21, 2015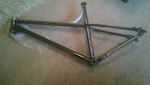 $250 GBP
For sale is my Production Privee Shan frame in size XL - although it feels smaller than any other XL frames I've ridden (I'm 6'2" and it definitely was not too big). I've added a photo of the geometry of the frame. Frame is in pretty good condition, there are various small stone chips - I've tried to show them in the pictures as best as I can. I did have this for sale as a full bike - hence the photos - but the bike I was buying fell through and I have picked up a frame instead so will shortly strip this one and then post photos without the rest of the components. If you have any questions please ask. The price does not include postage - I can get a quote for this if/when required, I'd imagine about £20-25 but the only bike box I could get from my LBS is rather large... EDIT: frame only photos posted, I've tried to show the two major (comparatively) chips in the paint work on the downtube and on chainstay. If you want more detailed photos then drop me a message. I now have my new bike and the wife is not happy about this and the new bike being in the kitchen, so will take £250 posted for this as it needs to be gone ASAP

Jun 25, 2015 at 23:46
Jun 25, 2015
Load more...