bat-mehrens
Member since Jan 4, 2013

Male
San Luis Obispo , California
Block user
Recent

Sep 14, 2020 at 17:21
Sep 14, 2020

Selling
Sep 14, 2020 at 17:20
Sep 14, 2020
$3200 USD
Raced throughout the 2019 xc season. I have always babied the bike and done a lot of preventative maintenance (rebuild lefty and shock, linkage bearing, BB, ect.) There are a couple of major scratches that are shown in the photos, but they are all cosmetic. The bike has a super easy to use and work on dual lockout lever, which completely locks both shock and lefty. All the bearings are running smooth. The Stans podium wheels are some of the lightest in the game and ride really really well. Because of their vertical compliance and bead shape I've never flatted on these wheels. Frame - 2019 Cannondale Scalpel Si 2 Fork - 2020 Lefty Ocho aloy (rebuilt 500miles ago) Shock - Fox float DPS with lockout (Seals replaced 500mi ago) Cranks - Sram Stylo carbon 34t (brand new takeoffs, never had pedals mounted) Wheels - Stans Podium SRD Brakes - Shimano XT Shifter - SRAM XO1 Derailer - XO1 Seatpost - PRO KROYD 125mm Bars - Cannondale C1 carbon Stem - Fizik 90mm I also have a complete spare wheelset (Cannondale hollowgram carbon) that I could throw in for an additional $500 Buyer pays shipping and any related transaction fees.

Selling
Aug 8, 2020 at 17:44
Aug 8, 2020

Selling
Feb 29, 2020 at 22:05
Feb 29, 2020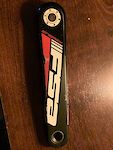 $100 USD
Used FSA energy - Stages powermeter crank. Only used on my spare road bike for about 2 years. Has some scratches, but is actually in pretty good shape. Power meter works great, and stages have always been my favorite. BB30 compatible 172.5mm length Text is the best way to get a hold of me. Buyer pays shipping and transaction fees if applicable.

Selling
Feb 29, 2020 at 21:57
Feb 29, 2020

Selling
Aug 25, 2019 at 10:53
Aug 25, 2019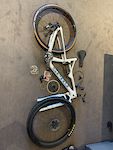 $2100 USD
Spry Centaurus boost frame Info on the makers' website is sparse, but here is the link (http://sprycycles.com/about/mountain/centaurus/) LG frame All Spry frames are custom painted to order, and I had the owner touch up all the paint on the frame last week. It looks great! I raced this bike for 3 months in 2018, then it got put way on the back burner and I pillaged parts off of it to keep my other bike running when I got in a pinch. The bike has seen less than 1k miles total and all the bearings are running just fine. I'm hoping to sell the bike as pictured; incomplete. It is in need of a fair bit of work to get moving again, but all those parts are relatively cheap. Wheelset : Reynolds blacklable XC carbon boost Fork : Fox SC 32 boost Shock : Fox DPS evol remote lockout (1) Rotor : centerlock centerline Brakes : Sram level TLM and spare pads Cassette : XO1 eagle cassette Shifter : GX eagle Rear Mech : GX eagle Crankset : FSA SLK modular carbon Saddle : Fabric scoop Whats NOT INCLUDED - Shift housing - rear quick release - Seatpost (31.6mm) - Handlebar - 1 more rotor (160mm) - rear lockout housing - Grips Buyer pays shipping and any associate transaction fees.

Aug 25, 2019 at 10:38
Aug 25, 2019

Selling
Jun 5, 2019 at 10:06
Jun 5, 2019
$125 USD
Clearing out the garage of a few pairs of 100% glasses I accumulated working for a team this year. All are new in box, only opened to take these photos. (1) SPEEDCRAFT polished crystal grey HiPER silver mirror lens = $125 (1) SPEEDCRAFT SL Acidulous - purple mirror lens = SOLD Buyer pays shipping and associated transaction fees if applicable.

Selling
May 10, 2019 at 19:34
May 10, 2019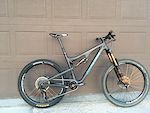 $3900 USD
2018 Santa Cruz Bronson CC ** PRICE DROP 5-23 ** Size Large Fork: Fox float Talus 160mm Shock: Fox DPX2 factory Wheelset: I9 Enduro Shifter: XO1 Eagle Derailleur: XO1 Eagle Cassette: XO1 Eagle Cranks: Rotor Rex Chainring: Q-ring 32t Brakes: Sram Guide Ultimate Dropper: Fox Transfer 125mm (30.9) Bars & Stem: Raceface affect This bike has been ridden minimally, but damn it was a good one. Pretty light and very responsive for a trail bike (I think ~28lbs). Everything is in great working order, although tires and sealant might need a refresh in the near future. The frame has probably seen less than 300 miles, and the rest of the build kit well under 800miles. I haven't touched the bike since October of 2018, and its time to move it along. Pedals not included. Buyer pays shipping and any associated transaction fees.

Apr 17, 2019 at 9:30
Apr 17, 2019
Load more...