bengattis
Member since Apr 14, 2015

Male / 20
Boulder , Colorado
xc nerd who rides a glorified hardtail
Block user
Recent

Feb 5, 2021 at 16:15
Feb 5, 2021
This a*shole will steal your kom and then slap your girls ass

Feb 5, 2021 at 16:10
Feb 5, 2021
Sold me "never crashed" yeti frame, two days later saw a video of it tomahawking down a race track

Feb 5, 2021 at 16:08
Feb 5, 2021
Heard he's the guy who tells everyone on the lift "a bad day on the slopes beats a good day in the office" and then proceeds to mansplain to all the girls how to ski powder

Selling
Jun 17, 2020 at 21:52
Jun 17, 2020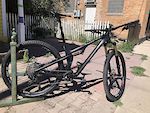 $2900 USD
2019 SB100 frame and fork. Suspension was just rebuilt, and is running very smooth. The frame is in very good shape, with some cosmetic scratches on the non drive side as shown in the photos.

Selling
Jun 17, 2020 at 21:50
Jun 17, 2020

Jun 10, 2020 at 16:17
Jun 10, 2020

Selling
Jun 10, 2020 at 16:16
Jun 10, 2020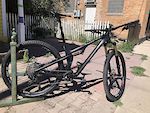 $5800 USD
2019 Yeti SB100 Large- I have ridden this bike for nine months and it has been great. I am the original owner. It was an X01 Race Turq build, but I replaced the entire drivetrain with XX1 AXS and put four piston G2 rsc brakes on. The bike has been well maintained and the chain and brake pads have been replaced frequently. There are some scratches by the rear wheel and are shown in the photos. Send me a message with any questions or offers! Before listing I put a new chain, bottom bracket, and bontrager XR4 tires on. Major Upgrades: Full XX1 AXS drivetrain Sram G2 RSC I will ship with the stock fox transfer dropper post- it is brand new and hasn't been used. Full List: Fork- Fox 34 Factory Stepcast Handlebar- Yeti Carbon Grips- Ergon Wheels- DT Swiss XM1501 Cranks- XX1 AXS Shifter - XX1 AXS Derailler - XX1 AXS Cassette - XX1 AXS Seapost- Fox Transfer 150mm Saddle - Yeti Tires- Bontrager XR4

Selling
Oct 17, 2019 at 13:26
Oct 17, 2019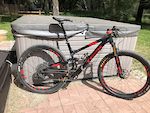 $2700 USD
2017 Trek Top Fuel 9.9 - has been ridden for two and a half seasons, with the drivetrain not being used this season, so that has two seasons on it. The bike has been raced, and as such has been maintained well. There are cosmetic blemishes, nothing structural, and the only large spot is covered with protective tape. I have replaced the chain regularly, so drivetrain is still shifting well. I put wider bars and a dropper post on it, and it descends much better now. Can swap out dropper for carbon post. Let me know if you ave any questions! UPGRADES: Stages Powermeter- GXP Sram crank 175mm Enve Carbon Flat Bars - 760mm, can be cut down Bontrager dropper post - 125mm of drop - can be swapped for Bontrager XXX post. Components: Full XX1 Drivetrain Sram Level Ultimate Brakes DT Swiss XMC wheels Fox 32 SC Fork WTB Volt Saddle Maxxis Aspens in good condition Message me with any questions!

Jul 7, 2019 at 19:32
Jul 7, 2019

Selling
Jul 7, 2019 at 19:31
Jul 7, 2019
Load more...