benkakebeeke
Member since Sep 24, 2020

Male / 14
Bellingham , Washington
Block user
Recent

Jan 24, 2021 at 15:26
2 days

Selling
Jan 24, 2021 at 15:25
2 days

Jan 16, 2021 at 17:59
Jan 16, 2021

Selling
Jan 16, 2021 at 17:56
Jan 16, 2021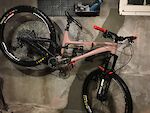 $1600 USD
For sale I'm my 2014 Kona Process 153. This bike truly is a do-it-all bike. I bought this bike of Pink Bike 3 weeks ago, but realized soon after it was a bit small on me. This thing climbs like you would expect an enduro bike to climb, but in the way down, this this is like a bat out of hell. It's the most fun I've ever had on a bike. It really wants to jump off any little root and manual out of every corner. If the bike was my size, I could see myself taking this up to galbraith every day, and then taking it to a bike park. I'm sad to let this go so soon, but it's too small. It has been upgraded by the previous owner and has components you would find on a modern mtb. It also has a custom paint job, in a rose color. The bike has some scratches you would find from normal use, and some parts could use fixing, but overall it's ready to rip. It has a small scratch in the fork stanchion that has been filled. I just had the back wheel rebuilt from Fanatik, and had the shifting adjusted. Here's a list of everything that I know of that has been upgraded on the bike: Rims: stans flow mk3 Tires: Maxxis High roller 2 (front) Maxxis griffin (rear) Hubs: hope pro 4 front and back Brakes: shimano zee Stem and bar: Bontrager line (bars cut to 750mm) Shifter: SRAM GX 12spd Dropper: brand X ascend 125mm Cranks: SRAM NX 170mm Derailleur: SRAM GX 12spd Cassette: SRAM GX 10-50 12spd Shock: Fox Float X I love this bike and I know you will too. Local pickup only. Asking for $2000, but I am open to offers! Message me through Pinkbike with any questions! Thanks for looking!

Selling
Jan 14, 2021 at 23:09
Jan 14, 2021

Jan 5, 2021 at 13:44
Jan 5, 2021

Selling
Jan 5, 2021 at 13:37
Jan 5, 2021

Selling
Dec 29, 2020 at 16:42
Dec 29, 2020
Load more...