bigandy8000
Member since Mar 31, 2015

Male / 25
Sequim , Washington
Block user
Recent

Apr 19, 2019 at 9:31
Apr 19, 2019

Selling
Apr 15, 2019 at 10:38
Apr 15, 2019
$3100 USD
It has a few cuffs and wear spots but there is nothing that will remotely affect your ride. The inner stays have the most scratches from rocks being pulled through by the tires but, again, they're just scratches and are not even visible unless the wheel is pulled off. Let me know if you have any questions or want any additional pics! Bottle cage not included. Buyer pays shipping. Willing to sell as frame-only option as well. XXL CC frame Deity Blacklabel aluminum bars 800mm (not pictured; same color as the stem) ODI Ruffian grips Deity Cavity 35 mm stem Like new Shimano XT brakes w/ minimal wear pads (not pictured) Rockshox Lyrik RC3 fork with adjustable travel from 130-160 mm. The lowers have some marks and scratches but the stanchions are pristine Fox Factory DPS rear shock. Same deal as fork, air can has some scuffs but the stanchion is perfect. Shimano XTR 11 speed shifter, SLX derailleur with low miles, 11-42 tooth cassette. Will have new SRAM chain New Shimano bottom bracket with excellent condition XT cranks Fox Transfer dropper post 150 mm with AMAZING Wolftooth dropper post lever. Chromag Lynx seat with a small hole patch with tenacious tape Hope Pro 4 Hubs on Stans Flow MK3 Rims. Front hub could use a new bearing kit ($75 for parts and labor at any shop). Front tire: Excellent condition Specialized Butcher black diamond compound (comparable to Maxxis double down) 2.6 Rear Tire: Excellent condition Specialized Eliminator 2.3 black diamond compound

Apr 5, 2019 at 10:01
Apr 5, 2019

Jan 25, 2019 at 7:39
Jan 25, 2019

Selling
Jan 3, 2019 at 11:05
Jan 3, 2019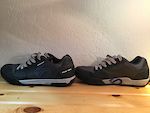 $75 USD
Selling this pair of 5 10 free riders because they are just a touch too small for me. I thought I could make them work but I was way wrong! Will trade them for a pair of 12.5 freerider pros in similar condition. These shoes are in near perfect condition with minimal wear on the soles and nearly no wear on the upper fabric and laces. Super clean as you can see in the pics too. Buyer pays shipping, which shouldn't be much at all.

Dec 1, 2018 at 10:31
Dec 1, 2018

Nov 24, 2018 at 14:01
Nov 24, 2018

Aug 4, 2018 at 16:11
Aug 4, 2018

Mar 31, 2018 at 19:38
Mar 31, 2018
Transition Characters: Tales from the Trails Highlights Local Mountain Bike Coach - Video
I would bet that even riders in the pro cat would come out of a session with improved riding! I (male, 23, cat 1 rider) just had a very effective advanced cornering lesson last week and can tell she's got loads of knowledge and experience on tap. Also her rates are way more affordable than other resources in Bellingham so yeah, she's gonna stay busy for sure!
Load more...