bigdule
Member since May 17, 2011

Male / 36
Québec City , Quebec
Block user
Recent

Nov 13, 2018 at 3:16
Nov 13, 2018

Dec 10, 2017 at 3:35
Dec 10, 2017
Bikepacking the Sunshine Coast (Almost)
I did the BC bike race last year and we did a route like that. We did Earls Cove to Sechelt, Sechelt to Langdale. You can find awesome trails in this area!!!

Sep 24, 2017 at 17:24
Sep 24, 2017

Selling
Sep 24, 2017 at 17:21
Sep 24, 2017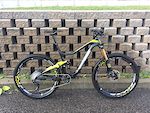 $3600 CAD
Vélo Giant Trance Advanced 1 2017 à vendre. Acheté à l'hiver et peu roulé durant l'été (15-20 sorties maximum). J'ai été blessé une bonne partie de la saison et j'ai un autre vélo de XC, ce qui explique la faible utilisation. Pour les composantes et la géométrie, suivez le lien suivant: https://www.giant-bicycles.com/ca/trance-advanced-1-2017 Modifications: 1 - plateau oval Absolute black 32 T (je laisse aussi le plateau d'origine XT, jamais roulé) 2- ajout de crank boot Le chaîne est usée entre 50-75%, je laisse une nouvelle chaîne aussi. Si désiré, je peux le changer avant de vendre. Les pneus sont encore bons, encore plusieurs rides possible. Monté tubeless. Minion DHF 2,3 et Minion DHR II 2,3. Transmission et freins Shimano XT, roues de carbone d'origine, suspension Fox Factory Kashima. Vaut 5000 + taxes.

Jan 24, 2013 at 14:57
Jan 24, 2013

Jan 20, 2013 at 16:34
Jan 20, 2013

Selling
Jan 20, 2013 at 16:23
Jan 20, 2013
Load more...