bike4real
Member since Feb 9, 2012

Male / 24
Vancouver , British Columbia
Block user
Recent

Dec 17, 2022 at 17:10
Dec 17, 2022

Dec 8, 2022 at 17:26
Dec 8, 2022

Dec 6, 2022 at 9:13
Dec 6, 2022

Nov 30, 2022 at 10:28
Nov 30, 2022
Video: Content is King, Pt. 1 - Pinkbike Academy Season 3 EP 7
@rrolly: Ya, you're definitely right with that. They've been careful to note that in every episode. I think that's what makes me particularly warry that Tarmo might not win. Only Orbea knows what they need in their newest rider. Whether that be a female, racer, or freeride.. So from a selfish perspective, I think Tarmo deserves the crown, but time will tell.

Nov 29, 2022 at 16:27
Nov 29, 2022
Video: Content is King, Pt. 1 - Pinkbike Academy Season 3 EP 7
In my mind, I can't possibly see how anyone other than Tarmo could win. Not only did he crush every actual biking challenge, but from a branding perspective, his photo is one of the only images where I can clearly see almost every brand clearly displayed on him and his bike. Plus Mason notes he has an easy style to capture on camera. As soon as he realized he didn't need to ride fast to look fast he adapted and made it happen. Is this not what every brand wants in a rider? Someone well respected and honouring to his peers, learns from feedback, and shreds? I've got to note that Mia's image was unreal though.

Nov 28, 2022 at 23:00
Nov 28, 2022

Aug 26, 2022 at 13:07
Aug 26, 2022

Jul 11, 2018 at 20:10
Jul 11, 2018

Selling
Jul 11, 2018 at 20:09
Jul 11, 2018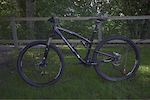 $800 CAD
Looking for a quick sell on my 2012 Rocky Mountain Element as I am needing a touring bike. I've had the bike for the last 5 years where I purchased it from Velocity Cycles in Langley. Frame has no dents or cracks but a few scratches (as pictured). This is a perfect XC/All mountain bike. Specs, Fork: Rock Shox Recon Shock: Rock Shox Monarch RT Bars: Easton Haven Rims: Alex Rims DP 20 Sram x5 system Avid Elixir 3 If you have any questions please shoot me a message or a text. Cheers, Josiah

Selling
Oct 23, 2017 at 19:26
Oct 23, 2017
Load more...