bikesbroadcasted
Member since Aug 11, 2018

Male / 16
San Diego , California
Love to shred downhill.
Block user
Recent

Sep 7, 2020 at 17:37
Sep 7, 2020

Selling
Sep 7, 2020 at 17:35
Sep 7, 2020
$3500 USD
Size large, all carbon fiber frame and handle bars, the best parts u can get in mountain biking. Owned by bike shop mechanic. •Upgraded box drivetrain •New 2020 Fox 40 air shaft assembly •New spank spike wheels Comes with new maxxas tires and a fresh seat when you buy the bike

May 28, 2020 at 10:33
May 28, 2020

Selling
May 28, 2020 at 10:32
May 28, 2020
$5 USD
Good condition tires 1 for 5 or 3 for 10

May 15, 2020 at 17:49
May 15, 2020

Selling
May 15, 2020 at 17:48
May 15, 2020

Apr 14, 2020 at 6:13
Apr 14, 2020

Selling
Apr 14, 2020 at 6:13
Apr 14, 2020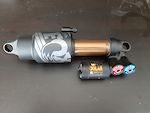 $299 USD
The shock is a take off of my old bike as I currently run a coil. This is a perfect time to snatch up a brand new never used shock. Down below is a little bit about the shock. The Fox Float X2 Factory rear shock is perfect for all mountain und Enduro use. This versions have a preinstalled air volume spacer that ensures a highly progressive spring characteristic. For more air volume, the spacer can be removed easily. High / Low-speed compression and High / Low-speed rebound are adjustable with 6 mm / 3 mm hex keys. The Fox Float X2 Factory rear shock comes now with revised oil flow for improved damping control and consistency. The improved linear damping profile increases plushness and the redesigned seals reduce friction. Advanced RVS damping system provides more tuneability and high oil flow improves damping control and consistency. The one-piece EVOL air sleeve improves responsiveness and sensitivity. The updated valve design improves both rebound and compression flow. With high-quality golden Kashima coating for long durability and less friction with a very smooth response. FLOAT The FLOAT air spring system is light and reduces the force to initiate travel, providing excellent sensitivity and small bump compliance for all riders and pressure settings. It features positive and negative air springs that automatically equalize during use to give each rider the right pressure balance. X2 ARCHITECTURE Less friction, more flow. Fueled by two years of RAD development, X2 hits the sweet spot with its improved linear damping profile, revised oil flow, and redesigned seals on DHX2 and FLOAT X2 shocks. The wide adjustment range gives riders the support and grip that the trail demands, as well as a more plush and open feel in the initial travel. EVOL A more linear spring curve gives EVOL forks and shocks plushness off the top, extra mid-stroke support, and more tunable bottom-out progression, allowing riders to tap into the ideal pairing of front and rear-end feel. The EVOL technology from rear shocks is now integrated into all FOX forks. EVOL increases negative air spring volume, specifically positioned and sized for optimum small bump sensitivity. RVS Rod Valve System (RVS) provides a more seamless damping transition when absorbing small to large impacts, resulting in faster system response, more control, and less harshness. Included in delivery: rear shock without bushings or accessories

Mar 29, 2020 at 13:57
Mar 29, 2020

Selling
Mar 29, 2020 at 13:56
Mar 29, 2020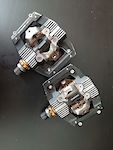 $90 USD
1 pair of Shimano Saint pedals.They have been Ridden only once out of the box bought them and never used them. These pedals work excellent but decided to go with a different pedal. MSRP is 160 but I'm willing to negotiate DH hungry pedals with MTB clipless technology Big platform with 4 adjustable pins add grip when unclipped Bombproof construction holds up to the gnariest DH laps Dual-sided entry for easy access on all sides Four-degrees of float let you pick your release point Equipped with 2-bolt SPD cleats for setting up your kicks Sealed cartridge bearings stay clean and grime-free for years of use Material Cro-Moly Cleats 2-bolt SPD Claimed Weight 568g Recommended Use enduro
Load more...