bikingonbikes
Member since Apr 17, 2016

O+
Male
Bellingham , Washington
Block user
Recent

Selling
Sep 24, 2023 at 16:35
Sep 24, 2023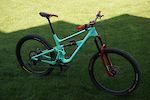 $3800 USD
Selling my dads revel rail mullet! Ridden for about 2 years on a pretty infrequent basis. Still has very minimal miles on it was zero bike park/abusive riding. All the parts and bike itself are in fantastic working order, and ready to be ridden! Message me with any questions :) 2021 Revel Rail size large frame built up mullet style. Some small scratches, but overall in fantastic condition. More or less the condition of a bike that was riding on a frequent basis for 1-2 months. Built up fully custom with the best parts from shimano/rockshox. Specs: 2021 Rockshox lyrik ultimate 160mm (underforked by 10mm to keep bottom bracket at proper height/compensate for big front wheel. 2021 Rockshox super deluxe out back 2021 Shimano XT M-8120 Drivetrain/brakes. 2021 E-thirteen Carbon LG1R wheelset. 2020 Fox transfer seatpost Full Red Deity Kit (Copperhead stem, Speedtrap saddle, skyline bars, lockjaw grips) CURRENTLY: has maxxis rekon tires. Happy to include either minion DHF's instead.

Aug 11, 2023 at 14:00
Aug 11, 2023

Selling
Aug 11, 2023 at 13:59
Aug 11, 2023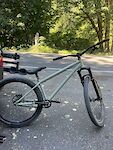 $1100 USD
Selling my barely used Evil Faction. Ridden about 4 times since i bought it in December. Just don't ride it enough to warrant having it in the garage. Hit me up with any questions, need it gone! Protein powder colorway pike dj fork sram g2 rear brake novatec crisp wheelset

Aug 4, 2023 at 23:02
Aug 4, 2023

all ze mountains
96.0 km - 11:52 - 6 achievements - 4 badges

Jul 25, 2023 at 17:34
Jul 25, 2023

Jun 28, 2023 at 19:53
Jun 28, 2023

Evening Ride
1.1 km - 00:03

Jun 14, 2023 at 13:31
Jun 14, 2023

Selling
Jun 14, 2023 at 13:31
Jun 14, 2023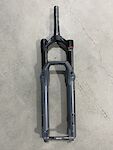 $700 USD
Used for about 6 months. Great Condition, just trying something else out. Lowers just recently serviced. Happy to ship or meet local. Text or PM me with questions! Steerer tube is just a hair under 7 1/4in

Jun 1, 2023 at 19:23
Jun 1, 2023

Evening Ride
4.2 km - 00:11 - 1 achievements
Load more...