It is probably fair to say that ENVE's carbon rims are hands down some of the most lusted after components that can be added to a bike. Like a fresh pair of Air Jordans, these trick hoops instantly elevate any rider to 'baller' status. Even riders who aren't familiar with these wheels will stop and ask, "Are those carbon rims?" All this attention is well-deserved after shelling out $2,888 USD for set of complete wheels identical to what's tested here, not to mention the rim-only price of $999 USD. There's no denying it - that's a hell of a lot of money, especially considering the fact that one can assemble a very decent wheelset for the price of a single 475 gram ENVE rim. Given their high price, what exactly are you getting after parting ways with all those hard earned dollars?
ENVE DH Wheelset Details

• Purpose: Downhill

• Rim: Uni-directional carbon fiber

• Hubs: Chris King (

tested

) or DT Swiss

• 32 DT Competition stainless steel spokes

• Rims made in the USA

• Width: 30mm (

21mm internal

)

• Rim weight: 475 grams (

claimed

)

• Wheelset weight: 1843g (

claimed

), 1922g (

actual

)

• Max tire pressure: 40psi

• 5-year warranty on rim

• MSRP: $2888 USD/wheelset, $999 USD/rim





TFBF (Total F'ing Bling Factor)

While the initial sticker shock may cause heart palpitations, the exotic combo of ENVE's carbon rims laced to Chris King hubs are the pinnacle of downhill wheel design and technology. The look of the deep-dish raw carbon rim alone is enough to justify the purchase for riders who want the latest and greatest, regardless of the cost. But whether you drool or scoff at ENVE's aesthetic accomplishment is largely irrelevant to the company that was founded to create no-compromise composite components. The appearance is a mere side effect to the mechanical advantages of properly molded carbon fiber, and ENVE knows the competitive athlete will stop at nothing for the slightest advantage over their opponent. Regardless of your reasoning for this purchase, you'll need to stand your ground as you become the center of attention. It's unavoidable when your rims cost more than many complete bikes, and nice bikes at that.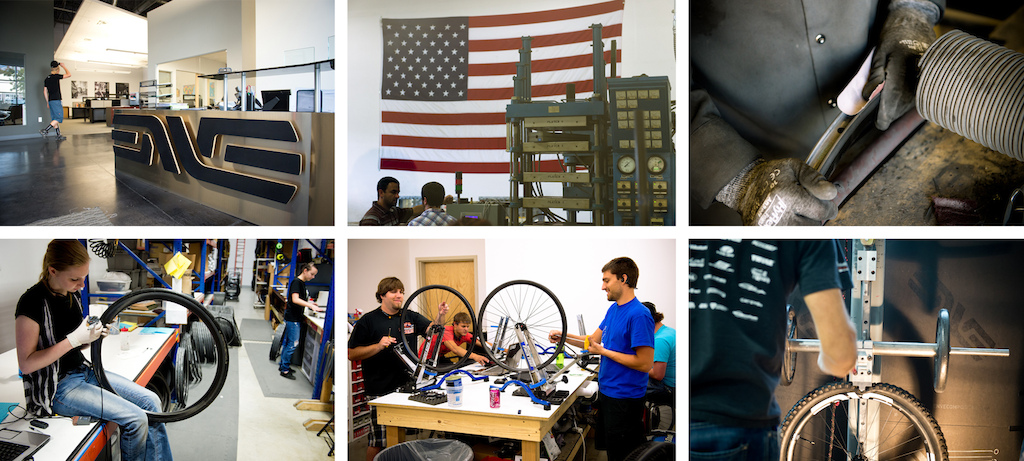 Our ENVE tour wasn't able to expose much about how these rims are made, but we did develop a strong sense of pride in their hand craftsmanship throughout the manufacturing process. From production to inspection, wheel building to wheel destructive testing, every part of the process is done in-house in their Ogden, Utah, facility.
The ENVE Difference
Employing a patented and proprietary process for their carbon rim production, ENVE is confident their DH rim is up to the task of downhill riding and racing. Utilizing state of the art carbon production techniques, ENVE is able to create a rim that is not only lighter than most every rim intended for the same use, but one they claim is stiffer, stronger, and more resilient than any other comparable rim. The process is somewhat of a trade secret due to their utilization of a removable bladder, but we were able to see the basics during a recent visit to their manufacturing facility.
It all begins with a raw carbon mat that is laid up by hand around large, wheel-shaped metal forms manufactured on ENVE's CNC machines. To create the hollow rim internals, an inflatable bladder is incorporated into the carbon layup. Once the carbon goes through the curing stage, which involves adding heat and pressure (
known as molding
), the bladder is deflated and removed entirely. It's an easy concept to understand, but removing the bladder is much more difficult than it sounds. Some companies will leave the bladder behind as part of the rim, not only adding unnecessary weight, but also creating difficulty for wheel builders in balancing the wheel. There is no finishing work applied to the rim post-molding - what you see, aside from their added decals, is exactly how the rim came out of the mold. ENVE has the process down pat, and this predominantly hands-on, made in USA manufacturing methodology is exactly what makes these rims so expensive.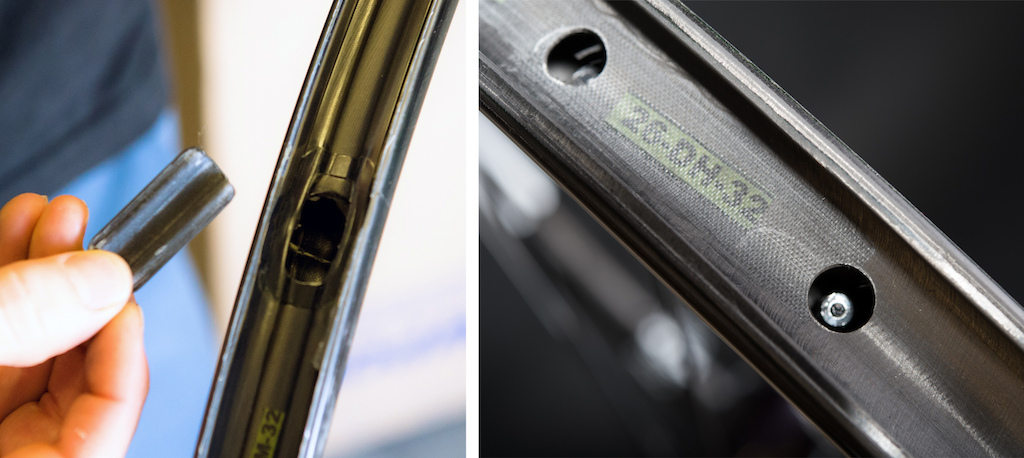 ENVE's proprietary carbon layup process utilizes an inflated bladder that is removed after molding. The rim is then patched and refinished. Alloy spoke nipples are located inside the rim and require a specific spoke wrench for building/tensioning/truing.
Wheel Stiffness
Besides the basic rigidity advantage over aluminum that is possible when carbon is laid out with stiffness in mind, ENVE has employed several other points into their wheel builds to further add to their solidity. A 2-cross spoke pattern is used, which is not necessarily stronger than a 3-cross pattern, but is said to be laterally stiffer. This is mostly due to a shorter spoke with less slack than a 3-cross build. Spoke tension is also unusually high, with ENVE going beyond the upper limits of what would typically be seen on an aluminum-rimmed, 32-spoke wheel build. Traditional wheel builds registering 1,000 Newtons of spoke deflection are considered to be at the upper limit of spoke tension, but our test wheels meter in at 1,200-1,300 Newtons. To get away with this extreme figure, ENVE utilizes a large and proprietary alloy spoke nipple that precisely interfaces with the internal shape of their molded spoke holes.
Rather than drilling the spoke nipple holes through the rim wall, ENVE's uni-directional carbon fiber strands are routed around the spoke holes and continue around the molded rim. These unbroken fibers not only reinforce the spoke hole to withstand higher spoke tension, but also serve to spread the load of each hole to the neighboring hole on either side. Distributing this load uniformly around the rim makes it easier to build a wheel with even tension, as well as produce a higher quality wheel build that will require less maintenance down the road. On the internal side of the spoke hole, molded nipple seats on the inside of the rim allow the alloy Pillar nipple to articulate and align with the exit angle of the spoke. This ensures the nipple will not be bound against the rim or bend, greatly reducing the possibility of premature spoke breakage.


Handmade in USA is only part of the cost of these rims. ENVE's research and develpment has led to a rim that they say is unsurpassed by any other material in wheel stiffness, dent and flat-spot resilience, and damping characteristics.
In-house Testing
ENVE has a test lab where they evaluate their own designs and conduct batch testing. Rims and wheels from every manufacturer are tested with the same variables against ENVE's own carbon rims to establish their production standards. As seen below, ENVE tests how a competitor's rim holds up against their own in the square-edge test. 85 lbs of weight is dropped from various heights until the failure point is found for every rim.
Riding ENVE's Carbon DH Wheels
We've ridden a lot of different wheelsets in our time, but never before has one felt so obviously different than the carbon-rimmed ENVE set. The difference in acceleration was night and day, something that we would usually attribute to lighter weight (
they were 1/4lb lighter than the wheelset they replaced
), but we didn't feel the advantage on the sustained climbs required to access our gravity trails. Instead, it was the outright stiffness that made the difference. The rigidity of the carbon rims, paired with the super-high spoke tension, is so ridiculously different that it actually took some adjustment on the trail. ENVE's stiff wheels simply transfer energy better. Corners are more predictable, steering is more precise, and every part of our bike felt tighter while riding with the ENVE wheels bolted on. It is often said that a high-end wheelset is one of the most beneficial upgrades one can make to a bike, and this has never been more true than when talking about the ENVE wheelset.
The un-parallelled stiffness comes with a learning curve, however, as we found the front wheel to cause a touch more deflection on rough and rocky portions of trail. This was mainly noticed on straight, high-speed sections where a rock edge was encountered, with the stiff wheels not being able to provide as much lateral flex to dampen the impact. This is a trait we had never considered with our traditional hand-built wheels, but also something we missed while riding the carbon wheels. This feeling never disappeared during our time on the ENVE wheels, but even still, we're betting that the benefits of the overly stiff wheel will outweigh any adjustment period for most riders. The much talked about vibration damping qualities of carbon aren't quite as apparent when a 2.5" tire and 7" of suspension travel are thrown into the equation, which isn't surprising given ENVE's pursuit of rigidity over forgiveness. One of the best qualities of using carbon for a rim material is that it can be configured to resist impact damage much better than an alloy rim. This impact resistance allows riders to run lower air pressure without worrying about flat spotting or denting the rim's sidewalls. Interestingly, we never suffered a single pinch flat during testing, something that we were half expecting given the rim's stiff nature.


Our rear carbon rim couldn't handle a big G-out in uneven bedrock. A carbon component should never be used after a crack like this becomes clearly visible.
We took the ENVE wheels to the proving grounds of Whistler Bike Park for some high-speed lift-accessed riding over rocky terrain. One of the fastest runs of the day had a large G-out compression mid-run, bottoming the suspension and causing the bike to emit a strange "popping" sound. Nothing was immediately noticeable, but upon inspection at the bottom of our run a crack was clearly visible that ran down both sides of a spoke hole. We presume that an aluminum rim would have at least had a large dent, if not a massive flat spot from such a harsh compression. In a race situation, both the aluminum and carbon rim would likely have been able to continue to finish the run. It goes without saying that a rim of any material
should
be replaced after this, but purely out of curiosity we decided to continue riding on the ENVE rim. Part of our reasoning behind continuing to use the rim boils down to that fact that it would be easy for many riders to not spot the original crack in the first place. We wanted to know just how long the damaged rim would last, and if it did fail, in what manner.
We made it through a few more runs in the bike park, but after coming up a short on a jump during another ride, the pre-damaged carbon rim exploded into multiple pieces. There's no guarantee that an alloy rim, pre-damaged or not, would have survived a miscalculation such as this, but it is possible that an alloy rim subjected to this type of punishment could still be ridden out of the woods. In our case, it was a two hour hike out, carrying the bike. ENVE evaluated our wheelset to determine the cause for the initial crack and claims this to be the first consumer warranty on their DH rims as of yet. Since the carbon layup is done by hand, there could have been human error involved in the patterning of the directional strand fibers before molding. The intact front wheel was also tested to see that it met ENVE's standards, which would eliminate any possibility of a batch-related error during the molding process. In general, we were pleased to see that ENVE does care so much about their product and were hard critics of their own suspect rear rim, and it should be noted that the rim was covered under their 5-year warranty program.
ENVE had this to say about our damaged rim:
The rims initially delivered for testing were from a batch of lighter weight pre-production prototypes developed for smoother World Cup courses and lighter weight racers. Under extreme G-out compression or impact the light weight proto rims were susceptible to cracking at the spoke face as the strength of the tire channel would over power the lighter weight sidewalls and instigate a compression fracture, which is exactly what happened during the failure of Pinkbike's test rim. It is of note that the rim returned to ENVE exhibited no damage to the actual hook bead and tire bed of the rim. ENVE replaced the test rims with current production rims that are 30 grams per rim heavier than the version reviewed here. The current production rim available to the public is the same rim that the Santa Cruz Syndicate raced during the 2012 season and that Greg Minnaar won the 2012 World Championship on. While ENVE has brought to market a carbon downhill rim capable of withstanding the harshest riding conditions in the world, they are close to indestructible but not totally. As such, we stand behind our product 100% and extend our 5-Year Warranty and Lifetime Crash Replacement to the original owners of all ENVE DH rims and wheelsets.
Technical report
• The ENVE wheels did not require any maintenance, tensioning, or truing during our test period. Even after the rim cracked, the wheel remained perfectly true.
• Most riders and home mechanics will not have a Pillar nipple wrench on hand. Though readily available through a bike shop, it seems like for the cost of these wheels ENVE could throw in a spoke wrench.
• King hubs have a bit of a break-in period. Though the axles are adjustable, we found ours to either be too tight or too loose during the entirety of the test.
Pinkbike's take:
| | |
| --- | --- |
| | The wheelset's incredible rigidity adds up to superb cornering and acceleration abilities, making them ideal for a racer who is looking for that split second advantage on race day, but we have to admit that we would prefer to ride a more traditional wheelset for day to day use. And while we certainly respect and appreciate domestic manufacturing, the original crack that we experienced proves that carbon reliability often boils down to the human touch regardless of which country the component is produced in. Would we have had years of trouble-free use if we simply replaced the damaged rim by way of ENVE's 5-year warranty? Possibly, but then again we know with near certainty that any consumer who paid for these wheels with their hard earned money would feel quite let down by the failure in the first place. The real benefits of ENVE's DH wheelset comes from added stiffness, flat-spot resilience, and some possible weight savings. None of this will matter to the average rider, but then again, this isn't your average product. Those looking for the competitive edge just may see the value. -Brad Walton |
www.enve.com