Riding in stealth mode is a stark departure from what most gravity-oriented folk are accustomed to. With the advent of the clutch derailleur from both of the big S's in 2012, chain slap is nearly a thing of the past. Chain tension is maintained in the traditional manner via a spring that pulls on the derailleur cage, but the clutch mechanism around the spring prevents the cage from moving forward except for shifting purposes. It's brilliant, and it's so good, in fact, that you won't find traditional non-clutch derailleurs at all by next year. While a clutch-equipped derailleur still mandates a chainguide on the big bike, I've had okay results without one on the all-mountain steed. No matter what type of bike, the new clutch derailleurs make a big difference in chain tension and work wonders to keep the volume down so I can focus on the ride. Offered by Shimano and Sram throughout their product lines.
Most Promising Product:
Thomson Dropper Post
I'm rarely an early-adopter of new trends, and that certainly was no exception when it came to the dropper post. But, after Mike Levy told me he'd "rather go back to V-brakes than give up my dropper post," I figured I'd better check one out. Is it necessary? No. Just like disc brakes aren't necessary. If you like to rest at the top of a long climb, don't worry about it. But I'll meet you at the bottom because this modern day Height-Rite pulls out all the stops. After my adaptation stage, I've decided to put one on all my bikes. I've been through a few from various companies, and the 2012 gold standard has proven to be the Reverb. As reliable as the RockShox dropper is, I for one would like to eliminate the fragility of the exposed hydraulic fittings. I've seen them torn clean off several times over, and one blowout experience that led to spilled Reverb fluid all over a rear brake rotor. It's a messy situation for those of us who can't incorporate the Reverb Stealth into our frames. 2013 promises a mechanical dropper offering from one of the most consistently great component manufacturers of our time - Thomson. Thomson's 5" dropper will feature infinite adjust travel with lever-adjust return speed, hydraulic internals with a nitrogen return spring, a weight of very close to 1 lb exactly, and has a projected MSRP of $380. The lever-adjust return speed is variable based on how far the lever is pressed, and the post has an internal mechanism to prevent extension of the post when lifting up on the saddle. Thomson's focus is simple, clean, and reliable, so I expect this post to outperform the rest.
bikethomson.com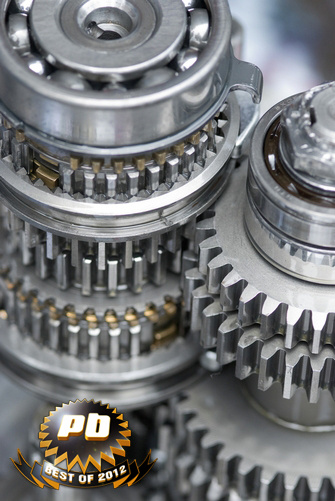 Most Anticipated Product:
Bicycle Transmissions


Our phones are tiny computers with a gateway to infinite knowledge. Cars have buttons on them for automatic parallel parking. And yet we're still refining that age old Achilles heel, the derailleur. It's time already. Time for the bicycle transmission revolution. I for one am sick of derailleurs. They're light, relatively cheap, and... I'm at a loss for what else. They work well until they receive an impact. And this sport is all about impact. Even if you're not crashing on a regular basis, that mechanical complexity that we rely on for consistent cadence is just hanging on for dear life by mere threads of alloy, exposed to everything within inches of the trail. Not to mention, exposure to the elements. Rohloff's Speedhub has been around for years and some people love them, but it still requires a chain tensioner of some type. Pinion is on the verge of something with the P1.18, but there is currently only one frame manufacturer embracing the design, and it's a bit heavy. These are a great start, but instead of tons of gears, lets get a 8, 9, or 10 speed model with a somewhat comparable weight to a derailleur system. And whatever you manufacturers come up with for enclosed transmissions, let's get one thing clear- twisting is for throttles. Put a real shifter on it. It likely won't happen in 2013. Probably not even in '14. But what I'm looking forward to most in the future of mountain biking is not another evolution of the derailleur, it's the revolution of the bicycle transmission.
Must Read This Week