Light in the Legs
Transition has come a long way since its beginnings as a designer of burly, price-conscious freeride bikes. From those initial offerings their product has evolved into a fleet of simple and refined models with options for top-end build specs. The Bandit is Transition's foray into the trail-bike market, and at 26lbs for a 5" travel bike, the price isn't the only competitive aspect. Available in four sizes, three colours, two trim levels, and in 26" or 29" wheel offerings, the Bandit sports all the modern details found on pricier frames from larger companies. Hydroformed tubing, a tapered head tube, and a convertible 12 x 142mm rear complete the package to create a relatively lightweight bike that sits just shy of cross-country nomenclature.
Bandit 1 details:

• Purpose: all-mountain/trail bike

• Hydroformed 6061 aluminum frame

• Rear wheel travel: 130mm (

5.1 inches

)

• Tapered head tube

• 12 x 142mm rear axle

• ISCG 05 chain guide tabs

• Fox 32 Float 140 RLC fork, tapered steerer, Kashima, QR15

• Fox RP23 shock, Boost Valve, Kashima coating

• SRAM X0 2x10 drivetrain

• Crank Bros Cobalt 3 wheelset

• Weight: 26.5 pounds (

w/o pedals

)

• Sizes: S, M, L, XL (

tested

)

• MSRP: $4,799 USD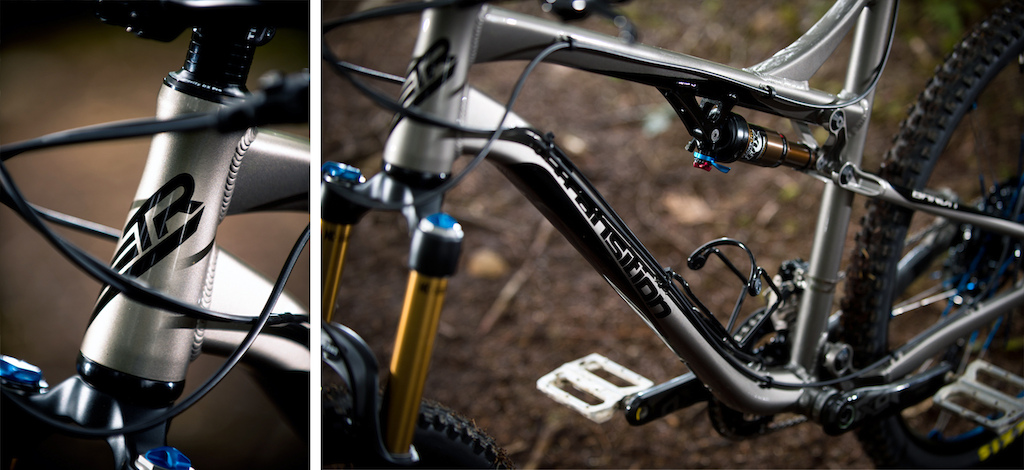 Transition utilizes the now-industry-standard tapered head tube and the flowing lines of a hydroformed tubeset.
Modern appeal
The Bandit is Transition's first full-suspension bike designed to excel at going up the mountain, so a lightweight chassis is the foundation for the bike's all-around build kit. A hydroformed aluminum tubeset follows the industry trend of swooping lines that emphasize strength where it's needed and save weight where it's not as critical, while the tapered head tube, one-piece upper suspension link, and 12 x 142mm rear axle help to keep things stiff. A water bottle cage mount, full-length seat tube, and cable routing for dropper-style post make the Bandit a suitable rig for nearly any type of ride, and Transition has even spec'd the 130mm travel bike with ISCG-05 tabs to allow a guide to be fitted. All of that adds up to a 7 pound frame (including the rear shock), a number that may not sound that impressive, but the Bandit certainly has an air of solidity to it that we don't see from all trail bikes.
Suspension simplicity
Transition's full-suspension bikes utilize simple, linkage-driven single pivot layouts that are regarded for their reliability, ease of setup, and lack of required maintenance. An intricately shaped upper rocker link complements the beefy, CNC-machined chain stay yoke, both adding stiffness to the rear of the bike. The faux-bar linkage employs a seat stay clevis pivot, and cartridge bearings are further sealed from the elements with alloy bearing covers at all pivot points.
Component check
Our test bike is a Bandit 1, the higher-end of the two complete Bandits on offer (the Bandit 2 comes with the same Kashima-equipped suspension units, but a mostly X7-level build kit ), and comes loaded with a SRAM X0 2 x 10 drivetrain, brakes, and carbon cranks. FOX's 140mm travel Float RLC is used up front, with a matching Float RP23 Boost Valve shock out back. Both units receive the Kashima treatment as well. The bike's Crank Bros Cobalt tubeless-ready wheels are sure to capture attention trailside. Available as an option from Transition, our bike also came with RockShox's Reverb height-adjustable seat post, which we felt was nearly a necessity given the nature of the bike. Transition is a relatively small company, so changing parts within the build spec isn't entirely out of the question. We opted out of the stock Thomson 70mm stem, going for a Truvativ 60mm model instead. The only part of the bike that feels out of place to us is the 720mm Crank Bros handlebar - we'd love to see it come stock with something a bit wider, but this will come down to rider preference.
Specifications
Release Date
2012
Price
$4799
Travel
130
Rear Shock
FOX RP23 BV Kashima
Fork
FOX 32 Float 140 RLC Tapered w/Kashima QR15
Headset
FSA Gravity DX Pro
Cassette
SRAM PG-1070 10spd 11-36
Crankarms
SRAM X0 GXP, 175mm, 38/24 rings
Bottom Bracket
SRAM
Rear Derailleur
SRAM X0 medium cage
Front Derailleur
SRAM X0 high clamp
Shifter Pods
SRAM X0 10spd
Handlebar
Crank Bros Cobalt 3 Riser 720mm
Stem
Thomson 70mm
Grips
ODI Cross Trainer X Lock-On
Brakes
SRAM X0
Wheelset
Crank Bros. Cobalt 3
Tires
Maxxis Crossmark 2.1 Foldable
Seat
TBC Park N Ride Diamond Stitch
Seatpost
RockShox Reverb
---
Riding the Bandit
Bike Fit
Transition offers the Bandit in four sizes, ranging from small through to extra-large. Riders in the 6'2" area will find themselves right in between the large and extra-large size, but since the Bandit is meant to be pedalled, we opted for the larger of the two and outfitted it with a shorter 60mm stem for aggressive riding. Throwing a leg over the bike gives an immediate impression of a short cockpit, which keeps us from feeling overstretched on the larger size. What may come into conflict for some with the larger size is the length of the seat tube combined with a dropper post. At full extension for the Reverb, saddle height is just a touch higher than we would like, with the post's threaded collar keeping it from being lowered into the frame an further. The XL-sized bike sports a 21-inch seat tube, as well as a very long head tube, so take this into consideration if you're swapping parts off of your old bike.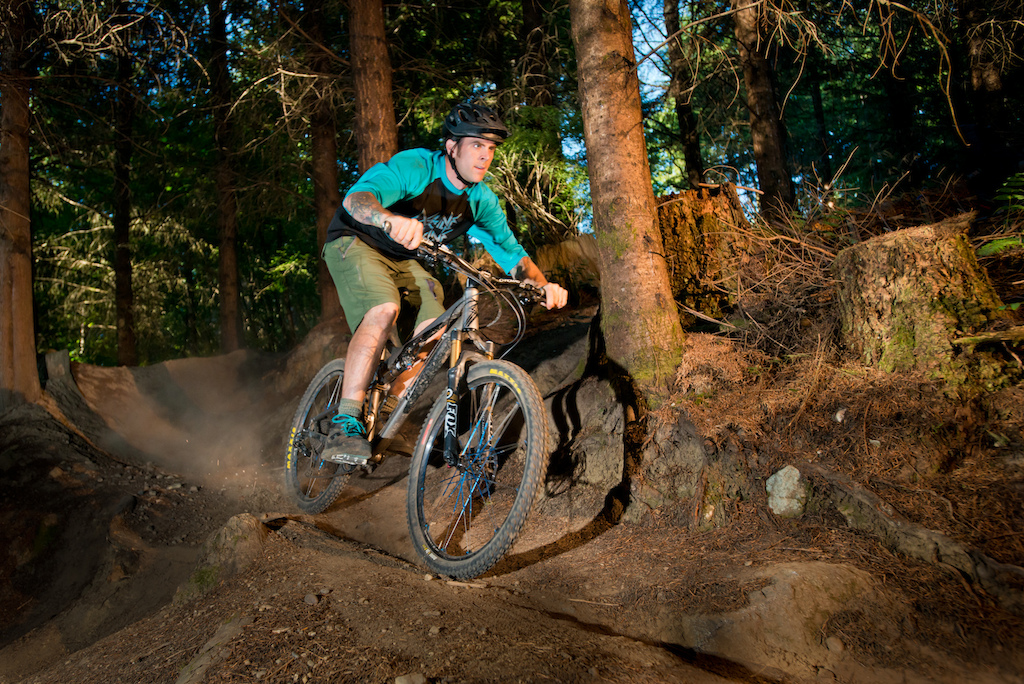 Despite it's lightweight build, the Bandit's low bottom bracket allows the bike to remain stable at speed and in the rough stuff.
Climbing
Being the first of its kind for Transition as the company's initial sub-30 pound full-suspension bike, the Bandit has certainly hit a bull's-eye in the weight department, but there is much more to a bike's performance than what it hits the scales at. The Bandit proved to be a capable climber, but also a bike that benefits from a suspension-firming pedal assist. In the fully-active position, the CTD-equipped Fox RP23 shock elicits some power-damping characteristics on sustained climbs that is relieved with the flip of a lever, but this setting also eliminates the helpful traction benefits of active suspension on technical climbs. When out of the saddle mashing commences for those brief, steep uphill sections when it isn't feasible to reach for the shock's blue lever, the bike tends to squat a bit as the chain tension compresses the rear shock - not ideal. Aside from pedaling characteristics and geometry, the relatively lightweight feel alone creates a playful bike that accelerates quickly on the climbs regardless of the rear suspension's overly active personality.
The bike's steep seat tube makes for a comfortable pedalling perch without the long-reaching feel that many trail bikes have, and this combines with a short top tube to give an upright cockpit that puts the rider over the front wheel. This helps to keep the bike from wandering, but it also offers a rider position that will likely feel more at home to a downhiller than a true, stretched-out XC arrangement. The low, yet upright geometry makes for a compact feeling cockpit that excels in tight and twisty singletrack, but you'll need to watch those pedals - it takes some advanced planning when climbing trails infested with low stumps and other pedal catchers.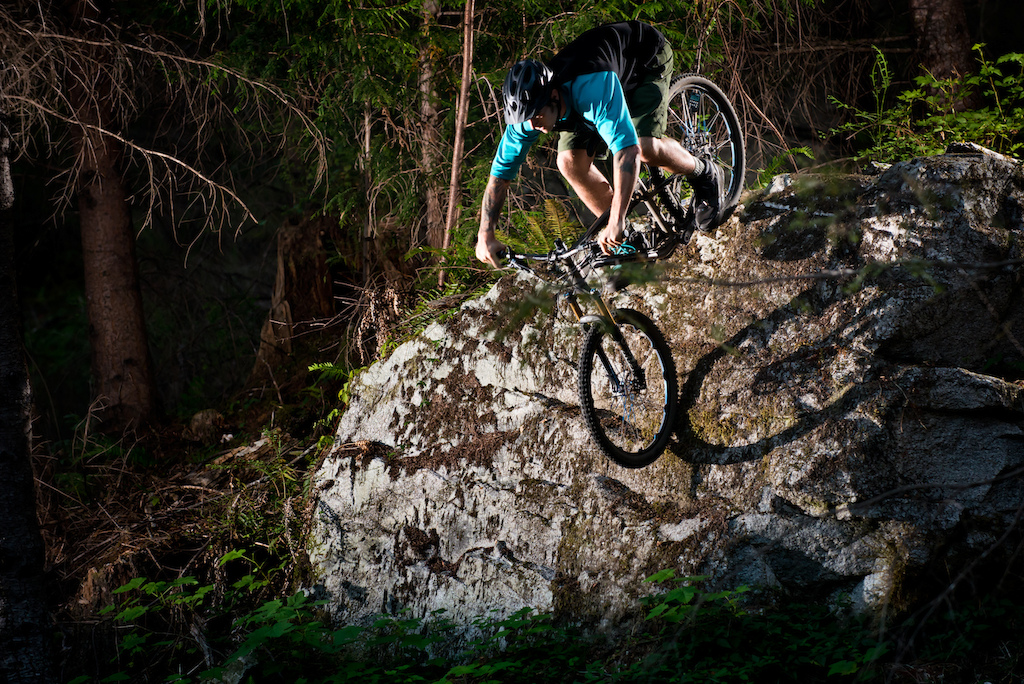 The Bandit may be XC capable, but XC is certainly not its limitation. Transition has designed the frame with a strength-to-weight ratio that makes the Bandit light enough to cover a lot of ground, but strong enough to endure bits of technical terrain.
Downhill
Transition's Pacific Northwest roots are immediately apparent in the Bandit's tight and responsive geometry. Technical trail is the bike's forte, but that's not to rule out high-speed stability when the trail opens up. Lightweight bikes generally have a tendency to dance around obstacles rather than plow through them, but we found the Bandit to offer more of a hold-on-and-go type ride. We were impressed by the bike's active suspension feel regardless of terrain - very plush for a 5-inch-travel bike. Suspension does not seem to be hindered by braking forces. Overall, the Bandit's suspension largely goes unnoticed to the rider in meandering cross-country terrain, working as it should in all conditions to keep the rider focused on the trail ahead.
The Bandit's bottom bracket height, which we found to be very low on technical climbs, makes for a very good time on long descents and in tight corners. Sub-17-inch chainstays add to the effect, resulting in a bike that absolutely shreds quick corners. This is where DH similarities end, however, as the Bandit is subject to flex with its lightweight component layout. Though the frame has lots of features designed to keep things stiff, the Fox 32 fork up front and the Crank Bros Cobalt wheel out back have a decidedly XC feel. It is possible to ride the Bandit hard on trails normally suitable for bigger bikes, but heavier riders will certainly notice the lack of rigidity in these parts specifically.
Air suspension is ideal for the Bandit and Fox's CTD shock makes it easy to dial in a suspension setting with enough sag to absorb minute trail nuances yet resist bottom out under hard compressions. We're not much for flipping levers, but riders with a short-term memory sufficient enough to remember to use these trinkets will be rewarded with increased performance out of the Bandit. Fox's CTD shock platform dominates the lever-flipping market, with lever positions on both fork and rear shock specifically targeted to optimize performance while climbing, trail-riding, or descending. We found the Bandit to perform at its best with the CTD levers set in the open 'Descend' position for the fork - although we were required to over-pressurize the fork to attain predictable suspension action - and in the middle 'Trail' position for the shock. This negates having to think about flipping levers pretty much ever, and creates a good balance of active suspension for technical climbing and suitable damping to keep from bottoming out under hard compressions. Opening the damping to the 'Descend' mode on the shock makes for a more lively ride, but the bike tends to blow through its travel too quickly unless it's pumped up to the point that it loses small bump compliance.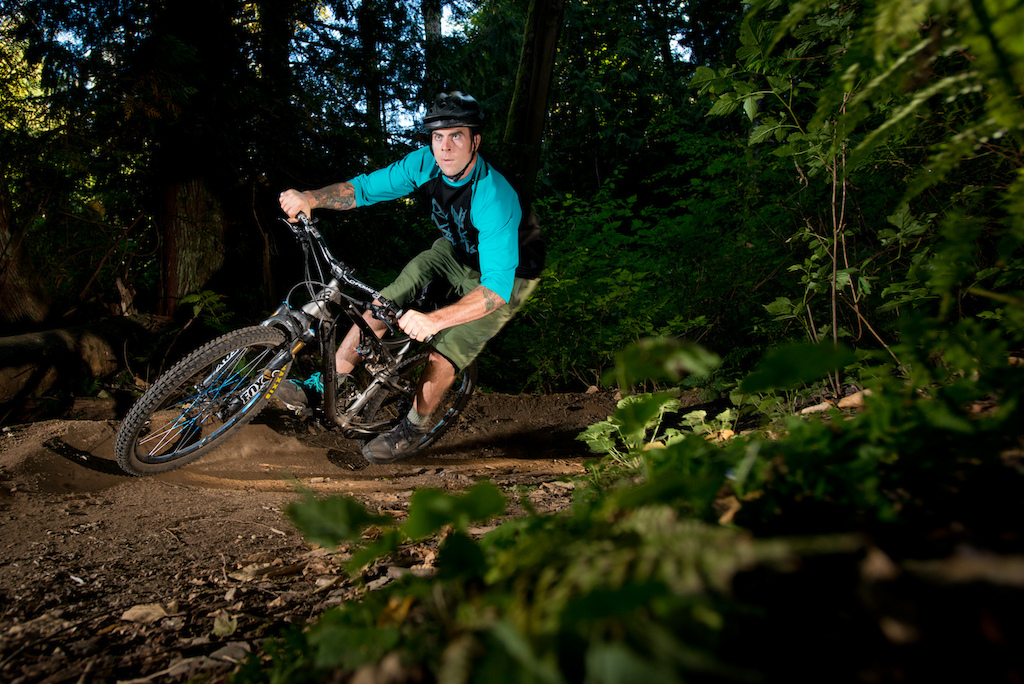 Railing trails has rarely been as fun as aboard the Bandit. A lightweight bike combined with aggressive geometry make for a really good time.
Component Selection
The Bandit's build spec leans more towards lightweight trail components rather then a burly all-mountain build. As a plus, weight is minimized. The downside is some loss in the rigidity department, which is a shame considering all the details incorporated into the frame to enhance its stiffness. As a whole, we find the Bandit 1 to be a pretty solid build, with the exception being the wheels when considering a rider over 150 pounds. Most riders under this weight will probably prefer something of the carbon variety to get even lighter, but for the money, the Bandit is hard to beat. The Bandit 2 build spec is about two pounds heavier and $1500 less expensive, and also specs Transition's value-packed traditional 32-spoke wheelset.
The only gripe we had with the Bandit's spec was the finicky Cranks Bros Cobalt wheels, particularly the rear wheel. From the beginning of the test, the rear hub made loud popping noises on hard climbs as though the hub pawls were protesting their job. No, we didn't have a driver failure, but the sound was unnerving. The rear wheel also lost its tension entirely too quickly. The first handful of rides went great until we started to get a feel for the bike and really began to charge the corners. Under hard use, the spokes came loose, eventually requiring re-tensioning.
Technical report
• Fox's 32 is great for a lightweight long-travel fork, but bigger riders will feel significantly more confident with a stouter steering chassis.
• Our SRAM X0 front brake stopped working on one long, steep descent, but picked back up again after cooling off. Bigger riders will want to look at jumping up to a larger rotor size than the 160mm stock unit.
• The 720mm wide stock bar will be plenty for many riders, but fitting a wider version will slow down the bike's handling a touch, a plus for someone who also spends time on downhill bikes.
Pinkbike's take:
| | |
| --- | --- |
| | Transition's first lightweight full-suspension bike fills the niche of aggressive cross-country or 'trail' bike. It isn't supposed to be the most versatile bike on the mountain, but it does offer potential for those few tricky spots where cross-country bikes fall short. Riders from an XC background that are looking for something that's a little more fun yet still efficient will not be disappointed with the Bandit. The ideal Bandit trail covers rolling hills with little elevation change, lots of trees and twisty trail, and rough, technical roots and rocks (no coincidence that that's exactly the type of trails that surround the area where Transition is based out of). Seated spinning offers the most efficient and smoothest ride out of the Bandit. Sustained steeps are not the Bandit's crowning achievement, nor is it the bike's intent, but the nature of the Transition brand means that technical features and small bits of aggressive terrain are more easily negotiated than with other bikes of its class. Given the spec and geometry of the Bandit 26er we tested, we're betting the 29-inch-wheeled version suits its purpose even better. -Brad Walton |
www.transitionbikes.com