Yeti's SB66 is the Colorado-based company's take on creating the ultimate all-mountain bike, one that can truly do it all. Available as an alloy or carbon frame and in a variety of trim levels, the SB66 (
SB being short for 'Super Bike'
) is certainly designed with versatility in mind, but one look at the numbers on the 6" travel, 26"-wheeled bike shows there's plenty of emphasis on speed and stability for when gravity takes over. Sporting a relatively long top tube and low bottom bracket, the SB shares similar attributes to modern day downhill machines, but with Yeti's innovative 'Switch Link' suspension, which is designed to excel at both climbing and descending.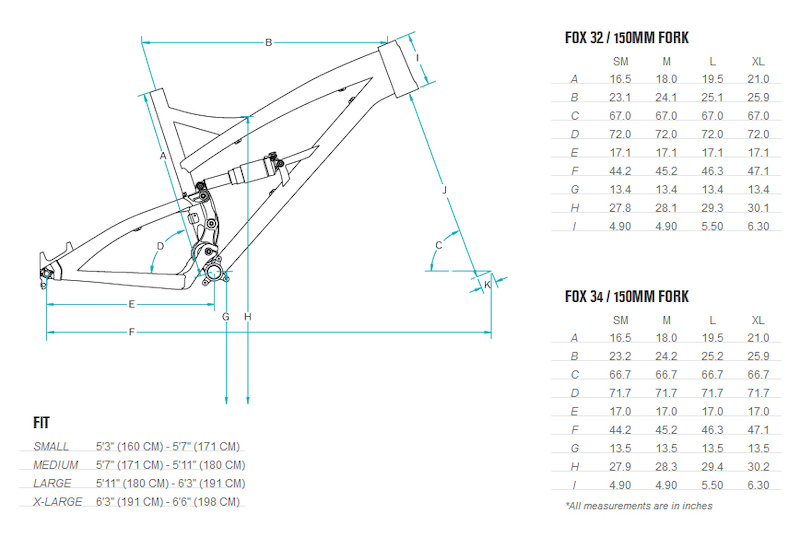 • Purpose: Trail / all-mountain
• Hydroformed 6061 aluminum frame
• Rear-wheel travel: 6"/152mm
• Fox Float CTD rear shock
• Fox 34 150 CTD fork
• Switch Technology Suspension
• Tapered InSet headtube, 44/56mm
• 12 x 142mm rear axle
• Splined BB shell w/ ISCG-03/05 adapter
• Weight: 27.4 lbs (w/o pedals )
• Sizes: small, medium, large (tested ), XL
• MSRP: $6,800 USD as tested
Frame Design
Yeti has invested some quality time into the tube layout of the SB, and it shows - this is one good looking bike. Every tube on the SB66 frame is shaped differently, featuring unique manipulations for optimized
strength-to-weight advantages in all the right places. The low-slung, robust appearance beckons for fast, aggressive riding. Despite Yeti's trail-bike nomenclature, the Super Bike's alloy frame is no lightweight, at least comparatively speaking. At 7.5 lbs (
with rear Fox air shock
), Yeti has positioned the SB66's frame at the heavier end of the trail bike weight spectrum. Emphasis on frame rigidity for the purpose of efficient energy transfer comes at a price, and Yeti is willing to accept a weight penalty for the responsive handling of a stiff frame and suspension optimized for versatility.
The SB66 frame is suitable for a variety of build specs. The 44/56mm tapered InSet headtube allows tapered steerer tubes to ride on bearings inside the frame, for the same low stack height regardless of fork choice. Cable routing is neat and tidy along the inside of the front triangle, with space to accommodate a dropper post cable. The rear derailleur cable is housed inside the drive side chainstay, and this same chainstay is protected by a custom chain-slap guard. Front derailleur adjustment is a no-brainer with direct mounting onto the frame. The SB66 also features interchangeable dropouts for a 135mm quick-release or 12 x 142mm rear axle.
Super Bike Suspension
The highlight of Yeti's SB series is their Switch suspension design. Yeti employs a rotating main pivot that is mounted on an eccentric, allowing it to change direction in order to react to opposing suspension forces. The eccentric assembly continuously repositions the lower pivot of the swing arm throughout the range of travel. Acting as a dual link design, it allows the early stages of travel to guide the lower pivot of the swing arm rearward, lengthening the chainstay. Unlike earlier renditions of rearward axle path designs that elicit unusually high amounts of chain growth and thus kickback characteristics, Switch Technology's eccentric pivot, as the name implies, changes direction deeper into the travel. This late stage reversal removes all such chain forces from the suspension, allowing the rear end to be fully active from mid to end stroke. It's a brilliant concept, but as moving parts will have their way over time, we were skeptical of the eccentric's durability.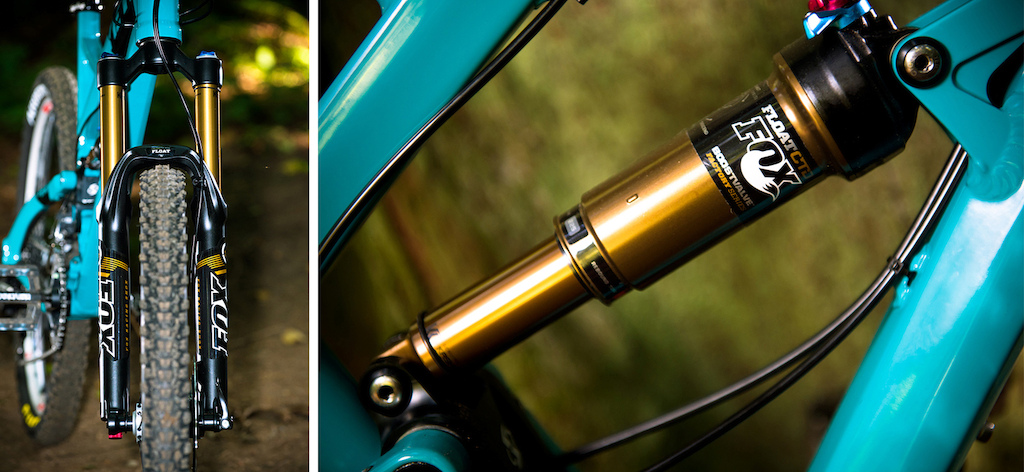 Switch Technology promises the best of uphill and downhill performance with an eccentric link that switches direction. Seem complicated? It isn't. Fox Float CTD air shocks front and rear offer a range of compression settings for those who want a firmer pedaling platform for longer climbs.
Yeti SB66 Component Check
The SB66 is available as a frame only or in a variety of trim options. Given the choice, we went with Shimano's top shelf XTR kit. Blinging chrome finish aside, our performance expectations were substantial with Shimano's top-level component group. Fox air shocks front and rear with Kashima coating nicely complement the looks of the SB66, and at 150mm front and rear travel, should provide a balanced, efficient feel that can be switched to Climb mode for those relentless ascents. The DT-Swiss M-1700 Tricon wheels, recommended by Yeti for their excellent strength-to-weight ratio and deadly reliability, seem a worthy fit for the SB given its all-mountain intent, and have the capability of going tubeless. Maxxis Ardent tires, a 2.4 front with 2.25 rear, suggest a bike ready to go fast both up and down. A Thomson stem and seatpost seem like a no-brainer on a bike of this caliber. A Race Face SixC carbon handle bar provides stiff steering control with excellent weight advantages over alloy. To finish things off, a Chris King headset shows that Yeti isn't messing around when it comes to a high-end build. No expense is spared on this $6,800 USD bike.


Stiff, snappy, crisp. No, we're not talking about pickles. It's XTR, and once you've tried it, it's hard to ride anything else.


A DT-Swiss M-1700 Tricon wheelset is the perfect match for the SB's all-mountain intent. Sealed bearings with DT's legendary ratchet driver mated to tubeless ready rims.
Specifications
Price
$6800
Travel
152mm
Rear Shock
Fox Float CTD
Fork
FOX 34 150mm CTD
Headset
Chris King
Crankarms
Shimano XTR (26-38)
Rear Derailleur
Shimano XTR 10 speed
Front Derailleur
Shimano XTR
Shifter Pods
Shimano XTR
Handlebar
Race Face SixC
Stem
Thomson
Grips
Yeti Lock-On
Brakes
Shimano XTR
Wheelset
DT Swiss M-1700 Tricon
Tires
Maxxis Ardent, 2.4 Front, 2.25 Rear
Seat
WTB Yeti Branded
Seatpost
Thomson
---
Riding the SB66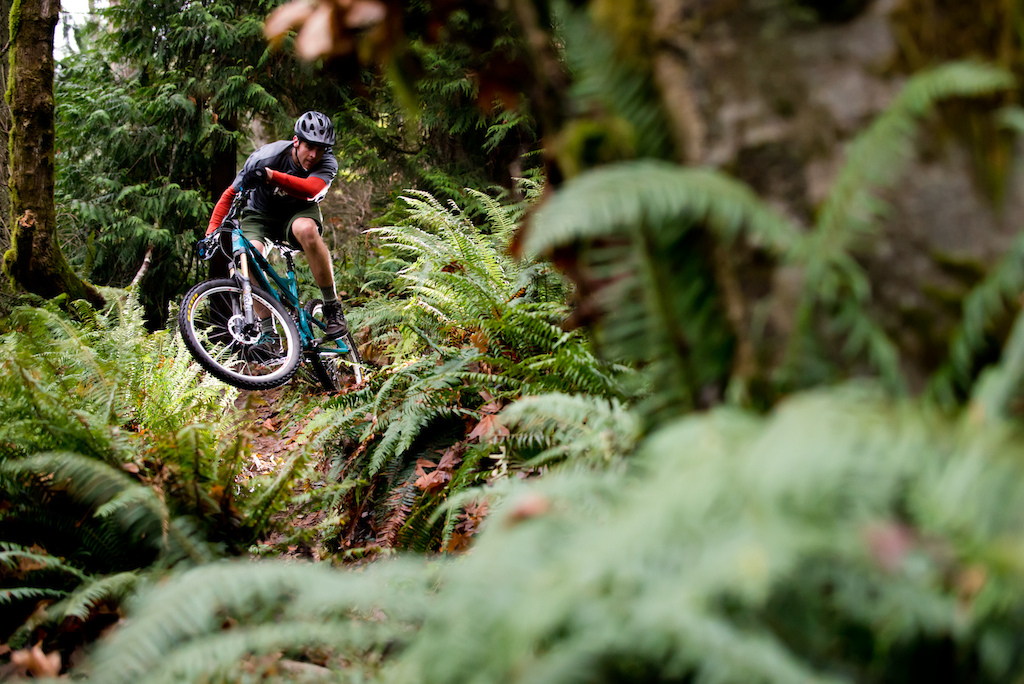 The SB66's stiff frame and efficient suspension makes for a nimble, poppy machine. All-mountain riding never seemed quite so effortless.
Trail Rider's Geometry
Geometry for the SB66 is quite long, so long in fact that some riders may question whether Yeti's sizing is off by one whole size. With a tester height of 6'2", we fell right in line with Yeti's recommended size large frame with a 25" top tube length, which is about an inch (
one size
) longer than most other frames in its category. The reason for this is to maximize the advantage of a short stem when taking into account the SB66's other measurements. When working with a slack head angle that effectively stabilizes steering at speed, it makes sense to have the most precise steering ability possible. For climbing, the longer wheelbase combined with a short stem centers a rider's weight between the axles, having an effect similar to riding with a longer stem. It took some adjustment and a swap to a 50mm stem, but over time we grew to love the SB66's fit for trail riding.
We felt more centered in the SB frame than most bikes we've ridden. The SB66 seems most comfortable on rolling terrain, as its roomy cockpit leaves arms outstretched without much elbow bend due to the bike's overall length. As stable as it feels even in mid-flight, our size large bike did sometimes feel as if we were riding a size too big. While the SB66 is designed to handle best at speed, we found that even on technical terrain we were able to maintain the centered, in-the-bike feel, although this comfort comes at the cost of slightly reduced handling abilities in tight terrain. Only on the steepest of climbs did the bike give the slightest notion of backseat driving, which usually led to us taking a brief, and usually welcome, out-of-the-saddle position.
It's hard to say that Yeti's long geometry is 'wrong'. Perhaps we've just become accustomed to bikes that are too short. The fact is, the SB66 is designed to go fast with a balance between uphill and downhill capability. Fittingly, Yeti's bike is designed to excel in the environment where the company is based - Colorado. Of all the traits of the SB66 to consider, the one characteristic that makes the bike unique is the fit. It's a bike designed with stability in mind, so by nature it has a longer overall feel.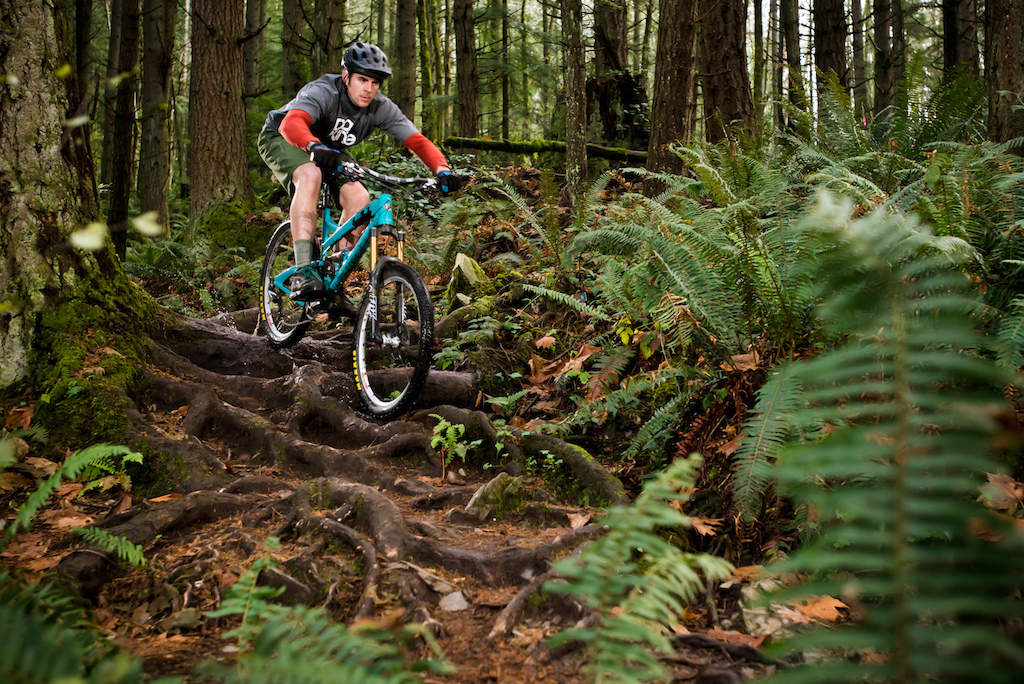 The secret to riding the SB66 is to go fast. Pushed hard into its mid-stroke, the super bike holds an uncanny line in rough terrain.
Climbing
As most rides start out with a climb up a mountain, we were instantly in awe over the super bike's energy transfer on rough, technical uphills. Pedal power digs the rear tire into the ground hard, resulting in some wildly impressive climbing ability for a 6" bike. Many riders will appreciate the rear-shock's CTD lever, which can be used to cancel out the SB66's small amount of pedal bob on long climbs. We found the bike to offer plenty of efficiency in the fully active mode, which also leaves less to think about on the ride. Adding to the bike's impressive suspension while climbing is the notably long top tube which spreads out the wheelbase. This added length offers a more centered weight balance than a typical short-stemmed bike which results in added climbing traction.
One Stiff Chassis
Some riders will criticize Yeti for the SB66's frame weight of 7.5 lbs with rear shock. While there are many competitors offering lighter options, there aren't many offering such a stiff and responsive frame. The only way we were able to get away with pushing the SB66 as hard as we did was our confidence in the frame. Whether out-of-the-saddle hammering or pushing hard into corners, the Yeti doesn't flinch laterally. Power transfer is the name of the game with this bike. After fully adapting to the bike's handling we found ourselves considering the carbon version, which we've been told is no less stiff or confidence inspiring, but weighs 1.5 pounds less.
We found the SB66 to be geared more towards high-speed trail riding, and if we had the carbon frame version, we would just throw away our XC bike. However, the long feel of the frame, while adding stability at speed, makes the bike feel a bit awkward in the air, and places the SB66 more in the trail bike category. It's also a challenge to handle on tight switchbacks and in tight trees, due to the longer wheelbase. It was immediately apparent from the first ride that the Yeti is from Colorado, where all-out speed negates the need for tight handling characteristics.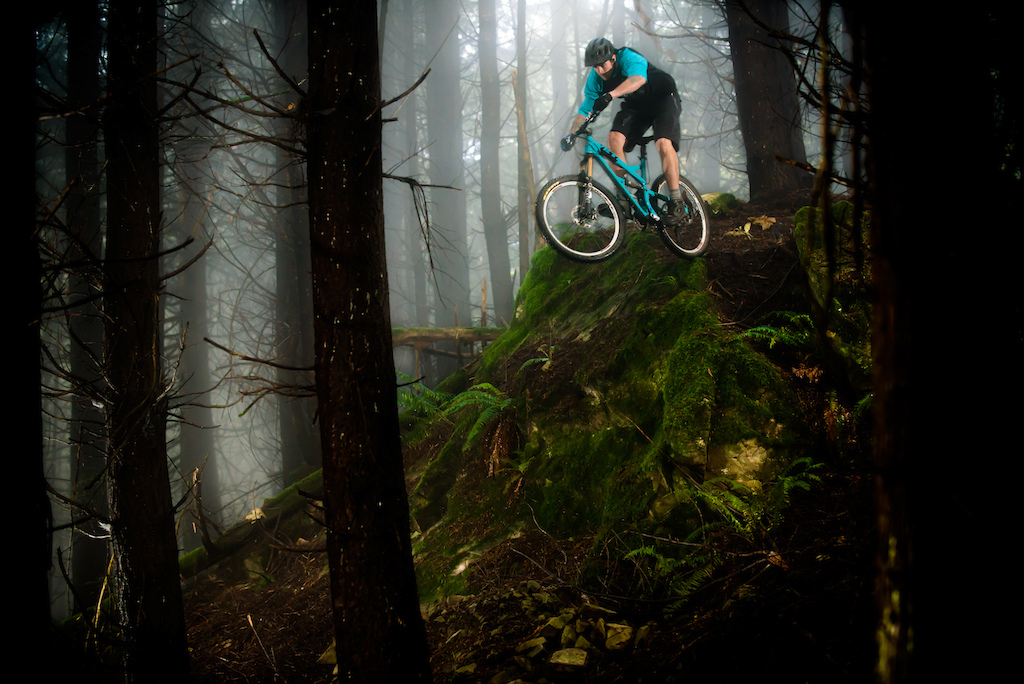 The SB66's geometry keeps riders stretched out and centered between the axles. Although quite stable, the long fit can seem cumbersome at times.
Descending
Yeti's Switch Technology seems to settle in best around the mid-stroke of the bike's travel. Off the top on technical trails, the rear shock doesn't offer much forgiveness. Tight trails keep the bike high in its travel, sometimes even hanging up unexpectedly on the odd root. Looking for improved handling? Ride faster - the SB66 isn't the best bike for casual meandering. Yeti's Super Bike is meant for speed, and it's obvious once we moved into wide open terrain. It doesn't seem to matter how steep the trail gets, as long as we were off the brakes it was possible to confidently cruise at speeds normally reserved for a heavier bike with more travel.
We were initially skeptical of the Switch Technology rotating pivot mainly due to the potential for contamination and wear. During the first dozen rides, we got a sharp squeak sound toward the end of our descents. Eventually the sound went away on its own and hasn't come back. Despite countless rides in everything from dust to straight up rain, some snow, and lots of mud, and afterwards directly spraying the pivot with water to clean the bike, we had no issues whatsoever with sounds, gritty feel, or any lack of performance due to contamination in the long run. Removing the rear shock after months of testing revealed smooth bearing action that is as good as new. At least for our test SB66 pivot maintenance is a non-issue.
Component Report
In one word: Superb. Yes, it's a heck of a pile of money, but for anyone who takes mountain biking seriously, that is, breathes mountain biking through their soul, it's worth splurging for the best components and never looking back. From the day we built the bike to nearly 50 rides later, we didn't have to tighten a single bolt, adjust a single component, or even retension or true a wheel. We're finally at the point of needing to replace brake pads, and we did get one flat tire throughout the test, but generally speaking, this is a low-maintenance setup that performs perfectly.
Shimano's XTR group is an absolute pleasure to use - we would even go so far as to call it flawless. It's ghostly intuitive, and incredibly refined. Anyone who hasn't tried Shimano's single-finger brake lever is missing out in life. Brake modulation is as close to perfect as we can imagine, and offers plenty of power. Shifting is super crisp and accurate. And those DT wheels, wow. Tire selection proved to be appropriate for all conditions, with the larger 2.4 Ardent taking the lead over the smaller, faster rolling 2.25 rear. Aside from the lack of a dropper post and chainguide (
we dropped the chain more often than we would like, until adding a Blackspire Twinty2X guide which also protects the chainring
) the component spec on our test bike is absolutely perfect.
Pinkbike's take:
| | |
| --- | --- |
| | The SB66 was love at first sight. Long and low with plenty of standover, incredibly advanced suspension, a top-shelf build kit, and a dramatically shaped tubeset coated in Yeti's signature turquoise color scheme had us head-over-heels right out of the box. The combination of frame stiffness and an efficient suspension platform create an extremely responsive bike that begs to be ridden fast, up and down. Cross-country riders that don't race and are considering adding a bike in this segment to their fleet should just save up for the SB66c carbon frame and toss all their other bikes out the window. While we would have preferred a slightly shorter cockpit length for technical handling and small bits of airtime, the SB66 is hard to beat for a straight-up mountain bike. For get on and go functionality and reliability, this very well could be the most versatile bike we've tested. -Brad Walton |
www.yeticycles.com