Multi time World Champion Fabien Barel has had a really great season by most standards - especially considering he was injured early season in South Africa where he dislocated his knee. Upon returning to the World Cup circuit he won Maribor, then his
national championships
, followed up by a 5th at Mount Saint Anne. We ran into Fabien after his fifth place at MSA and got to talk to him about his new team, racing and the all new Mondraker Summum DH race bike that he's on.
Video interview and details inside
,
Fabien talks to us about everything from injuries, to sponsorship, to the new Mondraker Summum

:




Additional Summum Details

:

Head Angle: 61.5 degree with +2 or -2 degree options (Approx 60-64 degree range)
Chainstays are adjustable 25mm from short to long.
BB sits at 0mm difference from rear axle

At 28 years of age Fabien Barel has accomplished a lot as a professional downhill racer. The French rider started up a new team last year called the
Subaru Mountain Bike Pro Team
and they are running the all new Mondraker Summum DH bike. The new team is very into R&D with their sponsors and developing the fastest bikes they can.
Fabien is also involved in a new company called Urge and they currently have a DH helmet out and also are creating events like
Urge Kenya
this past year and in February of 2010 Urge Nepal will happen.
I guess he just likes to stay busy!
Fabien would like to thank Subaru,
Mondraker
, WTB, Fox UK/Mojo, Formula, Shimano, Parks in France, Mavic, On Off, Kenny Brand, e13 and CrankBros. for all their support.
Fabien placed 4th at the World Championships last weekend in Canberra, Australia.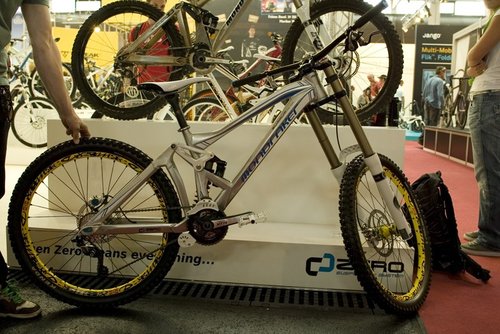 Photo by Charley Boy 14