This auction is a Fund Raiser which will benefit "The Weekend to End Women's Cancers™" walk in Montreal, Quebec Canada.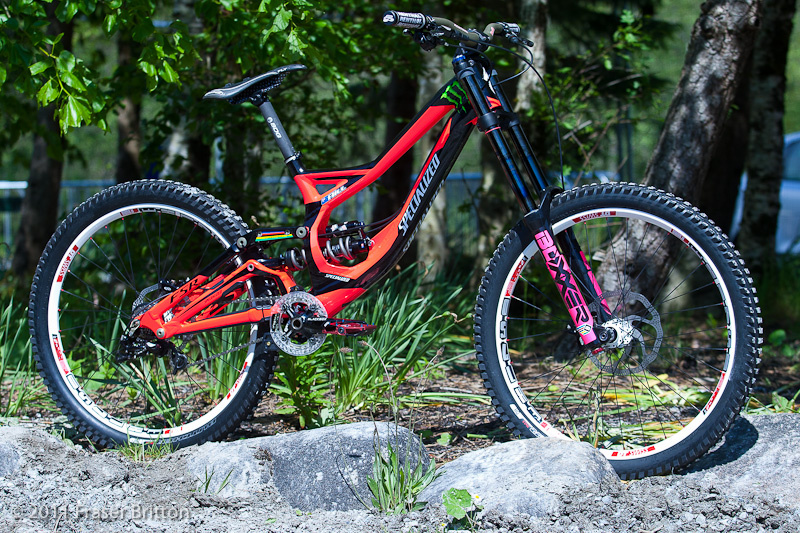 Sam Hill's 2011 one of a kind "Custom Painted PINK Specialized Demo Frame" w/Thompson post & Fox Rear Shock:
Frame Auction can be viewed here.
Sam Hill's 2011 Custom "Troy Lee Designs" Team Jersey, Pants, Gloves & Spy Goggles
Gear Auction can be viewed here.
"Pink is the new green!"
The black and green of the Monster Energy Specialized team bike that defending World Champion Sam Hill is usually astride disappeared a few weeks ago and was replaced with a highlighter pink version. A tradition started a couple of seasons ago, Hill rode pink TLD gear and a pink frame in order to raise awareness and funds for breast cancer research.
Following the event, the custom Troy Lee Designs kit, and pink Spy goggles that Hill raced the second round of the 2011 World Cup is be auctioned off with all funds going to breast cancer research. His custom Pink Specialized Demo Frame is now also up for grabs in a separate auction.
Team mechanic Jacy Shumilak explained as he assembled the fresh out of the box Demo II. "Why do we have a pink bicycle this week? Just for breast cancer awareness. Sam will run some pink gear and full on pink bike. At the end of the weekend we'll auction off the riding gear. The money will all go to a breast cancer charity. everyone likes a good pair so we just trying to keep them all attached to everybody. It's a good cause. It's the same bike as usual, tried and true. It never hurts to get a flashy new bike though, this week it's just bright pink."
Hill himself was excited at the opportunity to give something back "We're running the pink bike and gear at Fort William and auction it off for breast cancer. It's a good cause so hopefully we raise a lot of money and help some people out. We did it a few years ago and raised a fair bit of money so we're gonna do it again and hopefully we can raise even more than last time."
Team Manager Sean Heimdal explains "I think its amazing when we can all team up for a charitable cause, especially when its affected personal friends of ours. Having Sam Hill bring more awareness to the cause makes it extra special and we couldn't have done it without the support of Specialized, Spy, SRAM and TLD for delivering the pink products. We hope team efforts like this bring more support in the future and wish everyone well that has personally been affected."
Sam Hill has been supporting his good friend Julie Bédard from Montreal, Quebec, Canada, whom at 27 years of age, was diagnosed with breast cancer. Four years later, Julie states that she's healthy and in the best shape of her life. The money being raised will be donated to her personal fund raising page.
Visit Julie's page here.
A receipt will also be issued for the contribution.
When is the Montréal Weekend?
August 27 to August 28 2011.
---
**
About The Weekend to End Women's Cancers™
The PharmaprixMC Weekend to End Women's Cancers™ benefiting the Segal Cancer Centre at the Jewish General Hospital is a Weekend you'll never forget.
It's a Weekend to remember those lives we have lost to breast or gynecologic cancer and a Weekend to celebrate the lives we are saving. This is a Weekend creating hope for every woman's future.
Since 2005, over $41 million has been raised by Weekend participants enabling numerous advances in cancer research and care. Proceeds continue to fund innovative research, treatment, and prevention programs for breast and gynecologic cancers at the Segal Cancer Centre at the Jewish General Hospital.
End Cancer Homepage.