With 595 metres (1,954') of chairlift accessed vertical, 36 distinct trails that range from technical DH and flowing machine-made, to scenic all-mountain and expansive cross country, the Sun Peaks Bike Park has something for everyone.
The Park continues to evolve much like the bikes and riders that visit each summer. New for 2012, the Big Rock Ride accesses the summit of Sundance Mountain and the entire cross country network, even invading Mt. Morrisey. This summer will also see the introduction of the new Altitude Trail, taking riders to the high alpine of the "Top of the World", with plenty of options for the 825 (2,707') metre descent back to the village below. Plus, now you can keep riding even after the chairs stop turning for the day with a short pedal from the base of the lift to a brand new pump track and skills area!
Despite a couple June powder days on the upper reaches of the mountain, the Park is looking great and it's sure to be a super tacky season out there. The dedicated trail crew of returning shredders know the trails better than anyone and have been working hard through a wet spring to get them buffed. You'll notice loads more flow on the rooty and rocky singletrack, some rerouting to keep you fully pinned on some of the gnarlier DH tracks, big 'ol berms built-up on freeride trails to rail those high lines, and access to all three commanding peaks surrounding the Sun Peaks valley for some outstanding views.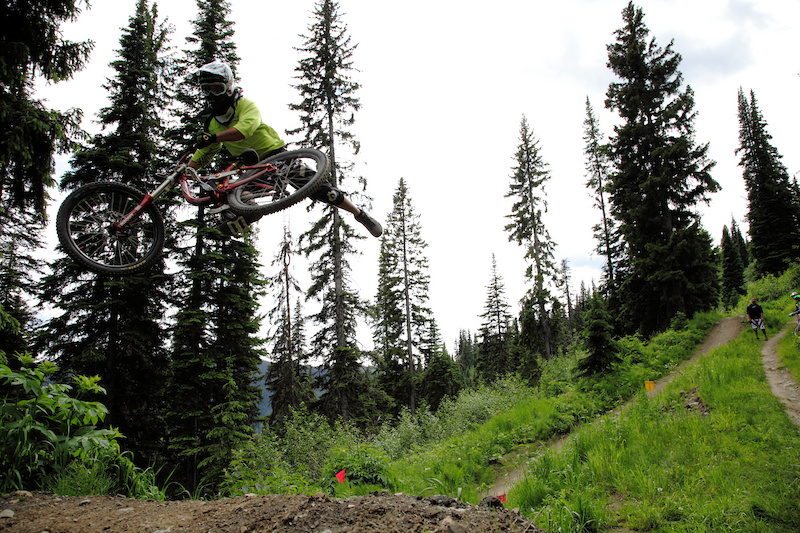 August 6-10 is our Freeride Camps. Back by popular demand, our wildly successful freeride camps are coached by some of BC's top riders and will immerse participants in all aspects of freeriding, in our legendary Bike Park.
Our coaches have been riding a long time and know it's all about having fun on the trails, so skill development is well balanced with positive encouragement and plenty of high fives! They'll provide campers with the skills and confidence to tackle single track, berms, jumps, steeps, and whatever else the mountain might throw their way. Campers will also learn bike setup and maintenance to ensure that their bikes are properly tuned and safe to hit the trails.
Students are broken up into groups based on riding ability and the camper to coach ratio is no greater than 6:1, to ensure everyone gets the best instruction and safest care possible.
If you've never experienced a day on the trails in the legendary Sun Peaks Bike Park, you really have no idea what you're missing. If you have, 'nuff said, we'll see you again this summer. Get Real. Gnarly. Sun Peaks Bike Park – Yeah Bro!
www.sunpeaksresort.com
Don't forget to pick up your
Road Trip Card
for discounts at Sun Peaks.