Source: Rasoulution
New York, December 29th – Danny MacAskill and his famous Youtube video made it far and not only in the biking industry. After being interviewed by the BBC, the London Sunday Times and other mainstream media in the last eight months, Danny has now been featured in his biggest publication yet: He is showcased in today's New York Times in the Sports section of the prestigious American newspaper.Danny MacAskill, the 24-year-old Scottish street trial rider, got famous almost over night through the April, 2009 famous Youtube video, filmed and edited by Dave Sowerby.
Since then Danny had various requests from bike and mainstream media, commercial requests, TV shows, such as "Britain's Got Talent" or "Ellen DeGeneres." Now his biggest print interview to date appears today, Tuesday 29th December, in the New York Times. Journalist Carol Wallace interviewed Danny for the Times with more in-depth questions than in previous media reports about him.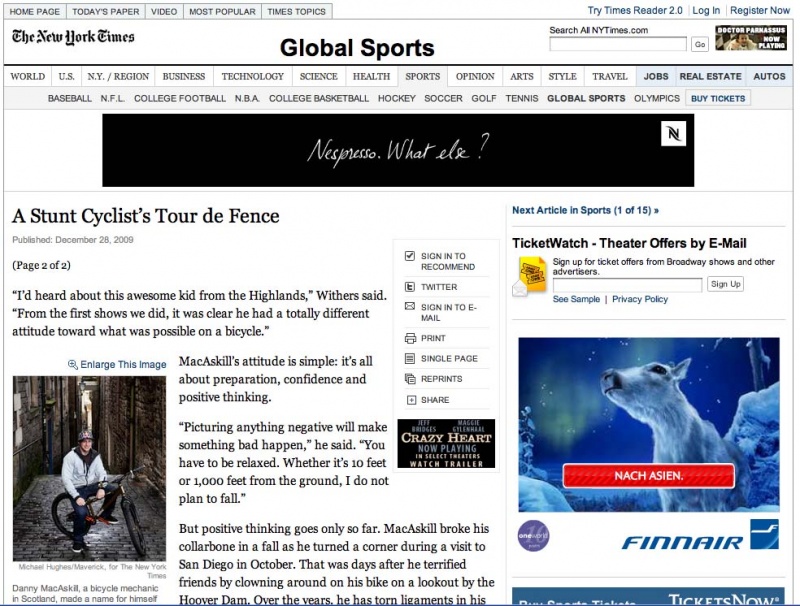 Read the article and get an idea about Danny's life before and after the posting of the video, and see the impact of capturing his pure passion for bike riding on one single video that was seen around the World Wide Web.
[L=http://www.nytimes.com/2009/12/29/sports/global/29cyclist.html?_r=1&ref=sports]If you can't buy the print version of today's New York Times, then just go online here.[/L]
In the next days you should be able to read a similar article in the International Herald Tribune!
If you still haven't seen his amazing video, you can also watch it below:
If you have any requests concerning Danny, like high resolution pictures, interviews, or bookings, please contact us at high@rasoulution.com