bshapperd
Member since May 14, 2004

Male / 45
Mississauga , Ontario
Block user
Recent

Nov 15, 2020 at 17:41
Nov 15, 2020

Selling
Nov 15, 2020 at 17:32
Nov 15, 2020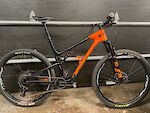 $3750 CAD
2019 Rocky Mountain Element C50; size XL (for 5'-11" to 6'-3") Original specs can be found here: https://www.bikes.com/en/bikes/element/2019 I have added a Race Face Aeffect dropper post and changed the rims to a wider Stans Flow for a considerably better ride. Recently replaced parts include: August 2020: - new pivot bearings - new headset - new bottom bracket - new Sram GX cassette Sept. 2020: - brakes bled - new Sram GX chain - new derailleur cable & housing October 2020: - freehub serviced - rear wheel true *Pedals not included * Saddle will be SDG (not pictured)

May 20, 2020 at 8:56
May 20, 2020
Video: Conflict Arises Between 17 Year Old UK Rider & Apparent "Trail Saboteurs"
Not that I live in the UK so I don't understand their trail etiquette but.... this whole 'incident' appears to be nothing newsworthy. Trails get 'blocked' by sticks and logs here all the time. I jump over them, move them or cut them out and keep riding. Trails are for everyone- even for the crappy, entitled, taxpaying pedestrians. As others have said, if a cable or wire was strung at chest/head height on a well-traveled trail then that would be malicious and deliberate...and newsworthy. I'm sure there's a great deal to this story that we're not privy to. Also, if all trails were built with permission we would have far fewer trails for all persons to enjoy (or complain about).

Selling
Mar 11, 2020 at 18:00
Mar 11, 2020

Mar 7, 2020 at 15:04
Mar 7, 2020

Selling
Mar 7, 2020 at 15:03
Mar 7, 2020

Jul 9, 2017 at 17:21
Jul 9, 2017

Selling
Jul 9, 2017 at 17:04
Jul 9, 2017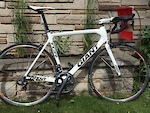 $1850 CAD
58cm road bike for sale. Full carbon race bike or weekend weapon. Shimano Ultegra DI2 electronic shifting and Shimano Dura Ace parts. I put this bike together in 2014 and have put about 1500km on it. Very Clean! This bike would fit someone about 5'11" to 6'2". Parts are as follows: Giant TCR Advanced high end carbon frame and carbon fork Shimano Ultegra Di2 shift-levers, front and rear derailleurs Shimano Dura Ace brakes, crank and bottom bracket Mavic Ksyrium Elite wheels Schwalbe Durano tires Shimano Pro stem FSA SLK carbon bar Specialized Toupe Team Issue saddle 10sp ultegra cassette and chain Would consider trading for a similar spec'd mountain bike with 29" wheels. Thanks for looking

Selling
Jul 9, 2017 at 17:00
Jul 9, 2017

Oct 6, 2015 at 16:19
Oct 6, 2015
Load more...