calebwulfman
Member since Oct 8, 2015

O+
Male / 20
Leavenworth , Washington
Photographer,
Skier,
Bike Mech.
Block user
Recent

Jul 28, 2019 at 17:30
Jul 28, 2019

Jul 18, 2019 at 9:09
Jul 18, 2019

Jul 18, 2019 at 8:51
Jul 18, 2019

Selling
Jul 2, 2019 at 14:40
Jul 2, 2019
$5000 USD
NEED GONE ASAP Trying to get things squared away for winter Specs Fox 36 grip 2 160mm fork, DPX2 out back Gx eagle w/ xx1 chain and xo1 shifter Hope pro 4 hubs laced with DT spokes and gold nipples on WTB i29 asym rims MucOff valves Diety copperhead stem Diety bars Chromag squarewave grips Chromag trailmaster saddle Fox transfer 150mm post PNW loam lever Mechanic owned, meticulously maintained, thoroughly cleaned and checked after each ride Frame w/ shock $2800 FIRM Frame with fork $3600 FIRM Willing to part out if buyers can be arranged quickly, don't want to sit on parts i cannot use. Damage; cosmetic chips in evil decal but no damage to paint, small scratch on seat stay, shuttle scratch, scuff on air side from loose socket while putting tokens in fork. ALL damage shown photos You pay shipping Would rather sell it but I am open to trade for the right vehicle

Jun 25, 2019 at 22:01
Jun 25, 2019

Selling
Apr 23, 2019 at 16:47
Apr 23, 2019

Mar 27, 2019 at 7:22
Mar 27, 2019
This 3-Piece Foam Tire Insert Replaces Air - Taipei Cycle Show 2019
Cant imagine installing this. Takes insane amounts of effort to put in cush core and that is only about 1/3 the volume of the tire and this monstrosity takes up the whole tire. I think that your better off buying the solid cruiser tires they make for your step moms town bike.

Mar 18, 2019 at 20:07
Mar 18, 2019

Selling
Mar 18, 2019 at 20:04
Mar 18, 2019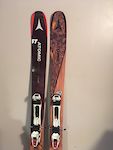 $500 USD
Bills need to get payed. Letting go of my pow skis, chips on top sheet shown in pictures. Skied on for maybe 15 days, minor skuffs on sidewall from edge strikes. These can be yours for $500 and another $50 if you want the skins. Amazing pow ski, will never let you down.

Dec 23, 2018 at 11:02
Dec 23, 2018
Load more...