cleask
Member since Aug 5, 2016

O+
Oxford , Mississippi
Block user
Recent

Jun 25, 2022 at 15:44
Jun 25, 2022

Selling
Jun 25, 2022 at 15:44
Jun 25, 2022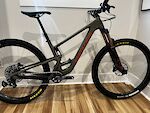 $6250 USD
Tallboy X01 CC Medium in Flatte Earth This bike is bone-stock, so comparable directly to Santa Cruz's page - https://www.santacruzbicycles.com/en-US/bikes/tallboy - except for 4 very specific details. 1. The photos have a Fabric Scoop saddle on it, but I have since found and put back on the original/unused WTB saddle (don't like 'em) that came with it. 2. I had Fox put a 140mm GRIP2 Damper in the fork, but I still have the 130mm as well, so you get both. 3. I put a Cascade Components linkage on it, which boosts the travel up to 128mm and it just works so much better. They cost 331.00 new, but I don't need it so I'll leave it on. https://cascadecomponents.bike/collections/santa-cruz-linkages/products/v4-tallboy-link. Obviously, the original and unused linkage is also included. If you would rather just the original linkage, let me know and I'll swap. 4. Bonus detail. A potential buyer asked me about this, so I want to put it here. While the SC website specs this bike with Industry Nine hubs, this bike shipped with DT Swiss 350 hubs. I suppose that's why the website says "Please Note: Price, Weight and Parts Spec information is subject to change." Just an FYI! Other than that, I haven't touched anything and this bike is perfect. There's a little ding/scratch on the rear wheel that you can see and the ends of the cranks show use, but that's mountain biking for you. I love this bike to death, but like I said above, I'm going all in for the new Hightower. As you see it in these pictures, it weights exactly 28.13lbs, because someone always asks. I've only had this bike a couple of months and only just cleared 100 miles on it, so it's basically brand new. Please now low-balls. This is a killer deal, especially given the market right now.

Jun 25, 2022 at 15:30
Jun 25, 2022

Selling
Jun 25, 2022 at 15:30
Jun 25, 2022

Jun 24, 2022 at 10:50
Jun 24, 2022

Selling
Jun 24, 2022 at 10:48
Jun 24, 2022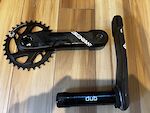 $150 USD
Barely used pair of cranks. TruVativ Descendant Carbon Eagle DUB Boost crankset in 170mm with a 32t ring. I just found these in my garage and don't even remember why I have them. They were used a couple of times, but not much at all. In perfect shape, but obviously with a couple of heel scuffs. 150 firm. That's a great price and I don't feel like messing with them. Shipping to lower 48 is on me. Thanks!

Selling
Jun 24, 2022 at 10:47
Jun 24, 2022

Jun 14, 2022 at 13:17
Jun 14, 2022

Selling
Jun 14, 2022 at 13:11
Jun 14, 2022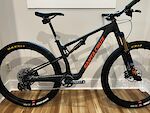 $8000 USD
Hey folks - extremely nice Blur TR CC in Medium available here. This is the top of the line model in the TR trim. This bike is stock except for the 170mm cranks and the AXS Reverb post. I prefer a 170mm crank, so I put those on as soon as I got it. Amazingly, I cannot find the 175mm crankset to put back on, but regardless, if this bike is actually your size, and you can actually afford it, which means you work all day and get inflexible like the rest of us, then your hip flexors would far prefer you to be spinning 170mm cranks anyway. I also swapped posts and put the AXS Reverb on because I couldn't resist (it's amazing). The saddle has never been used and I put brand new lizard skins grips on, because used grips are gross. https://www.santacruzbicycles.com/en-US/bikes/blur The bike has 435 miles on it and has been cared for exceptionally well, as you can see from the photos. There is a scuff mark near the head tube that you can see in the photos and you can also see a scuff mark on the handlebar. This is all normal stuff. To clarify, rear travel is 115mm, but pinkbike doesn't let me choose that as an option, so I selected '111mm'. AXS charger included. Thanks! Price is firm - this is a nice bike. And for those that can't help themselves, as you see it in these photos, it weighs exactly 23.59lbs. A few folks have asked why I'm selling it. This is a go-fast bike and I'm old, slow and broke. My thinking was to just noodle around on my Tallboy and not worry about speed and tights anymore, however since I listed this ad, my Tallboy is listed as well, because I'm going to consolidate both into a brand new Hightower. Wish me luck on how I justify this to the fam. PayPal only.

Feb 17, 2022 at 4:42
Feb 17, 2022
Load more...